SMS marketing software allows marketers to send relevant bulk texts to existing customers and prospective leads who have signed up to receive their promotional messages.
Simply put, it is the go-to automation tool for marketers who want to send the right message to the right customer at the right time. No wonder 68% of customers are using SMS marketing to reach customers.
In this post, we will walk you through top-notch SMS marketing software that can help you scale your e-commerce business. Let's get going!
Features:
The software comes with an inbuilt automation library with workflows that caters to all your SMS marketing needs. Be it cart abandonment, birthdays, or an order confirmation SMS, all you need to do is click on the available template, and you are good to target your customers with an automated SMS.
You can include SMS in your marketing strategy seamlessly. From flash sales to in-demand products and services, you can instantly market your offerings and reach the customer's text inbox.
Sky's the limit for Omnisend customers. It allows you to cater to a global audience by sending marketing text messages worldwide.
Access to SMS channel reports
The software helps you analyze how well your SMS marketing campaign works compared to other marketing channels through data-driven insights.
Pricing
Omnnisend has three pricing plans: free, standard, and pro. The pricing differs for each country. Further, each plan provides you free SMS credits that you can use to send SMS or MMS to your audience base.
Why do marketers love it?
Omnisend helps marketers capture their customer's attention through seamless integration of exit-intent forms. It also improves pop-up engagements through various form targeting options.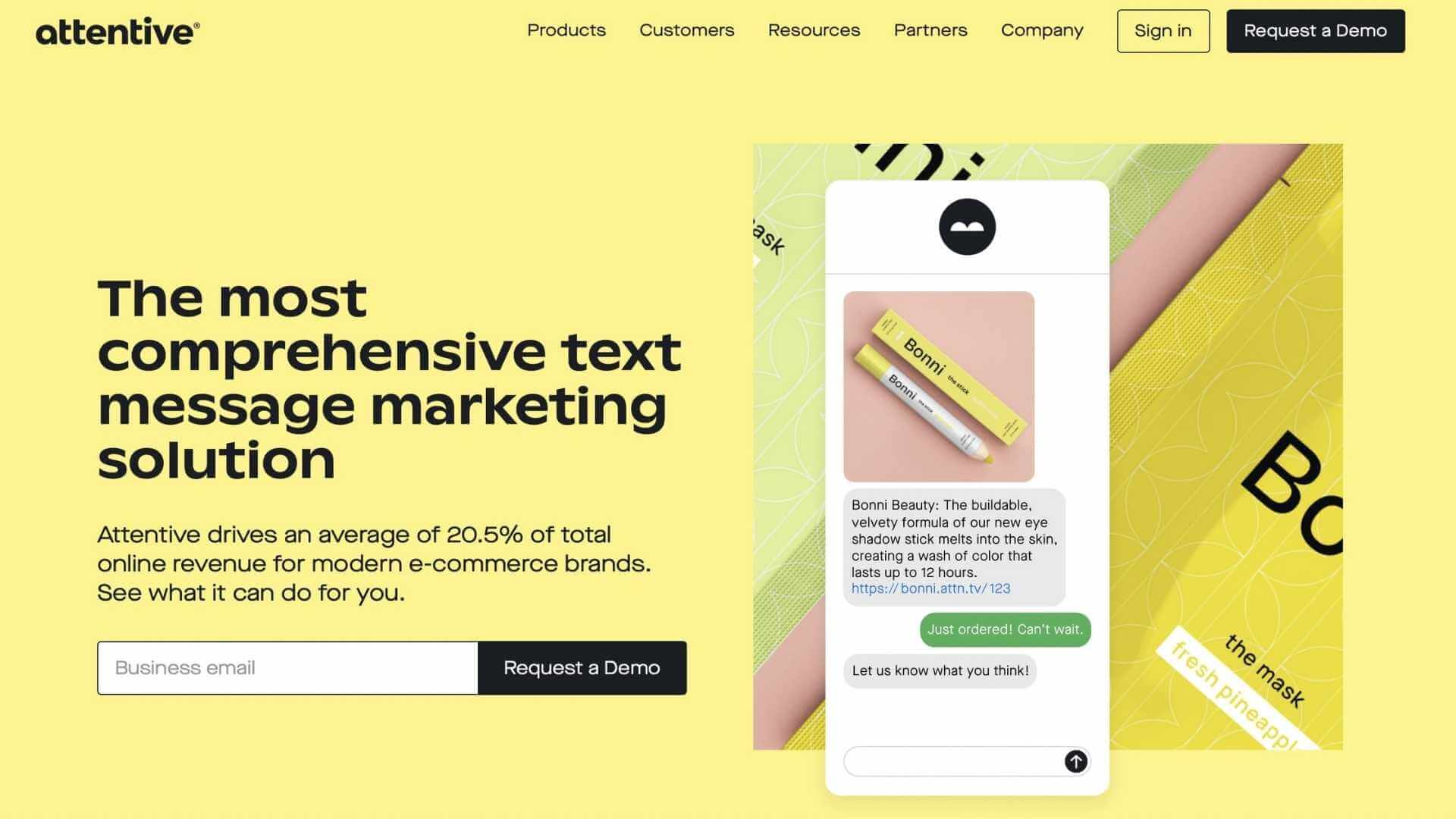 Features
Dedicated client strategy
With Attentive, you can get personalized guidance when creating an engaging SMS marketing strategy. Whether you're launching, scaling your strateg,y or establishing profit goals for your business, Attentive helps you do it all.
Access to exclusive resources
You can improve your SMS marketing strategy by joining Attentive University. There are training resources and best practices on SMS content, the right SMS sending time, contact list growth, and more.
You can also attend webinars and seminars to get virtual training and witness case study presentations.
High-performing signup units
Additionally, you can create a high-end signup unit with the help of the software's customizable templates. You can also get access to a plethora of design resources for inspiration.
Pricing
Attentive comes with a free one-month trial. After that, you need to spend $299 per company per month.
Why do marketers love it?
Attentive lets marketers have a single view of every customer. The software also tracks the customer's device for browsing and shopping.
It keeps an eye on customers' behavioral patterns, such as when they view a product or add something to their cart. Such extensive information helps marketers segment and personalize their SMS marketing campaigns. As a result, they can send relevant and targeted messages to their customer base.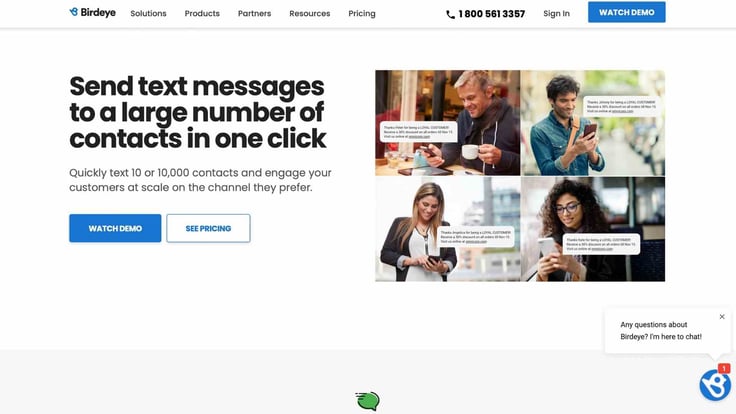 Features:
The software facilitates easy response to customers through its omnichannel approach. It lets you convert voicemails into text messages that seamlessly respond to customers.
Be it referral, any survey leads, or reviews, you can manage everything through a centralized inbox.
You can either send or schedule text messaging to your large customer base all at once. So, either you have 10 customers or 10,000, you can connect with each one of them simultaneously.
The software also allows two-way texting by converting it into one-to-one chats with your customers and leads.
Pricing
Birdeye comes with standard, premium, and professional pricing plans. It has a pricing configurator to calculate the pricing. You need to add your company's name and number of locations to find your customized pricing plan.
Why do marketers love it?
Birdeye is a comprehensive platform that increases customer gratification through various products that scale up as your business develops.
Whether it is personalizing your text message or scheduling it prior, you name it; the software does it. You can even send pictures and PDF attachments in text messages through Birdeye.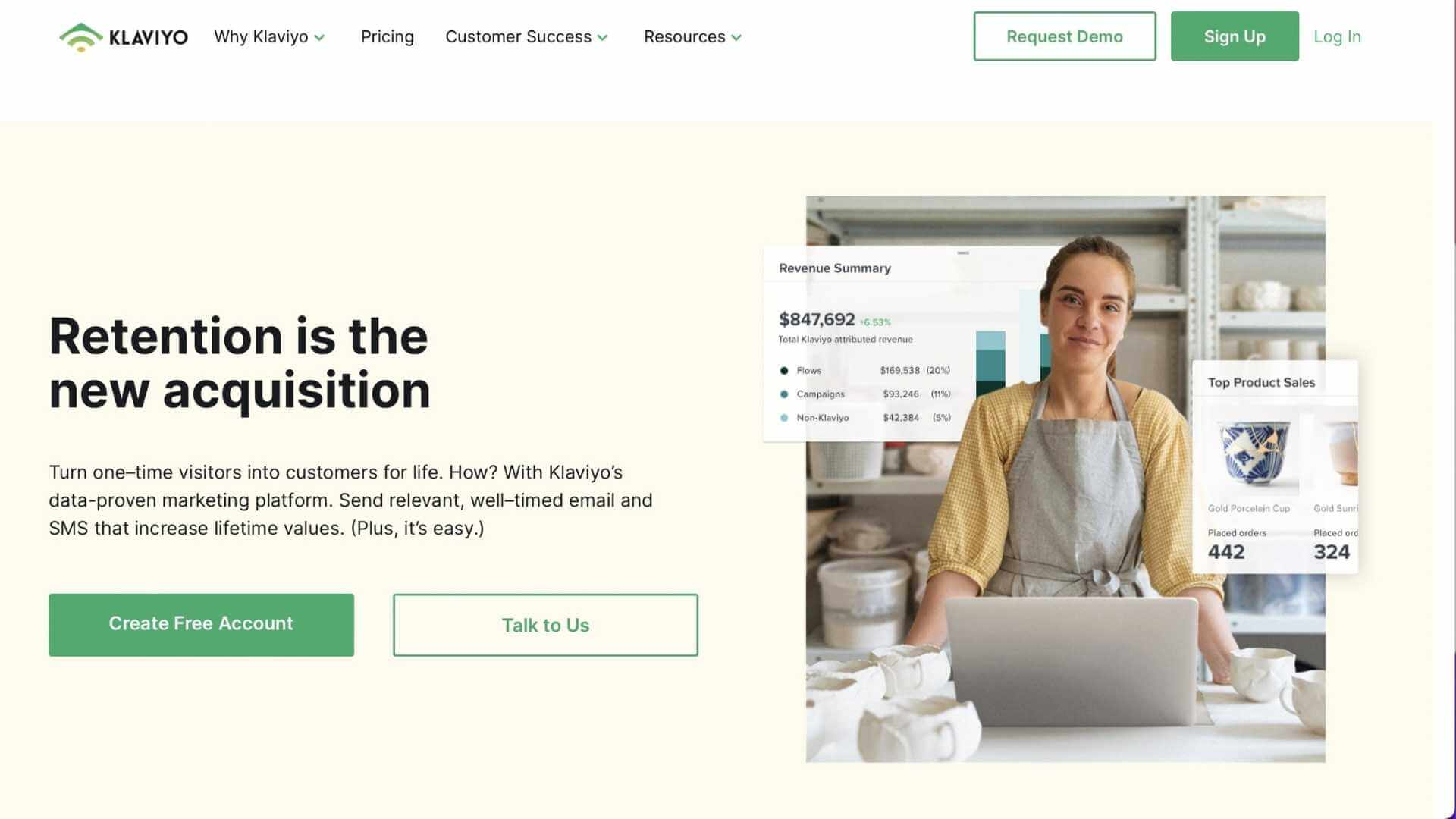 Features:
The software allows you to initiate mass text campaigns. In other words, with Klaviyo, you can send promotional and marketing SMSes to your vast customer base at once.
You can schedule the texts you need to send to your customer base. All you require is to choose a specific date and time for the message, and Klaviyo will do the needful.
Leave aside the worries of not replying to your customers at times. Klaviyo allows you to send automated replies to your customers while you concentrate on your business's core competencies.
Text messages come with a character limit. Klaviyo helps you shorten the URL such as a purchase link, subscription link you send to your customers. This, in turn, enables you to maximize the character limit usage.
Klaviyo analyzes all the customer data such as browsing history, purchase behavior, and more which lets you send personalized text messages to your customers.
You can improve your SMS marketing strategy by leveraging the MMS marketing feature of Klaviyo. Be it charts, images, or videos; you can send anything on your customer's text inbox with the help of Klaviyo.
This is an excellent Klaviyo feature that can help you communicate with your customers individually. In short, it can help you improve customer engagement and loyalty.
Pricing
Klaviyo offers flexible pricing. The pricing is different for every business. You can calculate your pricing by putting up your location and the number of contacts you need to text every month.
Klaviyo also gives you a free plan to send up to 150 SMSes and MMSes to 50 contacts. You need to upgrade to its paid plan for sending messages more than the limit.
Why do marketers love it?
Klaviyo comes with high scalability. It allows you to create email or SMS flows with excellent logic. You can also interconnect the two platforms to give your customers a multifaceted communication channel.
The software also allows easy integration with different apps and platforms. For instance, if you are using many marketing apps with Shopify, you can easily integrate Klaviyo with all of them.
Besides, it offers advanced analytics such as open rates, click-through rates, conversions, and more. These in-depth analytics give you an overview of how your SMS marketing campaign performs.
Simply put, it lets you optimize your overall SMS marketing strategy and always keeps you ahead of the game.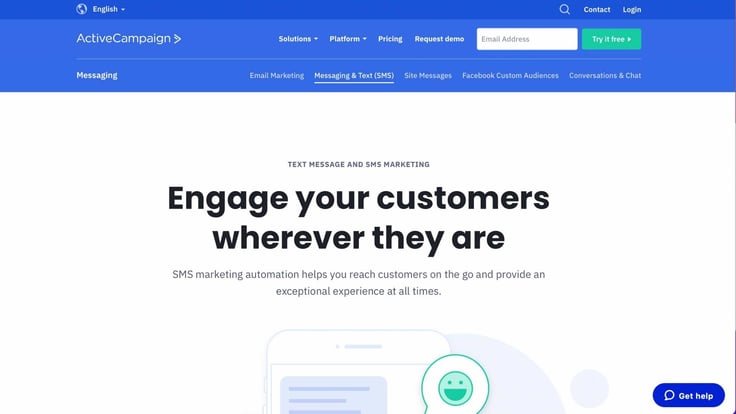 Features:
ActiveCampaign allows you to leverage your automation workflow by adding automated SMS sending. This, in turn, gives you the opportunity to follow up with your customers, inform salespeople, and more.
The platform lets you automate your SMS sending and schedule out your text messages so they always looks relevant. ActiveCampaign is your one-stop destination for all text automation needs, from appointment reminders to event confirmation messages.
Collect and manage phone numbers
Additionally, you have the option to include a custom form on your website to collect your customers' phone numbers. So, even while your customers are on the go, you can connect with them through your SMS marketing campaign.
Pricing
ActiveCampaign has a free 14-day trial. After the trial period is over, you can subscribe to its lite, plus, and professional plans.
The pricing of these plans differs according to the number of contacts your business has. If you have 1,000 contacts, the cost is $29 per month for the lite plan, $49 per month for the plus plan, and $149 per month for the professional plan.
Why do marketers love it?
ActiveCampaign facilitates personalized targeting to analyze customer data in real-time. Such analysis also leads to better customer segmentation and accelerates better customer segmentation. This, in turn, works wonders for effective customer outreach, lead generation, and sales conversion.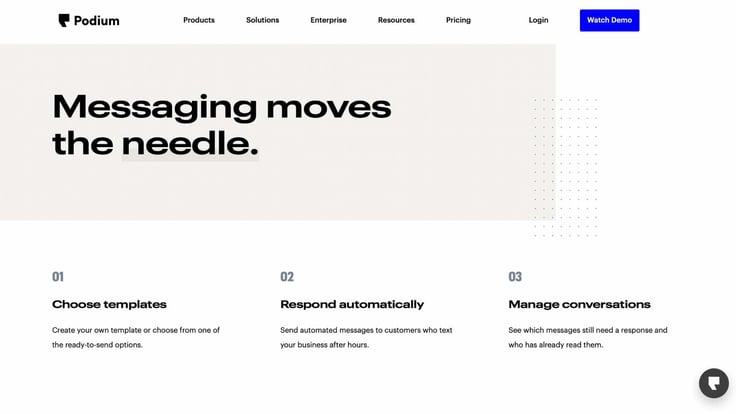 Features:
SMS marketing campaign management
This SMS marketing software allows marketers to send discounts, offers, and regular business updates to their customers. This, in turn, entices the existing customer base to make a purchase and helps convert prospective customers into loyal ones.
Unified messaging platform
Podium groups messages from different platforms and amalgamates them into a single dashboard.
Podium allows businesses to send direct pay links for goods and services into the customer's text inbox. It's a great way of automating and increasing your e-commerce sales
Automated appointment reminders
The software also helps businesses send appointment reminders through text messages. Customers can also confirm their appointments through text messages.
Pricing:
The pricing plans are customizable at Podium. You can get a quote for your company by filling out the request form.
The form is available on the website's pricing page. Once you fill out the request, a representative from Podium will contact you to discuss your requirements and finalize the pricing.
Why do marketers love it?
Podium works towards integrating online reviews and customer messages into a single dashboard. This helps marketers respond to customers' reviews or text messages instantly. Overall, the software is not only proactive but seamless to use too.
Leverage SMS marketing software with Extensiv Order Manager
Now, since you know about the top-notch SMS marketing software, let's see how you can leverage them through Extensiv Order Manager (formerly Skubana), automation tool, and increase your conversions manifold.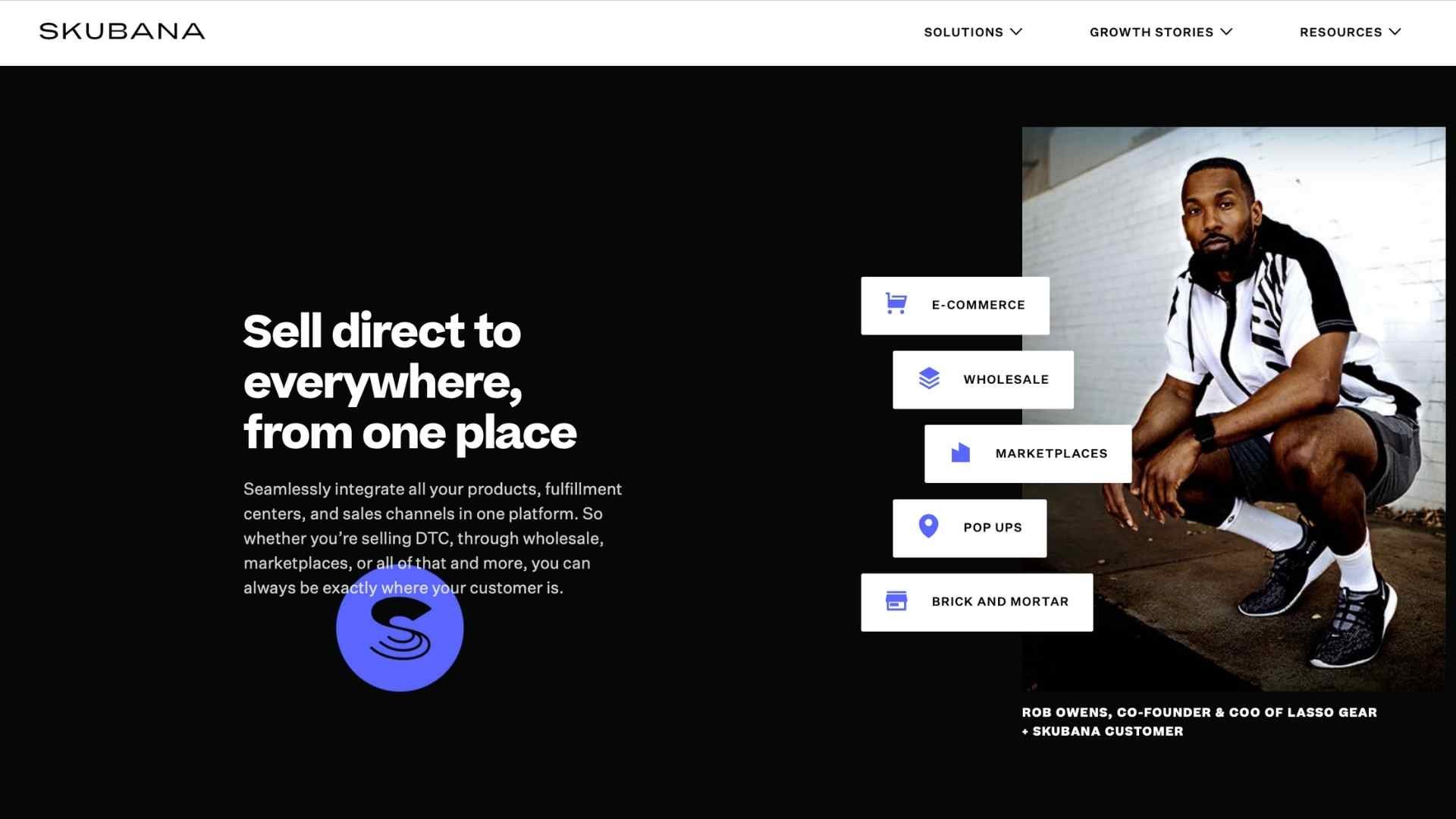 The tool uses PO and forecasts and helps you develop the best shipping deals to engage, inform, entice, and convert your prospects into regular customers. End-results? Improved conversions, higher-order size, and longer customer lifetime value.
Extensiv Order Manager provides you with comprehensive data on every SKU and operation. It also uses predictive analytics to help you forecast your business growth. This, in turn, enables you to offer relevant deals to your customers, accelerate conversions, and build brand credibility.
The tool lets your SMS marketing software integrate with other platforms such as Magento and Shopify. You can also combine it with your email marketing platform.

Conclusion
Instant connection with the right customer at the right time is essential for getting an edge over competitors. SMS comes in handy when you need to target your prospects. After all, it allows you to reach the customer's pockets.
This is where SMS marketing software can be your savior. Whether personalization, segmentation, or automation, the right SMS marketing software can help you spruce up your SMS marketing game.
So, choose the one that best suits your business needs and accelerates sales and profits, one text message at a time. Hope the list mentioned above helps you find your perfect SMS marketing software.