There is a lot that goes into being an effective Amazon seller. Just like any other business it takes drive, passion, and smart decision making. Everything from the mental battle of deciding whether to become an Amazon seller, to actually making the leap of becoming one and handling your day-to-day tasks. It all requires a smart and calculated approach. What makes being an Amazon seller different from other entrepreneurial enterprises is the opportunity it presents. It represents a chance where in this day and age, people with very little capital can establish an international full-fledged business. It is truly an amazing opportunity!
Anyone with a few hundred dollars that has focus and dedication can create and grow a business that can be potentially worth millions in a relatively short amount of time. The fact that opportunities that were only available to people with large amounts of capital and connections are now more accessible, doesn't mean that it's easy. Finding a manufacturer and sourcing a product as well as putting it in front of consumers has never been easier. However, finding the right product, the right market segment, and creating and running a profitable business has never been easy, nor is it ever going to be.
So the question is – Do you have all the information you need to do it well on your own? Technically, you can do it all by yourself by relying on luck, making some guesses, and hoping for the best. Realistically, that's no way to run a successful business. This article highlights some of the major aspects of running an Amazon business to see how much of a difference some additional insight and information can give you.
Product Research
The potential for success of your Amazon business will be largely dependent on the products you decide to source. This is especially true for your very first product. The typical way of deciding what to source would be to simply browse through Amazon listings and look for a product that sells well. The idea is that you will find something according to some preconceived parameters (price point, competition, a product you personally like…) and try to find the same basic product on Alibaba. Of course we know that the thought that goes into finding a product is way more complicated than that, but let's simplify it for the sake of illustrating a point. Let's say that you are considering sourcing blankets. Naturally you would go to Amazon and type "blanket" into the search bar. You would see something looking like this: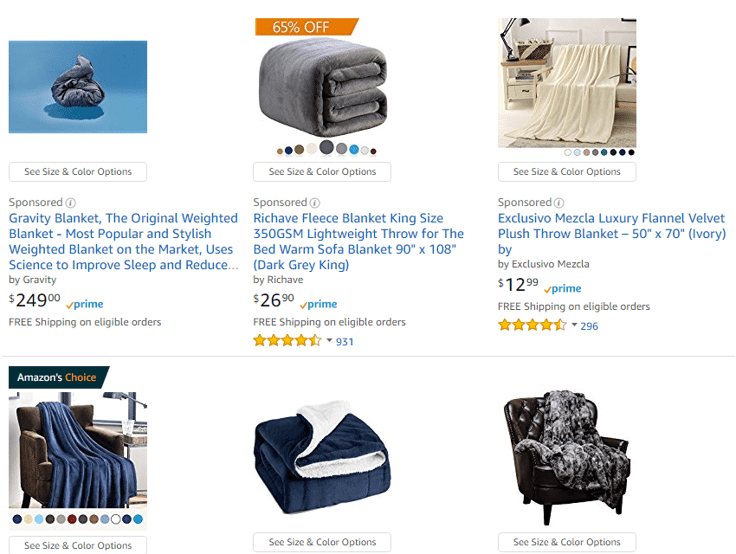 Here we can obviously see that some products are selling better than others. We can also see how much people are willing to pay for certain types of blankets. If you were to choose one and look for a similar product on Alibaba to see how much it costs to manufacture, you might have an idea of how much profit you can expect from it. This just might be enough for you to find a successful product and create a business around it.
Now, let's see what kind of other information you can gather by using product research software to see if it's worth using. While being on the same page as shown above, you can open something like a chrome extension with a single click.
Now you can unveil all the information that's behind the surface of all these listings. You can find out every possible piece of information that you would possibly need to carefully assess to decide if a certain product is right for you. You will know the exact margins and fees, sales volumes, and the weight of any product. This way, you would be able to have an in depth insight of how successful a product is and exactly how much you could make by selling it yourself. Knowing the margins of any product is extremely useful. What's even more useful is being able to calculate how much your fees and margins would be if you priced any of the products differently.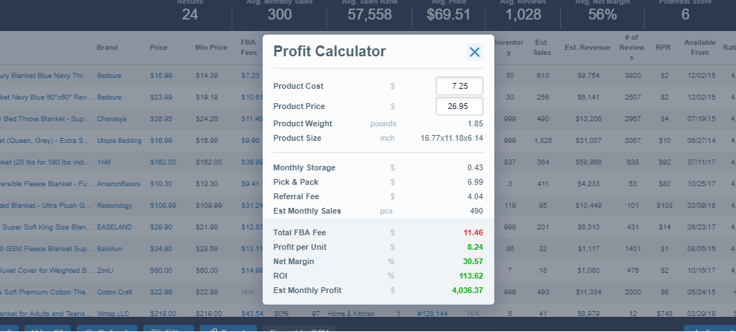 If you are an amazon seller already and have done the product research process by hand, you know that you don't have enough information to make an educated decision. You also know that it takes a very long time to go through this process without the help of software. You would have to bookmark a bunch of listings, guess your profit margins, and compare tens if not hundreds of products. Not to mention, you would have no idea how many sales the product has per month. There was an old rule of thumb that suggested that on average a product gets 50 sales per review. So without software, you would multiply the number of reviews by 50. Then, you would proceed to see when the product became available so you can calculate the number of months to divide the first number with. Needless to say, that method is extremely inaccurate and unreliable. All types of products are different. Some are more likely to get reviews than others. Some sellers are better at getting reviews than others. Product research software allows you to instantly know all the relevant information as well as calculate your margins in seconds.
Competitor and Niche Research
Some products sell better than others. Naturally, we would like ours to be among those that sell better. The best way to maximize our potential of doing so is by identifying what works for others, quantifying it, and ultimately implementing it ourselves. Selling on Amazon is all about rankings. The higher your rankings, the more exposure you get. So, you might have the best product or the best offer, but it won't do you any good unless people can see it. Being ranked on page one instead of on page 2 for a certain keyword can be a difference between 30 and 10 sales a day. This is why knowing the ranking history of any product is invaluable.
Knowing exactly how many sales your competitors get with their ranking is crucial for planning your marketing budget. Since you know that a certain number of sales will get you a certain rank for a product, you will know how much it will take to get you there. There are numerous tactics to temporarily increase your sales at the expense of your short-term revenue. These tactics can be risky if you do not have enough information and if you are not able to plan ahead to predict the results you would get from it.
There is much more information you can use to your advantage in this regard. The LQS (listing quality score) is also something to consider when you see a correlation between a competitor's sales and the indicator. Look into their listing and see what they are doing right. If you are thinking that your price is the issue, you can always look at price history and compare it to both the sales and rank history to see if there's a correlation.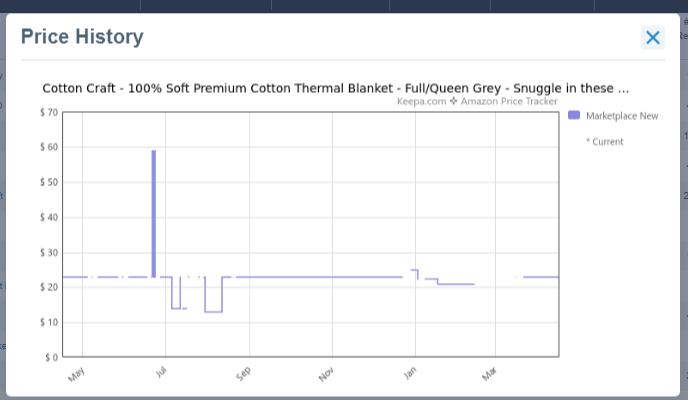 Your ability to identify your most relevant competitors along with a decent amount of data about each of them, is certain to help you increase your sales and your rankings. Of course niche and competitors research is way more complex than this. This has been an oversimplification to illustrate our point.
Listing Optimization and PPC Research
As mentioned before, selling on Amazon is all about the ranking. More precisely, it's all about getting in front of as many of your potential customers as you can. The more you sell, the higher your rank of the product. It's as simple as that. There are 2 ways of getting in front of customers, either by ranking organically or by using PPC (Pay Per Click) advertising. You ranking will go up regardless of which way you made a sale. So, it's not an understatement to say that doing your Amazon PPC well is one of the most important areas of selling on Amazon.
Being able to optimize your PPC is all about keywords. You need to keep a close eye on the change in the search volume of the keywords in your campaigns. The biggest problem with PPC optimization is that you are never done. It is a continual process that requires constant adaptation and tweaking. Something that worked well a month ago might not work so well right now. This also goes the other way. Both you and your competitors will try different tactics and the bids on keywords will change, affecting your exposure. There is a big difference if your ad is displayed on page 5 rather than on page 1. It would be smart to have a software that allows you to search for any keyword and gives you the search volumes for each related one as well as the category.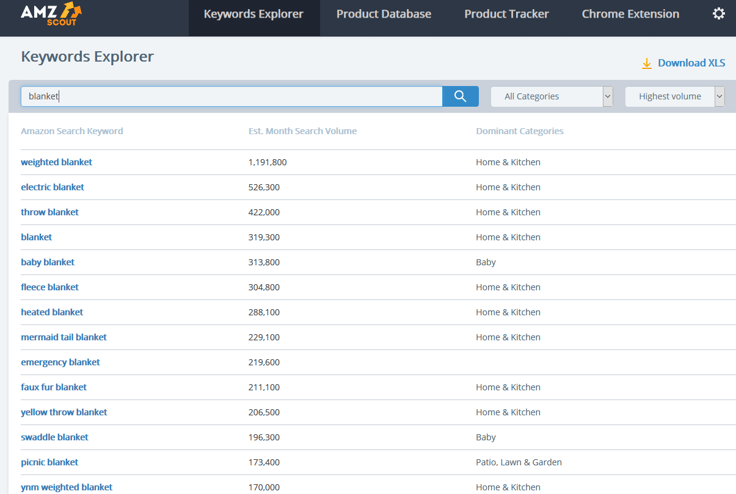 Keywords play an even more important role on Amazon; the role of telling the Amazon A9 algorithm where to place and rank your listing. Optimizing the keywords of your listing is crucially important since it is used to decide on which keywords your listing can rank. There are 4 areas of you listing that require keyword optimization: the Title, bulletin, product description, and the backend. Each one of these has a different level of relevance and none of them should just be used to jam in keywords without regard to the information it would provide to the potential customer. However, a lot depends on the keywords you use in your listing. Based on experience, you can only ever expect to both organically rank, or to be displayed as an ad for a keyword if it's contained in your listing. Some software gives you a list of keywords that a competitor is most likely using.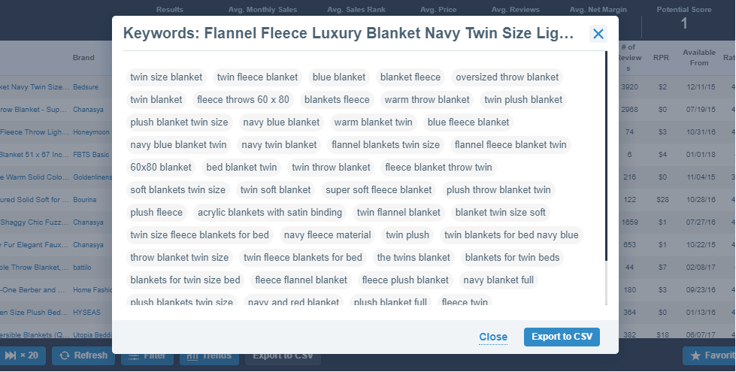 This is a list of keywords that are likely to work with a product that you chose. If you are looking to find new keywords to put into either your listing or your PPC campaign, you can see which keywords your competitor using.
Optimizing your PPC campaigns as well as your listing is something that is a constant and daily duty of any good amazon seller. You could always be doing something better and there is always something that you missed. Mastering this, and finding an effective way of dealing with it is a mark of a truly capable and competent Amazon seller.
Conclusion
Everything discussed here so far is how it looks when you have all the data at your fingertips, and it's still not easy then. Software tools cannot be a substitute for the individual entrepreneur's ingenuity and creative problem solving. What you can do is to acquire as much information as possible, in order to utilize to utilize your own potential and to be more confident about your decision making.
Can you imagine how much guessing would be involved, if you go through the process of setting up and running your Amazon business by having the little information you can gather on your own? Most Amazon sellers learn this lesson the hard way.
You might be able to start things of on your own and be successful in the
early stages. However, as one point or another you will need to organize more
efficiently and you will have less and less time and more work to do. This is where software tools come in. At the end of the day it's entirely up to you how you run your business. The best part of running your own business is the freedom to make you own decisions. Weather you run your Amazon business with the help of software tools or not, it's entirely up to you. Good luck sellers!
This is an article written by Milos. Milos is an ambitious individual who possesses a degree in business. Currently, he is running his own Amazon private label business. As a writer at AMZScout, Milos enjoys being at the center of events in the Amazon World.