With the increase in ecommerce businesses, the rate of returns is also increasing.
In 2020 alone, it is projected that there will be a $550 billion loss as a result of returned products. The percentage of returned products over the years will continue growing because of the increase in online retail stores; therefore, coming up with ways to tackle this problem is essential for every business regardless of size.
It is a known fact that ecommerce businesses experience higher returns compared to retail locations, so it's critical to have a sound ecommerce returns management strategy. Studies have shown that products purchased in-person from a store location store had a return rate of almost 9% as opposed to a whopping 30% ecommerce return rate.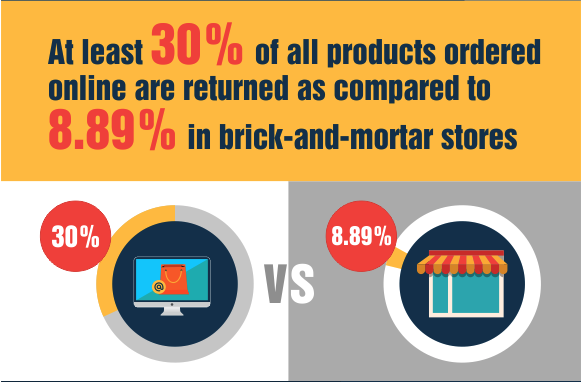 Source: Invesp
In this article, we will be looking at the main reasons why a product gets returned and four ways merchants can prevent this from happening.
Why Do Products Get Returned?
A lot of retailers have misconceptions about why products are returned and do not accept their share of the problem.
Retailers are used to blaming primarily three sets of customers. These include people who:
Buy multiple sizes and colors of a particular outfit who then end up returning the outfits that did not fit them or they did not like.
Purchase clothes only to wear them to a particular event and then return it.
Get outfits for the sole purpose of trying them on and then returning it.
While some of these customers exist, they are not the leading cause of product returns. There are several reasons products get returned, and the majority of those reasons are surprisingly the fault of the retailers.
Some of the reasons that contribute to product returns include:
Inaccurate Product Description
Twenty-two percent of customers that returned products complained that such products were different from what was on the ecommerce website. This usually means that the product was not the correct size, the size charts used to describe the product were inaccurate, the photos or videos used to describe the product were incorrect, or the descriptions on the products were incorrect.
Incorrect Product Received
Another major contributing factor to product returns are shipping errors by the retailer. These typically include the wrong size of the product, a different color, or an entirely different product shipped to the customer.
Damaged Products
Damaged products constitute 20 percent of returns. A product getting damaged could result from members of your staff damaging the product before it shipped or the product getting damaged during transit.
The above three combined constitute a whopping 65 percent of why products get returned. Although this may seem daunting, it is also excellent news because it means that as a retailer, you can prevent a lot of product returns by following certain practices.
Creating an Effective Return Policy
You might think that you do not want to have a detailed return policy because of the hassles involved with it. Why should your business invest in acquiring the losses associated with returns?
However, your ecommerce store must have a bullet-proof return policy; if not, it could dissuade potential customers from making a purchase.
This can also affect the reputation of your business because dissatisfied customers would leave negative reviews, comments, and testimonials. If your company sells on platforms like Amazon, eBay, Etsy, and so on, you must have a return policy in place.
Here are four steps to help develop or improve your return policy:
Make The Return Process Easy And Hassle-Free
Making the return policy easy and straightforward is essential. According to Invesp, 92 percent of customers will purchase from your ecommerce store if the return policy is easy and straightforward.
Some ways in which you can make your return policy easy to understand include:
Make your customers aware of your return policy upon purchase
Stat your process clearly in a language your consumer can understand
Give your customers enough time to determine if they want to return a product. This can activate The Endowment Effect, which says customers get attached to products the longer it is in their possession.
Ensure your policy answers any frequently asked questions. You can reach out to your customer service team to confirm what these might be.
Offer free returns, if possible.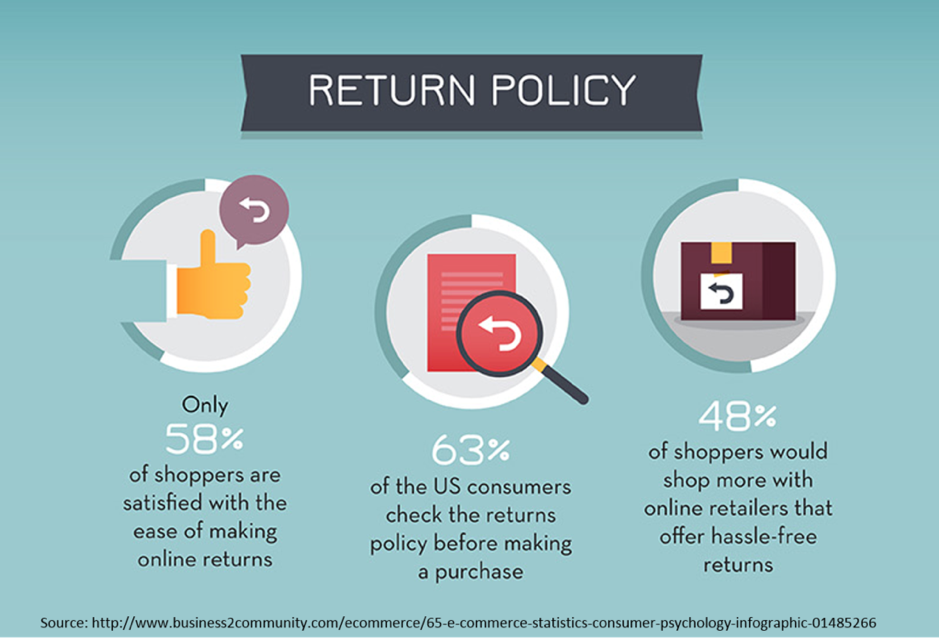 A lack of a return policy directly works against your business. Customers are more likely to purchase more from your ecommerce store if they know there is a solid return policy in place. Your business also gets to acquire loyal customers when they have memorable experiences with your ecommerce site.
Place Accurate Descriptions On Products
Placing accurate descriptions of products can reduce the rate of returns by 22 percent. Maximizing profit is the goal of almost all retailers and business owners; therefore, taking the necessary steps to make sure customers are satisfied with their products is critical.
Use high-quality images and display products from different angles.
Make use of videos to describe products.
Use up-to-date and accurate size charts.
Write detailed descriptions of the product and include the size dimension, the exact color, the material of the product, and other relevant information.
Display the benefits of the products in both your images and videos
Use straightforward language your customer can understand
Design your website in a way that the products are easy to scan
When it comes to describing a product, there is no such thing as too much information. Build a reputation for accurate descriptions and delivering products that meet your customers' expectations based on your ecommerce website. Customers are much more likely to return to your store and recommend products to other selective customers.
Make Use Of Analytics And Feedback
It is always a good idea to make use of analytics and feedback to maximize profits for your ecommerce business.
Product returns analytics can help you identify high return products and problematic customers. The data you gather from returned products can be of immense benefit to your business.
With this data, your business can find a way to improve a highly returned product or stop selling it entirely. This could also involve sending targeted emails to customers that are more likely to return a product, which can be pictures of other people using the product or a phone call from your company thanking this customer for purchasing your product.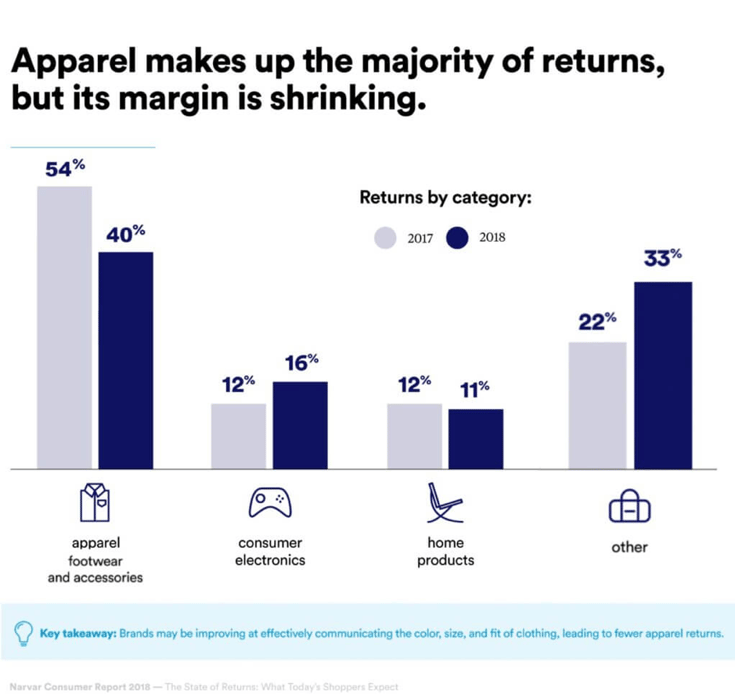 Being strategic is essential to increasing profits in ecommerce and retail, and using analytics to improve your business operation is vital.
Make Use of Customer Reviews and Testimonials
Positive reviews and testimonials are critical to your business. Reviews drive sales and can help reduce the number of returned products.
A good case study is Adidas. They were able to use consumer reviews to lower returns on products drastically. For example, if an outfit has a tighter fit, reviews can advise customers to go a size higher, which will prevent returns.
Conclusion
The losses acquired from product returns can be difficult for startups and small business owners. However, making use of the suggestions in this article can go a long way in drastically reducing product returns.
These includes:
Making the return process smooth and hassle-free
Creating an accurate description of your products
Using analytics and feedback to modify your product offerings and listings
Leveraging customer reviews and testimonials to provide more context
It is also important to continue seeking out information that can increase the efficiency of your business while keeping customers happy.