This year Extensiv attended Parcel Forum 2023 in Nashville, Tennessee. Parcel Forum is the "go-to" event for shippers and their logistics partners to learn how to better streamline both their warehousing operations and delivery models to remain competitive in this evolving landscape.
What a pleasure it is running into our customers like QuickBox Fulfillment, Ocean Blue Logistics, River Plate, Inc., Cabrella, and Gnarlywood. It's a joy to be able to chat with them in person about Extensiv's solutions and how we can help them grow in the future.
Here are the inside scoops that our team members took away from the incredible event.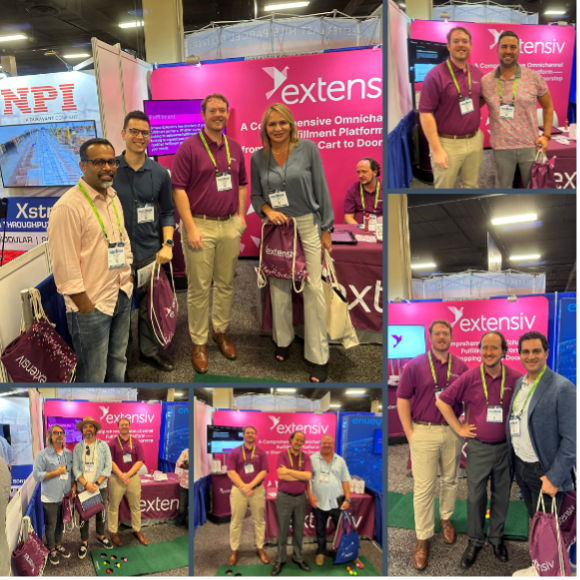 The biggest trend and hot chatter at the show was definitely around data and AI, which is not surprising. Nearly every presentation I attended there was some mention of AI or data. There were a lot of real-life applications and case studies presented to attendees.
Alan Pelz-Sharpe, the founder of Deep Analysis and a leading expert on AI presented a Keynote session dedicated to AI. He talked about how logistics is one of the best industries to apply AI for huge advantages.
Delivery time strategy is becoming clearer with consumer expectations.
McKinsey shared a myth buster that next day or same day delivery is not the golden key to customer satisfaction.
Reliability, as in having predictable delivery windows (e.g., 2-4pm on Thursday), is much more important than getting the package there overnight. And to pull that off, you need to have really strong data and prediction capabilities (which AI can help you drive). Offering 2-5 day free shipping is becoming the industry standard per OSM.
Robotics and automation in the warehouse are becoming bigger and harder to ignore.
Presenters from enVista consulting mentioned over 30 unique robotics applications available today in a warehouse. That number is growing.
This was my first Parcel Forum, and it did not disappoint. The combination of industry experts, analysts, consultants, and practitioners from both the third-party logistics (3PL) and brands side of the industry and the resulting rich interaction made this a conference one to remember.
Some key highlights:
Data and AI: There was a lot of focus on data and AI but no clear, defined pathway for most of the industry. We are still in our infancy in this world, and it is going to change the face of the industry dramatically over the next few years. Most organizations are approaching this cautiously, as they should. Our recommendation would be to focus on getting the data side of your house in order, as this is a precursor to anything predictive, prescriptive, or intelligent!
Carriers, carriers, carriers and providers and aggregators: The carrier world continues to be very complex and messy. Between first mile, middle mile, last mile, regional and national, cross border, and everything in between, the shipping world exploded with the Pandemic and has continued to evolve since. This is a fascinating area of change that impacts all our customers and their ability to meet and match consumer expectations. The Extensiv takeaway is that with our Small Parcel solution and Parcel API capabilities, we will continue to evolve our solution to provide more intelligent choices for our customers, delivering on consumer expectations which doesn't necessarily translate to the fastest delivery time. This is a very exciting area of continued evolution for us to watch.
Understanding consumer expectations: All of us in the fulfillment industry are ultimately here to drive to the needs of consumers shopping on an ecommerce channel or in a retail store. Consumer expectations around delivery are evolving, and while the Amazon Effect is not going away, the alignment on practical expectations versus fastest delivery is surely more visible. Consumers by far want more convenience and reliability than speed. Consumers want the best experience with things like returns, and in some cases, are willing to pay for the best outcome (depending on verticals and dollar value of goods). This was a key area of focus across various presenters and sessions and an important one for all of us in the industry to understand.
Peak season, Peak season, Peak season: Everyone in the industry is always thinking about this and certainly this time was no different. Does the peak season in 2023 look more like 2019? That was the hot topic of discussion, and I for one believe that might be the case. Since everyone should be prepared for 2023's peak season by now, let's start thinking, preparing, and planning for 2024.
Finally, for those who are wondering, Ownby Reserve Bourbon is the best of the lot!
Maximizing Efficiency: Trevor Howard's Insights on Warehouse Slotting Strategies from the 2023 Parcel Forum
The 2023 Parcel Forum was a haven for industry professionals, thought leaders, and logistics enthusiasts alike. It provided a unique opportunity to network, share best practices, and gain insights into the latest trends and innovations in the parcel and logistics industry. From advanced automation solutions to sustainable packaging strategies, the forum covered it all.
In the ever-evolving world of logistics and supply chain management, staying ahead of the curve is crucial. I recently had the privilege of attending the 2023 Parcel Forum, where one presentation stood out as a beacon of knowledge for achieving efficiency in the warehouse: Trevor Howard's talk on "Driving Efficiency in the Warehouse: How to Build an Effective Warehouse Slotting Strategy."
Understanding Warehouse Slotting
Before delving into the key takeaways from Trevor Howard's presentation, let's clarify what "slotting" in the warehouse context means. Warehouse slotting is a strategic process of organizing and optimizing the placement of products within a warehouse. It involves determining the ideal locations for products based on various factors such as size, weight, demand, and picking patterns.
In essence, slotting is akin to playing a strategic game of Tetris within a warehouse, with the goal of minimizing travel time, reducing picking errors, and maximizing operational efficiency. It's about ensuring that frequently picked items are readily accessible, while slower-moving or bulkier items are stored in more remote locations.
The Importance of Warehouse Slotting for 3PL Warehouses
For 3PL warehouses, where efficiency and accuracy are paramount, effective slotting strategies are game changers. Trevor Howard's presentation highlighted several key points:
Optimizing Picking Efficiency: Efficient slotting minimizes travel time for order pickers, reducing labor costs and increasing order fulfillment speed. This results in happier customers and a competitive edge.
Reducing Errors: Placing similar or easily confused items in separate locations can significantly reduce picking errors, enhancing overall accuracy.
Seasonal Adjustments: Slotting allows warehouses to adapt to seasonal changes and evolving product demand. This flexibility is vital for 3PL warehouses that handle a diverse range of products.
Maximizing Storage Capacity: By optimizing the utilization of space, warehouses can store more products without expanding their physical footprint, leading to cost savings.
Enhancing Safety: Proper slotting ensures that heavy or hazardous items are stored in compliance with safety regulations, reducing workplace accidents and liabilities.
In Conclusion
Trevor Howard's presentation at the 2023 Parcel Forum shed light on the critical role of warehouse slotting in achieving greater levels of efficiency, especially for 3PL warehouses. With the ever-growing demands of ecommerce and rapid order fulfillment expectations, slotting is not merely a logistical puzzle; it's a strategic advantage that can make or break a warehouse's success.
Efficient slotting strategies, as emphasized by Howard, enable warehouses to streamline operations, minimize costs, improve accuracy, and ultimately deliver superior service to customers. As the logistics industry continues to evolve, these insights on warehouse slotting will remain invaluable for professionals seeking to stay at the forefront of efficiency and excellence in warehousing.
I had the opportunity to attend Parcel Forum for the first time this year. Alongside the full contingent from Extensiv, my goal was to meet a number of current or prospective shipping carrier partners as we build robustness in our integrated Small Parcel Suite offering. It was a fantastic quick trip and a real joy to be able to meet many in-person that I had only interacted with virtually until now. Parcel Forum struck me as a much larger event than I had anticipated, and a very worthwhile conference to attend and invest more time in for partnership building in the future.
Parcel Forum 2023, held at the beautiful (yet terribly maze-like) Gaylord Opryland in Nashville, Tennessee, brought together the supply-chain industry once again this year to educate its members on the latest trends and forecasts. I had the pleasure of being one of this year's attendees, networking with and learning from some of the largest, most brilliant, and successful leaders and companies in the nation. One of my best experiences happened directly on the show floor at our booth, developing relationships with others and educating them on the ever-growing Extensiv platform. There's a sense of joy that is sparked when you are able to interact first-hand with others in the industry whose business could benefit directly from your services. Additionally, in a room full of competitors, the vibe and intention were that of camaraderie—finding a way to work together for the benefit of everyone. Certainly, one of the coolest take-aways from the event.
Beyond my show floor experience, Parcel Forum brought to light a number of ongoing and future trends. The two sessions I was drawn to and found highly informative were: "Fact vs Fiction: What Do Customers Really Want from Ecommerce Delivery Experiences?" and "The Automation Solution for Labor Gaps."
The end goal and ultimate criteria for success is almost always going to come down to customer satisfaction. How is that achieved? With so many different strategies and methodologies throughout the industry, discussing some of the myths to success in the ecommerce delivery session, such as why faster is not always better, helps bring attention to the more pressing need for reliability.
Working with 3PL and fulfillment warehouses on a daily basis, the "Automation Solution for Labor Gaps" session was particularly of interest as the labor crisis is mentioned in nearly every meeting. Labor costs have skyrocketed over recent years, and finding quality talent has become scarcer in parallel, creating a huge gap in the market. Automation plays, and will continue to play, a role in enhancing warehouses' existing operations and helping them overcome mounting challenges. The keynote reviewed best practices to determine which automations are right for your operation and how data can even drive current human resources to perform at a higher level.
My first Parcel Forum far exceeded my expectations. Learning from those who are able to evolve and scale their businesses within an industry that has such frequent change and requirements to stay on top is inspirational. To those looking to attend, I cannot recommend it enough!
We especially enjoyed the session "Delivering a Merrier Holiday Season: How 3PLs, Shipping Software and Carriers Fit Together" lead by Steve Congro, Saddle Creek Logistics. Ecommerce orders provide shipping challenges year-round. Meeting the delivery expectations of your customers requires careful consideration of countless variables and strategic planning. In this session, Steve talked about the keys to carrier selection, optimizing your distribution network, leveraging advanced technology and outsourcing options to deliver a merrier holiday season. Multiple facilities can assist in getting the product to the consumer faster and more reliably, but only if you have the systems to support this and the operations to handle it.
Wrapping Up
For more event recaps and industry insights, check out the Extensiv blog to see what we've learned from our conference experiences.