Whether you sell one product or thousands, negative product reviews are almost an inevitability for e-commerce sellers. Unfortunately, negative reviews can hurt your sales if consumers think that your products are flawed, if your sales platform thinks that you've dropped below their quality standards, or if you respond to the negative review in the wrong way.
Negative product reviews can show up in search, show up on products themselves on platforms such as Amazon, and can appear next to your company via Google Ads or organic search where they can affect consumer decisions.
Screenshot of Blue Digital Cameras from Google Product Listing Ads:

Screenshot of Blue Digital Camera from Google Organic Search: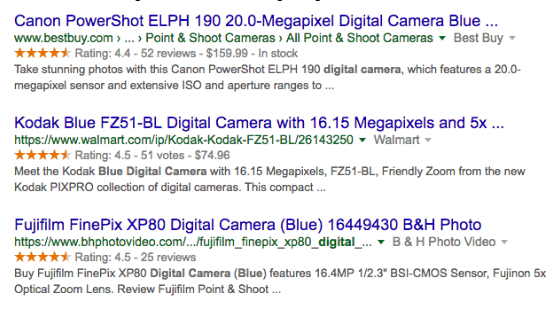 This means that you have to create an Amazon review strategy for replying to and handling negative product reviews. For the most part, you can take a simple approach to negative product reviews and how to deal with them.
How to Handle Negative Amazon Product Reviews
Many customers leave negative product reviews in hopes of receiving a response from the manufacturer. In other cases, customers leave reviews because they feel misled by the product page in some way. However, research shows that 71% of people who post a negative review are doing so in hopes of getting a response. This means that you can likely reduce your negative reviews by commenting and offering solutions to people based on their issues. If you solve their problems, they will likely change or delete their review.
If you are a reseller, product reviews probably won't impact you as much as if you are a private label seller. For example, if you sell Beats Bluetooth over-the-ear headphones versus your own branded over-the-ear headphones. However, you still want to work with your customers and clients to resolve issues as frequently and as professionally as possible. In fact, this can help you in more ways than one. While you can talk with a customer to find out the problem and solve it for them, and then they can change their bad review to a good one, you will likely also be doing this on the review page. On Amazon, comments on reviews are public, which means that other people can see them. Commentary on reviews helps to get the review in front of more people, and by publicly working out problems with consumers, you can show people reading those reviews that you are willing to help to ensure that your customers have a good experience. An e-commerce apology letter can also help smooth things over.
A great example of resolving negative Amazon product feedback through commentary is on the Anker SoundCore Bluetooth Speaker with 24-Hour Playtime, 66-Foot Bluetooth Range & Built-in Mic, Dual-Driver Portable Wireless Speaker with Low Harmonic Distortion and Superior Sound - Black.
The customer originally had a three star review on the product due to one issue, "My three star rating is due to my issues that seem to be pausing my music. If I hit play, the music typically resumes." By commenting on the issue, as seen below, for the customer to reach out to their customer service, they were able to work things out to resolve the issue.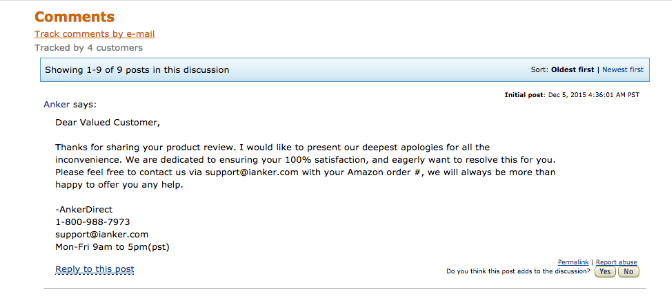 At this point, you've put the ball in the customer's court as you are now awaiting them to take time out of their day to contact you. To be pro-active, as typically most customers include additional information regarding their order, try to search for their order.
In this product feedback, you know the following:
It was a verified purchase so this is public facing account is the one they used to purchase your product.
Now you know the ASIN
"Brian" might be their first name
The customer stated, "Today I received…" The review was made on Dec 4. 2015 so now you know the date the product was received and you can project the date the order was created.
Typically through Amazon Seller Central, you can do an advanced search for the order using the known "facts" above.
When contacting the customer, you should remain professional, attempt to figure out what went wrong, and take steps to solve the problem if necessary. While you shouldn't pander to people who are being unreasonable, you can offer a resolution of an exchange, refund, or return in cases where the negative review is over a faulty product. Amazon's product review policy does not allow for promotional or paid reviews so tread lightly when offering refunds or "bonuses". Remember that the end game is to create a new positive experience for the customer with your product. The customer should never feel pressured to change, update or delete their review.
Tips:
Deal with negative reviews quickly. Establish a daily or weekly schedule to check up on existing reviews, respond to new ones, and to ensure that everyone is happy.
Recognize when the review is valid. If products were broken or damaged in transit or while out of your control, you still have to apologize.
Be helpful
Don't be defensive
Apologize
Get in touch. After you've offered a solution on the review, make sure you offer contact information so that the reviewer can get in touch. Follow up after sending out a replacement product or refund to ensure that the reviewer is happy.
You can see that this commentary benefited this seller greatly as the customer even publicly, through the same commentary thread, updated other customers in his correspondence with the seller.

Then other potential customers commented additionally to the thread with how impressed they were with the seller's customer service.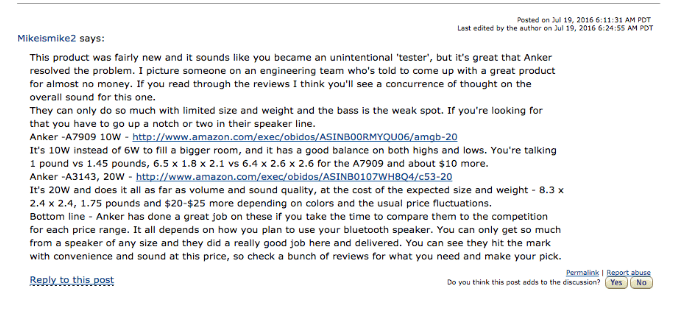 Removing Negative Reviews
In some cases, it may be in your best interest to deal directly with Amazon to remove a negative review. Amazon does have a policy for product reviews as well. Product reviews that are against Amazon's policy and can be appealed for removal are:
Regarding seller and shipping experience
Regarding product availability and feedback
Inappropriate Content
Multiple negative reviews from the same shopper
Hate Speech & Offensive Content
Promotion of Illegal Conduct
Competitors posing as a customer leaving negative reviews.
For full details, click here.
Request Good Reviews
One of the best ways to balance out negative reviews is to invite your happy customers to leave you a good review via an Amazon feedback request. You can do this in a few ways, including using your email newsletter, including incentives such as 10% discount codes to persons who leave reviews, and by including a printable invitation to review (for an incentive) in the shipping package.
Using Negative Reviews as a Tool for Improvement
Negative reviews can reveal issues with your customer service, product shipment, fulfilment, packaging, or other details. You should take the time to evaluate each negative review that you receive to determine if it is valid or not. For example, if you frequently receive negative reviews because products arrive broken, you may have a packaging problem. "Understanding Customers" by Ruby Newell-Legner says that only 4% of people who have a bad experience will ever tell you about it, so if you have a lot of bad reviews, you may want to consider making changes to improve.
If you have negative product reviews, don't panic. Instead, take some time to consider the problem behind the negative review, fix it for the customer if possible, and move forward to reduce negative reviews in the future.
Negative Reviews Aren't All Bad
Remember that having some negative reviews isn't always a bad thing. Most people know that sellers on third party marketplaces like Amazon and eBay can pay for reviews to make a product look better than it actually is. So a product with all five-star reviews might actually sell less than a product with a few negative reviews, especially when a negative review receives a lot of publicity or comments. In fact, some people can actually be pushed into making a purchase by a bad review that explains what went wrong. Why? Most people fear significantly worse problems than are outlined by most negative reviews.
The trick is that you don't want to have too many negative reviews.