Using Google Ads to Grow Your Amazon Business
This is a guest post written by Thomas Pruchinski. In his role as Director of Marketing & Customer Success for LandingCube, Thomas Pruchinski has run dozens of Facebook Ads & Google Ads campaigns to promote Amazon products. Before LandingCube, Thomas worked on two e-commerce brands in the health space.
Google is still the top place shoppers go when searching online for product information before making a purchase. 85% of respondents in a Kenshoo survey used Google. 63.2% of online searches in the US took place on Google, according to 2018 study by Statista. And 93% of mobile searches in the US used Google!
Now Amazon is certainly catching up to Google with regards to product search. And searchers on Amazon are generally further along in the buying process, whereas Google searchers are earlier on in the research phase.
Still, as an Amazon seller, Google offers you an additional way to get your products and brand in front of more people. If they are seeing you on Amazon & Google, it will increase their chances of buying. And if they aren't seeing you on Amazon, well you can get in front of them on Google.
Why Not Just Focus on Amazon?
At this point, you may be thinking, why even worry about Google? It's sufficient work to grow our presence on Amazon. Why would we want to expand off Amazon?
There are numerous benefits to leveraging marketing channels outside of Amazon to grow your Amazon business. Although your first focus should be on optimizing your traffic and conversion within the Amazon platform. After all, if your Amazon page is not optimized to convert visitors into customers, when someone comes to your page from a Google Ad, the money will be wasted.
Enable Email Marketing & Retargeting
Amazon gives you the tools to access millions of shoppers "Primed" to buy. However, when someone buys your product on Amazon, it's not your customer. It's Amazon's customer. It is against Amazon's Terms of Service to contact customers for marketing purposes, and you cannot collect email addresses. However, if you use Google Ads intelligently, you can collect customer contact info because Google Ads dashboards offer real-time reporting, it allows marketing professionals to focus on providing their stakeholders with actionable insights and immediate answers.
The key is to send traffic to a squeeze page between the Google Ad and your Amazon listing. There are many landing page tools that you can use. Some more general purpose (like ClickFunnels or Leadpages), and others that are built specifically more Amazon (LandingCube).
One strategy is to offer a discount code on the landing page in exchange for an email. The discount incentivizes purchase, so conversion rates go up, resulting in higher rankings. And having collected the email before the customer reaches Amazon, you can use it for email marketing without breaking TOS. So now you can hit up your email list with promotions, product launches, and even ask for reviews.
Driving traffic to a landing page also allows you to set up a tracking code for retargeting, something that is not feasible within Amazon.
So using external marketing channels like Google Ads allows you to build sales funnels for Amazon and expand your your marketing toolbox to have more ways to reach customers than selling on Amazon alone.
Risk & Reward
It's also a good way to mitigate risk. It's a good idea to not have all your eggs in one basket. If you fall down in the Amazon keyword rankings, your sales will suffer. Amazon might even introduce their own brand in your niche, or you might get suspended. Building an email list and retargeting capabilities with Google can allow you to continue making sales if your Amazon rankings fall.
Diversification is also valued by companies that buy Amazon brands. Having a varied product catalogue, multiple sources of traffic and selling in different channels can all increase the valuation of your business.
How does Google Ads Work?
Like Amazon's Sponsored Products, Google Ads are keyword-focused. So if you are running Sponsored Products ads (which every Amazon seller should be), you can use this to plan your keyword strategy for Google Ads.
Google Ads break down into three levels.
You can organize your campaigns in a lot of ways, but a good approach is to select one product for your campaign. And within that campaign, break in down into 3-5 ad groups. Each ad group will contain 4-6 keywords that are categorically related. And then each ad group will have a few different ads, all centered around the category.
So let's suppose you are selling a brain health supplement. Here is a sample breakdown of different keyword groupings:
Ad Group: Nootropic

Nootropic
Nootropic supplement
Best nootropic
Natural nootropic
Nootropic herbs
Nootropic stack

Ad Group: Brain

Brain health supplements
Brain supplements
Brain pills

Ad Group: Cognitive

Cognitive supplements
Cognitive enhancers
Legal smart drugs for cognitive enhancement

Ad Group: Brand

Acme supplements
Acme nootropic
Acme brain supplements
Acme smart pills
Keyword research is extremely important for Google Ads, as well as Amazon Ads and organic rankings. There are some great tools at your disposal to use for keyword research.
Use the keywords in your Amazon listing and backend
What keywords are you optimizing for on Amazon? It's probably a good idea to use those same keywords in Google. Just note though, people on Google are typically more in research mode. Whereas those on Amazon are more in shopping mode.
Keywords from Search Term Reports
Again, it is probably a good idea to use the same keywords that you are targeting within Amazon's internal advertising platform.
You can use the Search Term reports to find additional keywords. Look at the search terms that are actually resulting in profitable sales. This is a goldmine of information. You want to use the exact phrasing that customers use.
Amazon Auto-Suggest Keywords
Another way to find additional keywords, especially longer tail keywords, is to type in a keyword in the Amazon search bar and look at what other keywords show up in the drop down.
A tool like AMZ Suggestion Expander (a Chrome extension) will provide even more suggestions.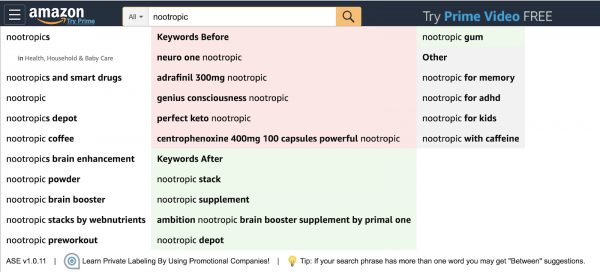 [image rights: screenshot using AMZ suggestion expander]

Negative Keywords
Just like Amazon Sponsored Products have negative keywords, so does Google. You want to add negative keywords so you won't show up for irrelevant search terms. In the brain health supplement example above, maybe there's an ingredient that your product does not contain, say piracetam. Then add this as a negative keyword.
You also want to use negative keywords so you aren't double bidding against yourself. For example, if an exact match keyword is used, you want to add that exact match as a negative keyword in phrase and broad match groups that might otherwise show up for that exact match search term. If someone searches for "Acme brain supplements" you don't want the Brain ad group to compete with the branded ad group. So in our example above, we would add "Acme" as a negative keyword in the non-branded ad groups.
Writing Ads That Convert
So once you collect your keywords and break them down into different categories, it's time to create ads. Each ad group should have multiple ads, so you can collect data on which one performs the best. The key to all digital advertising is the use of data to experiment and improve upon ads over time.
Each ad contains a headline (each ad can have as many as 3 headlines, each with up to 30 characters), description (2, each with up to 90 characters), and a URL path (2, each with up to 15 characters).
Headline
The headline is probably the most important element of your text ad. It is what catches someone's eye as they search on Google. So you want to make your offer known very quickly. And you want to include the search term in the headline, so that whatever someone is looking for shows up in big bold letters.
You can use dynamic parameters within the ad so that when there are multiple keywords in an ad group, whichever keyword is used in the search term will show up in the ad.
URL Path
These are the words that go after your website link. So Acme.com/URLpath/buy now. It's good to increase words here that increase urgency. Words like sale, discount, promotion, 1-day only.
Description
In the description, you are given more space to explain the offer in more detail and communicate the benefits and features of your product. And you always want to finish off with one call-to-action. Give people a reason to click your ad.
Note that you pay everytime someone clicks on your ad. So in addition to negative keywords to prevent irrelevant impressions, you may want to include some disqualifications in the ad copy itself. If you only sell women's pants that are slim, you don't want plus-sized women or even men to click on your ad. So make it clear in the description what it is you are offering.
Landing Page
Once someone clicks on your ad, they will go to a landing page. It's best to have tailored landing pages for each ad group, even to include the search terms in the headline of the landing page. The landing page experience is a crucial element in Google's Quality Score. Cohesion between the ad and the landing page will increase your Quality Score, allowing you to pay less / show up higher.
Including a Google Analytics tracking code on your landing page will allow you to remarket to people who take specific actions. Remarketing is typically much cheaper and more effective than advertising to cold audiences.
Test, Evaluate, Improve
Success in digital advertising (whether Google, Amazon or Facebook) comes from experimentation. You want to set up conversion tracking and use the data to see what is working and what is not working. Pause ads that aren't working. For ads that are working, test different headlines, descriptions and URL paths.
Continue to do keyword research. If a broad match keyword is profitable, find out which phrase and exact match ones within the broad match do best.
Follow the data.
Bonus Strategy: Advertising Educational Content
One super interesting approach to leveraging Google Ads is advertising your educational content to get people onto your sight, and then later sell them on your actual product.
This strategy works for several reasons. Remember that Google is mainly used for answering questions and top-of-funnel research, whereas Amazon is for product search/bottom-of-funnel. But most people advertising on Google are bidding on product keywords. So if you sell nootropics, ads for the keyword "nootropics" is likely to be expensive.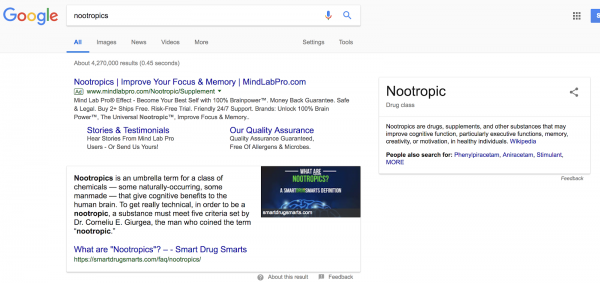 But there will be much less competition on the keywords "what are nootropics," "are nootropics safe," "what nootropics work."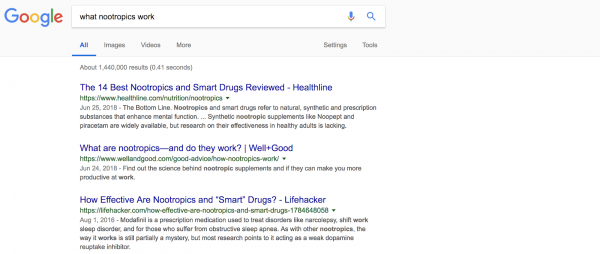 So you can get traffic to your website much cheaper promoting blog posts, videos, and other educational content. And you can include a link to your Amazon page at the end of the blog post, or a link to a promo page with a discount. You can also install the Google tracking code to remarket ads to people who view your content. Thus, you're building a more sophisticated sales funnel for Amazon.
In Summary: Use Google Ads to Grow Your Amazon Business
Google Ads offer an additional source of traffic to add additional sales on Amazon. While Amazon is an amazing platform, it can be hard to collect contact info and do remarketing. Google Ads allow you to build sales funnels for Amazon, which can help you get an edge on your competition and grow your business.