Name any service that is more than 10 years old, has added a significant amount of revenue for a business and has country specific programs that is part of a single business? I suspect that you will answer, a loyalty program that is run by a bank, airline or hotel group. The correct answer is not related to any of those industries and is actually related to online shopping.
Amazon Prime is arguably one of the greatest inventions that Amazon has given customers as it initially covered free two-day shipping for $79 per year. It took 6 years before Amazon raised the price to the current $99 per year for US customers.
Jeff Bezos created Amazon Prime to drive consumption for customers. The consumption is driven by the fact that you are able to get items shipped to your location at a faster rate than standard shipping, which based in the US is roughly 4-5 business days.
Think about that for a minute - $99 is a loss leader as Amazon Prime users ship a lot of purchases in their 12 month subscription.
How Much of a Game Changer is Amazon Prime?
The research, which was conducted by Consumer Intelligence Research Partners, found that these valuable members spend $1,500 a year on average, compared to non-members who spend about $625 a year.
What Amazon has created is a highly coveted network effect on customers who shop at Amazon regularly. Amazon has been its usual self in being coy about total Amazon Prime subscriptions. I guesstimate that we are looking 60 million subscriptions globally of users enjoying the benefits of Prime.
"Amazon.com can grow revenue more than the market expects thanks to its ballooning Prime membership, RBC Capital Markets analyst Mark Mahaney said Friday. RBC increased its price target on Amazon to $705 from $650 based on momentum in its Amazon's Prime business.
It was trading at more than $524 a share on Friday. The firm's third annual Amazon consumer survey suggested U.S. Prime adoption has risen from 25 percent of customers in 2013 to 40 percent today."
Prime adoption is growing

: 40% of Amazon customers in the US are Prime members versus 25% in 2013. Globally, Prime members are estimated to number 60 million to 80 million.
Prime members are coming back more frequently

: Seventy-four percent of Prime members said they used Amazon more today than when they first joined Prime. Also, 73% of Prime customers said they shopped at Amazon at least two to three times a month, while only 22% of non-Prime customers said they did.
Prime members spend more

: Forty-nine percent of Prime members spend over $800 annually, while only 16% of non-Prime users do so.
The longer they've been a Prime member, the more they spend

: Forty-one percent of those in the first year of a Prime membership spend over $800 a year, versus 68% of Prime members of more than four years who do.
- Stats courtesy of Business Insider
So How Does Prime Look Internationally?
In certain countries it is called Amazon Premium. It is available in: the United States, UK, Spain, Japan, Italy, Germany, France, Canada, Austria and Belgium.
Why is the below list one country longer than what is seen in the footer of Amazon's website?
Well, Amazon does not have a business setup in Belgium. Belgium customers sign up for Amazon Premium in France and then use it for their country. That is another simple sign of the power of Amazon Prime / Premium. Being able to drive demand for a product from customers in a region in which Amazon does not have a presence.
Country

Launch Date

Amazon Instant Video

Music

Streaming

Next day delivery

Photo

Storage

USA

2005

Yes

Yes

Yes

Yes

UK

2007

Yes

Yes

Yes

Yes

SPAIN

2014

No

No

Yes

Yes

JAPAN

2007

Yes

No

Yes

No

ITALY

2011

No

No

Yes

Yes

GERMANY

2007

Yes

Yes

Yes

Yes

FRANCE

2008

No

No

Yes

Yes

CANADA

2013

No

No

Yes

No

AUSTRIA

2014

Yes

No

Yes

No

BELGIUM

2015

No

No

Yes

No
Source: Fast Company, Amazon
@henlaub

Amazon Prime is also a contributor to Amazon's largest expenditure - logistics. 2015 was the first year in which Amazon's total shipping costs exceeded $5 billion.
This is one of the reasons why Amazon is looking at Flex, Prime Now and airplanes. Amazon can't afford to take Prime away as those Prime customers will go to other marketplaces, or online retailers.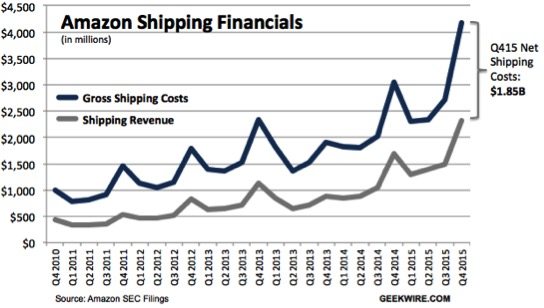 "NPD's research shows more than 24 percent of U.S. households have at least one Amazon Prime account, one finding of the first major inquiry into Prime's penetration levels. Amazon does not disclose the number of Prime subscribers or the percentage of homes reached by the service."
- Source courtesy of NPD
The impact of Amazon Prime is seen here: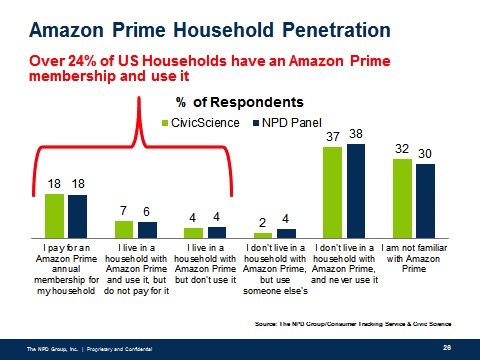 Prime Has a New Extension Called Prime Now
A year ago, Amazon introduced Prime Now, a service that offers a limited catalogue of goods available for one or two-hour delivery. The service launched first in Manhattan (December 2015) and has been on a tear around the country since, launching in parts of more than 20 U.S. cities as it tries to take down one of the last barriers between Amazon and physical retailers. More cities are expected to get Prime Now next year.
Amazon Prime Now is a service in select cities in the US, UK, Japan and Italy. The concept is quite clever in that you need to be an Amazon Prime member in order to use the mobile app which shows a substantially smaller catalog. These items are available to be shipped to customers inside 2 hours. It is available inside 1 hour at a cost of $7.99. That is more money going to Amazon from Amazon Prime customers.
"Prime Now is being used by users in search of the ultimate convenience at some cost. Cowen & Co. surveyed 1,250 U.S. adults over the age of 18 and found that 25% of the estimated 40 million-plus subscribers to Amazon's Prime service used Prime Now in January 2016, a result that analysts call "extremely impressive early penetration" in a Tuesday note.
Prime Now launched in December 2015 and is now available in 24 U.S. markets, which Cowen says represents about 48% of the nation's gross domestic product. One-hour delivery is available for a fee of about $8 and food delivery is available in seven U.S. markets.
Two-thirds of Prime Now customers were between the ages of 25 and 44. Seventy percent of respondents purchased goods multiple times per month and 24% purchase items at least once per week.
Media was the top category, with 60% of respondents purchasing items from this group. Nearly half (47%) purchased electronics costing less than $50, personal care items (44%), and apparel, shoes and accessories (41%). Prime Now customers bought from four categories on average."
- Source courtesy of Marketwatch
Amazon Prime Now is Amazon's trojan horse that will ensure that the Seattle business can cope against Postmates, Uber etc. Amazon is known for squeezing merchants like Borders out of categories such as Books. Amazon Prime Now offers local merchants the opportunity to sell items to users who might not have bought items from them due to not knowing about them or selling items that are only available via the Prime Now app.
Amazon Prime and Prime Now is an example of how a customer centric business can monetize its users to not feel like they are being taken advantage of but getting the items they want at speed that will make them go on with their lives.