As online shopping continues to rise, so does the technology to meet the expectations, and needs, of the consumer.
If you own an eCommerce shop, it should be no surprise that your customers want a personalized shopping experiences, instant answers to questions and concerns, 24/7 customer support, and shopping recommendations.
But the problem is, having a live human on hand to handle all of this, and more, can be challenging for many businesses.
Not only does this require time and money, it requires actual staff to man the phones, live chats, or email tickets.
That's where chatbots come in handy.
And the thing is, consumers know about chatbots, welcome chatbots, and have even come to expect chatbots to play a role in their shopping experience.
With global revenue from artificial intelligence expected to surpass $36.8 billion by 2025, it is no wonder the eCommerce world is getting in on this technology.
In fact, more companies than ever are using chatbot interfaces to guide consumers down the sales funnel, no matter what channel they are on.
So what does this mean for you?
If you own an eCommerce shop and want to stay ahead of the game, it's time you take a look at what chatbots are and how they can help your business grow.
Because if you don't, you'll find yourself in the dust of those that do.
What is a Chatbot?
In technical terms, a chatbot is a computer program designed to simulate conversation with human users.
They are not apps to be downloaded to live on a user's device; rather they exist on live servers, making the interactions they provide utterly seamless.
Not to mention, they automate processes, help users complete a task (such as making a purchase), and even have the ability to "chat" with people that engage with them on a conversation interface.
Taking it one step further…
…the most advanced chatbots have the power to understand complex requests made by users, personalize responses, and make it feel as though you were actually talking to someone on the other end of your device.
Chatbots have the ability to cross over into other apps without hesitation and do not require users to open and close separate programs.
This is important because people tend to stick to their five favorite apps all the time.
Not to mention, popular apps such as Gmail, Pandora, Instagram, and Snapchat see their fair share of users on the daily.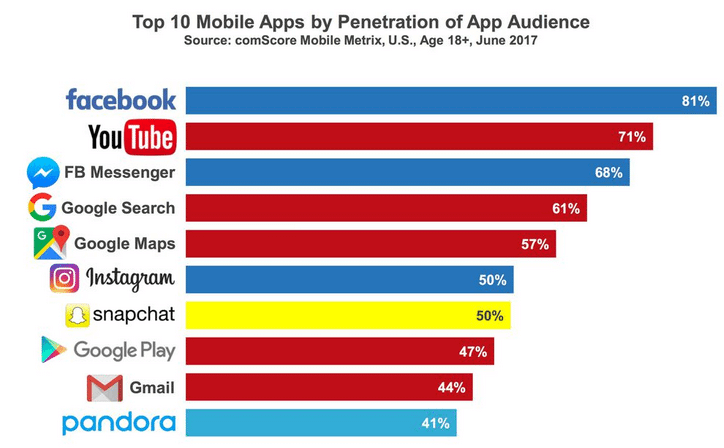 That doesn't leave a lot of room for the thousands of other apps available to people.
That's why chatbots are so interesting.
A chatbot's ability to cross over into lesser-known apps makes booking a taxi, checking in for flights, playing games, buying movie tickets, managing bank accounts, and even reserving doctor's appointments easy to do – without ever having to exit out of one app and go into another.
Not only does this make the consumer happy, it helps smaller businesses trying to compete with big name corporations that have squeezed themselves into people's everyday lives.
Now everyone can squeeze in, help their target audience, and take home a piece of the revenue pie.
Chatbots are an advanced technology that eCommerce businesses should use to help their customers make purchases, find what they are looking for, and provide customer support when needed.
In other words, chatbots are your go-to salespeople for times when actual people just aren't around for your customers.
Chatbots in Action
Curious to see some examples of real life chatbots?
I thought so.
Take a look at some of the coolest ecommerce chatbots today and you'll quickly see the appeal behind them.
Going into a Sephora shop and chatting with a sales rep about your makeup needs in person is the best way to get exactly what you are looking for.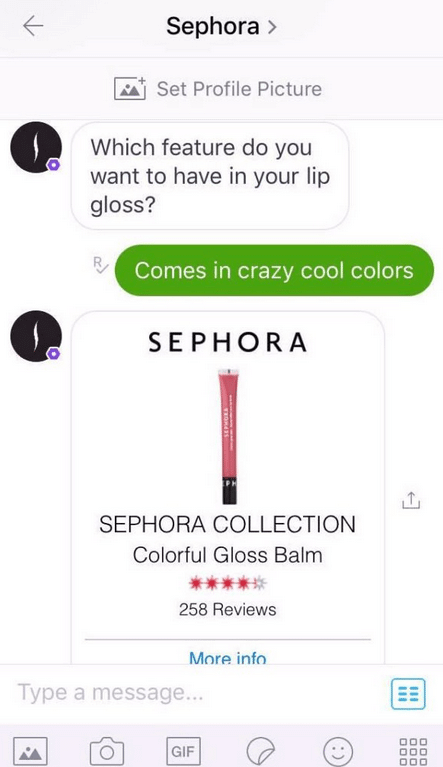 But Sephora has made this a possibility, right from your mobile phone.
Adding a chatbot to the popular messaging app Kik, Sephora can now ask you a few questions, give you the chance to browse products, and even provide you with exclusive beauty tips that the same salesperson in a store would be able to provide.
Not to mention, you can view video content, follow step by step tutorials, and search for exact products.
You can even make direct purchases.
Found within Facebook Messenger, SnapTravel offers users exclusive hotel deals.
Simply type in your travel city and dates to receive instant recommendations.
From there, book hotels right in Messenger.
And if you even find yourself needing an actual agent, they are on standby 24/7 to help you book your accommodations.
Talk about the perfect buying experience!
Ordering pizza online just got a little easier.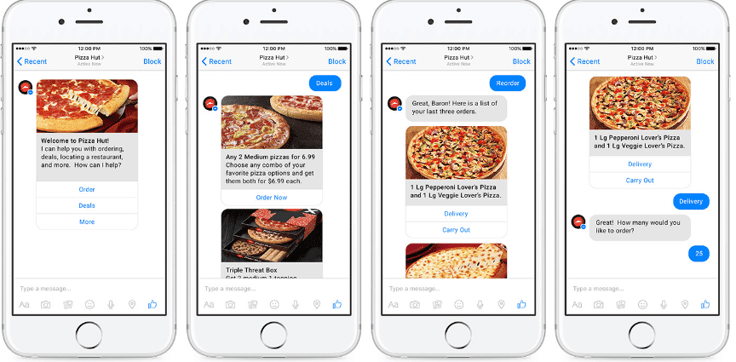 Using the Facebook Messenger/Twitter chatbot from Pizza Hut, you can now chat about what kind of food you want to order, complete your order, and even save favorite pizzas for next time, making re-ordering a cinch.
Find out about special promotions, set up payment information for easy transactions, and never make another call, website visit, or app download again.
Why Use Chatbots?
Okay, so chatbots definitely seem cool right?
But why actually use them for your business, instead of relying on what has been working forever in terms of mobile sites and apps?
The truth is, people are ready to use innovative technology such as chatbots to help them with their buying experiences.
Whether they want to book a flight, order a pizza, or get in on the newest mascara release, people want what they want – and they want it now.
Chatbots can do this.
Need more convincing than that?
Keep reading.
Messaging Apps are on the Rise
For the first time ever, people are spending more time on messaging apps such as Facebook Messenger, Whatsapp, Kik, WeChat, and Viber.
In fact, these apps have become so popular across the globe, they are actually outperforming social media platforms like Facebook, Twitter, Instagram, and LinkedIn.
Because of this, chatbots are the perfect solution to reaching your entire audience base, whether they visit your website or download your app.
Think about it.
HubSpot reports there being over 5 billion active messaging app users a month.

That's a lot of people you can target with your goods and services.
And, instead of them coming to you, you go to them.
In other words, rather than provide a self-serve solution, where customers are in charge of helping themselves, you provide the service by way of chatbots and help your customers.
Giving your consumers a way to use chatbots in the places they already spend a lot of their time is not only convenient, it helps customers find solutions no matter which device they are on.
Gone are the long forms to fill out, cluttered inboxes full of spam and other useless information, or wasted minutes scrolling through a busy website looking for that one little thing to buy.
Chatbots give users a way to intertwine their love for messaging their friends and family, while making online purchases – all from one location.
As one-on-one private messaging begins to change how people interact on social media, it only makes sense to have a chatbot ready to interact with your audience base when they need it.
After all, don't you want in on the 70% of referrals that are coming from "dark social" – aka messaging apps, email, and private browsing?
Businesses Are Using Them
Ted Livingston, founder of Kik, says that "Chat apps will come to be thought of as the new browsers; bots will be the new websites. This is the beginning of a new Internet."
He goes on to say that chatbots are the perfect solution for getting rid of apps that need downloading, accounts that need creating, and interfaces that need exploring.
In fact, chatbots are the way to provide frictionless customer support.
And businesses know this.
80% of businesses located in France, the Netherlands, South Africa, and the UK have already started using chatbots, or plan to by 2020.
And if you don't want to fall behind the competition, and are looking for a unique way to cater to your customers' needs, chatbots are where it's at right now.
People Like Them
Despite what you may think about people complaining about the lack of personal interaction when it comes to using chatbots, people have actually come forward and said they don't mind using them if it gets the job done.
People don't like the hassle of picking up the phone, waiting for an email response, or having to go into a brick and mortar store and deal with customer service.
No, instead they would rather figure out their shopping needs with a chatbot that mimics human interaction and provides instant results.
In fact, 69% of people don't care how their questions are answered, so long as it is done immediately.
Plus, as an eCommerce shop owner, you don't have to bother with creating a standalone app that:
People are unlikely to spend a lot of time on
Costs a lot of money and requires a lot of time to develop
Must compete with big name apps and messaging solutions
Making matters even more convincing, 47% of users are reported as saying they wouldn't mind making a purchase using a chatbot.
71% of people are okay with receiving customer service through a messaging app.
And consumers are willing to spend upwards of $55 more using a chatbot thanks to the personalized shopping experience and seamless transaction process.
How Do Chatbots Work?
There are two types of chatbots.
The first kind are rule-based chatbots that function based on, you guessed it, a specific set of rules.
They can only respond to commands provided by your users, rather than interpret your user's language.
For instance, they can only provide an answer to a pre-set question asked by a customer.
A great example of this is the finance app Digit, and the chatbot that enters into the equation on Facebook Messenger to help people manage their finances.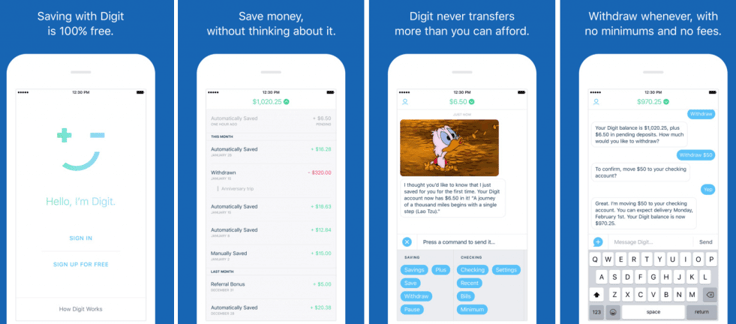 As you can see, users can press a command and the chatbot immediately responds with the appropriate information.
If a customer does not press a command, or tries to enter a message the chatbot doesn't understand, the chatbot will become confused and the user experience will sink.
These chatbots are only as smart as they are programmed to be and are for limited-use by customers.
On the other hand, AI chatbots are more advanced and can handle any number of queries posed to them by users.
They can have conversations with customers, answer requests, interpret language, and meet all of your customers' needs.
The best example of this is the Mitsuku chatbot, three time winner of the Loebner Prize, and conversational chatbot that just wants to, well, chat.
It is considered very human-like which allows customers to give in to the thought of interacting with computers rather than live people.
And, with the right kind of AI chatbot for your company, you can not only talk with customers as though it were a real conversation, you can provide customer service support, help with the purchasing process, and like we've mentioned so many times before, recommend products to boost sales and generate more revenue.
And the coolest thing about AI chatbots is that they get smarter as the conversation with your user progresses.
Knowing which type of chatbot to employ for your eCommerce needs will depend on the type of experience you are hoping to give consumers.
If you are looking for a simple way to answer pre-set questions, go with a rule-based chatbot.
If you want something more innovative and unique, go with the more intelligent AI chatbot.
Either way, your customers are sure to be impressed.
How to Build a Chatbot
Building a chatbot can sound intense, but it's actually completely doable.
The first steps you'll need to take are the following:
Decide what problem you intend to solve using a chatbot
Choose a platform for your chatbot to live on (e.g. Facebook Messenger, Whatsapp, Kik, etc.)
Set up a live server to run your bot from
Choose which chatbot hosting service you'll use to build you chatbot with
We have rounded up some of the best chatbot building platforms on the market today.
Though it's important to keep in mind that some will require basic coding skills.
However, most have easy to use interfaces, drag-and drop technology for easy building, and step by step instructions for those without any programming experience.
For AI chatbots on Facebook and Slack, ChattyPeople is your go-to platform.
Not only can you learn how to build a chatbot from the ground up, which is perfect for small companies, you can even employ developers to create custom made chatbots for your eCommerce needs.
Features include access to your chatbot analytics so you can measure your ROI, compatibility with Facebook Messenger, WeChat, and even Skype, and a fully functioning chatbot capable of having a conversation with your users.
And the best part?
This platform is free to use.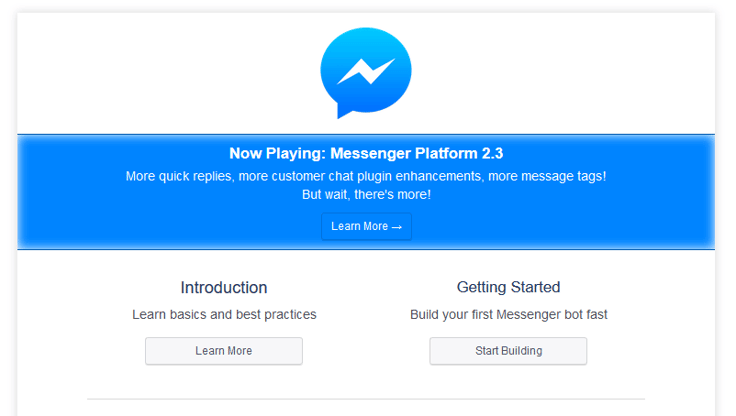 For Facebook Messenger chatbots, you might consider the source and go through Facebook's own building platform.
Create a chatbot (free of charge) capable of messaging your users, accepting payments within conversations, reaching a wider audience across the Facebook social media channel, and even personalizing conversations and making specific recommendations.
MEOKAY makes creating a chatbot easy for both developers and newbies to the chatbot world.
Create chatbots on Facebook (both Messenger and in comments), Slack, Skype, Viber, and even in Google Hangouts within minutes.
Push sales offers on demand, recognize trigger words to guide the conversation and purchase behavior, and integrate with popular payment gateways such as Stripe, PayPal, and bKash.
Just give it a try with their 14-day free trial and go from there.
Kik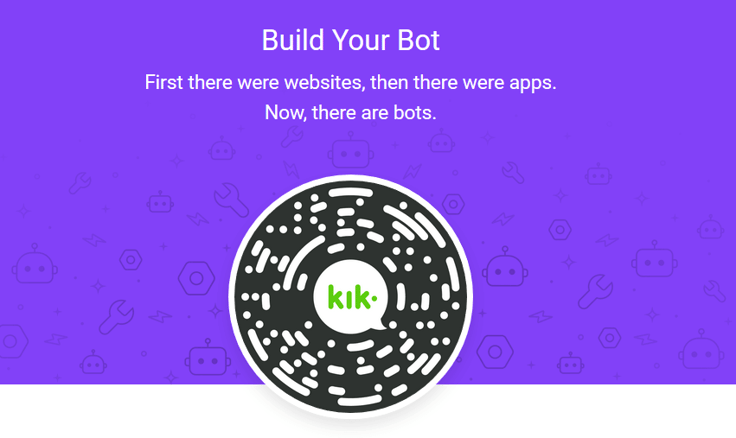 For those with a solid level of programming skills, you can build a chatbot to go into Kik and access the 300 million people that spend a portion of every day in there chatting away.
This platform is especially useful if your target audience is young.
After all, nearly 40% of all teens in the United States use Kik.
Accessing that audience base, catering to their needs, and providing them an easy way to purchase what they want using a chatbot is one of the best marketing strategies you can employ.
There is nothing to download, no icons to add, no memory to hog.
Not to mention, registering and launching is 100 percent free.
Simply scan the barcode and start building.
Chat directly with your customers via Facebook Messenger, Slack, SMS, Telegraph, and the web.
Create an automated, rule-based chatbot, an AI chatbot, or a mixture of both.
In addition, drive traffic to your chatbot through email marketing or social media, allow users to share your chatbot with friends and get them involved too, and of course, access your individual analytics to see what an impact your chatbot is having on your bottom line.
And, do all of this for free, scaling up with their premium plans as your business grows.
The neat thing about Motion.ai is its versatility.
Not only can you create chatbots for Facebook Messenger and Slack, you can also create an interactive chatbot for your website, email, and even SMS.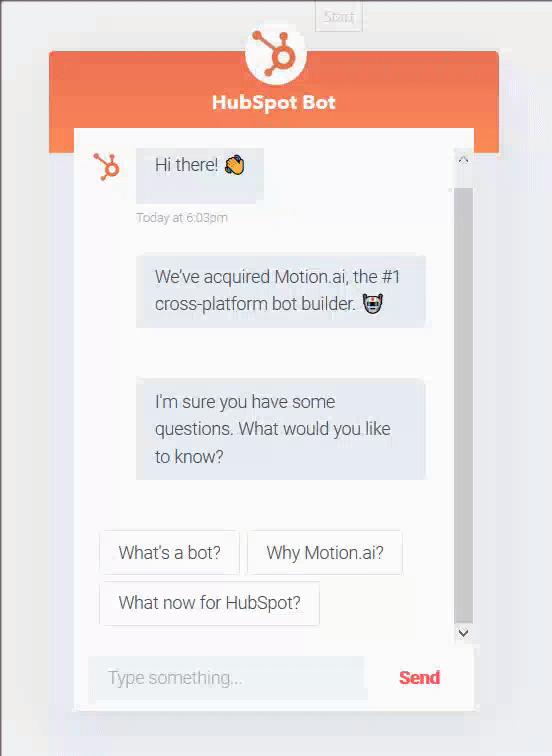 Taking a visual approach to chatbot building, Motion.ai does not require any advanced coding skills and will come free of charge for all users, with a usage-based paid plan that allows for subscriptions.
Newly acquired by HubSpot, you can expect this chatbot host to be ready sometime this year.
In the meantime, sign up to be the first to know when this chatbot building service is live and get building.
Measuring Chatbot ROI
It's not enough to create a chatbot for your eCommerce needs and be done with it.
You must measure whether your chatbot is making a difference or not.
After all, you don't want to annoy people with chatbot interactions if they aren't converting them into customers.
Unfortunately, measuring the ROI of chatbots is difficult to do.
No two chatbots are the same.
No two chatbots solve the same problem.
And no two chatbots will interact with customers in the exact same ways for easy comparisons.
So, when you hear statistics like 40% of users will stop chatting with a chatbot after the first message, and another 25% stop after the second, you have to think to yourself whether that is good or bad news.
What if your chatbot's only purpose was to direct users to your eCommerce shop after answering one simple question?
The fact that users leave right after that first message does not indicate in any way that your chatbot is failing.
In fact, it does the opposite.
On the flip side, if your chatbot's main purpose is to get people to watch video content, share their favorite products, and make purchases, all within one session, a stat like the one above is cause for concern.
People will tell you to monitor metrics such as audience reach, average session duration, number of sessions per user.
And while these are all great things to keep an eye on, take everything you see and relate it to the purpose of your chatbot.
One great strategy for measuring the success of your chatbot is to compare the results of it to the method that was previously being used to complete the same task.
For example, if you are now using a chatbot to direct consumers to your latest product releases, whereas before you were using an email campaign with an internal link to encourage subscribers to do the same thing, see which method is converting the highest.
This data will give you the insight needed to tell if your target audience prefers more traditional marketing strategies, or new advanced ways.
You can also take advantage of the analytics provided by the chatbot hosting platform you choose to go with.
Facebook Messenger gives chatbot builders a guide on how to collect analytics about how your chatbot is being used and what people on Messenger think about it.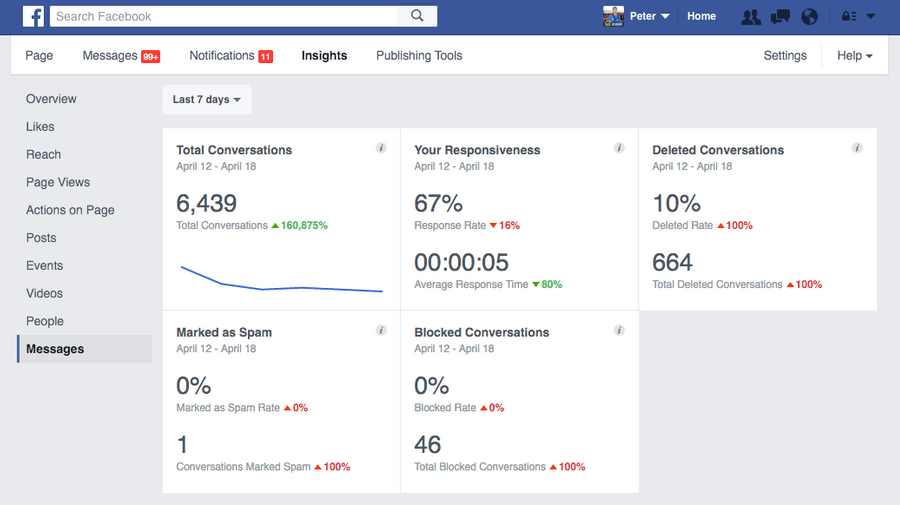 Chatfuel offers detailed metrics to help users address their needs while interacting with your bot, figure out what makes users return, and ways to build a bigger audience base.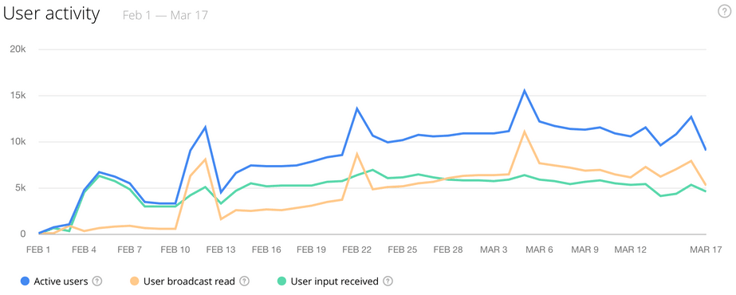 Even Motion.ai has a convenient dashboard with an easy to understand breakdown of your chatbot's activity.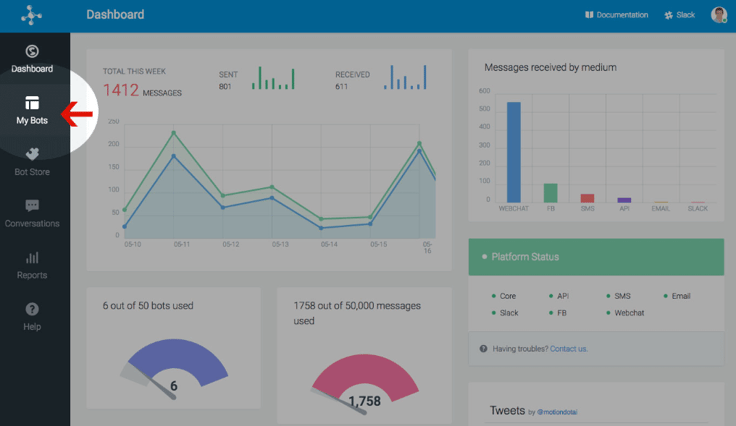 If you want to take it even further, or your chatbot building platform doesn't provide the data you are looking for, you can always invest in third-party analytics tools such as Chatbase, Dashdot, Taplytics, or Botanalytics to measure your chatbot's ROI.
Chatbots are taking the eCommerce world by storm by making brands more approachable and humanized to their consumers.
They offer seamless user experiences that cater to the individual, which has the potential to not only attract and convert consumers, but retain them as long-term customers as well.
Chatbots are convenient, 24/7, and surprisingly useful for customers of all kinds.
And, though chatbots are still very new, it's probably a good idea you jump on this bandwagon because the phenomena of interactive chatbot technology is only going to get better.