Many e-commerce sellers start out on eBay, taking advantage of quick and easy setup, the ability to dropship, and the ability to sell at any volume to build capital and selling experience. eBay is convenient, has a large consumer base, and offers many categories, but it isn't the end of the line.
Whether you're looking to leave eBay or want to expand to multi-channel selling, there are plenty of eBay alternatives you can use to build your e-commerce empire.
There are hundreds of e-commerce sites you can sell on, but the following 5 include some of the best alternatives to eBay.
5 eBay Alternatives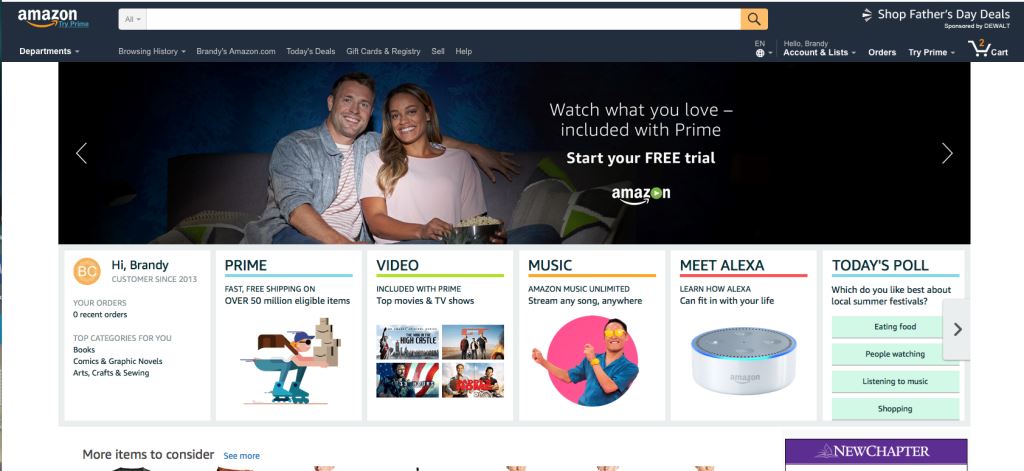 Amazon is arguably one of the largest e-commerce platforms in the world and the largest in the United States. Amazon owns over 50% of all U.S. product searches, making it the site to be on if you are running an American e-commerce store. Amazon is eBay's largest competitor, with millions of products (including their own). Amazon does not have an auction function, meaning that you can only sell products for a set price – but this is often better for sellers with new products.
Amazon is arguably superior to eBay in that they offer a wide variety of seller resources, management tools, and fulfillment options – making it easy for sellers with limited resources of their own to scale up.
Pros
Amazon offers a lot of seller services including management, built-in sponsored products for ads, and even fulfillment solutions.
Amazon offers perks like improved search placement and more exposure to sellers with quality reviews. You are rewarded for offering a great experience to customers.
Cons
Most customers only see Amazon's brand and not yours, except on the return form.
Selling secondhand products on Amazon is sometimes difficult.
Amazon is not suited for rare products which benefit from an auction environment.
Amazon maintains strict quality standards which you must maintain to keep your account.
There will be competition in any category.
Who Should Sell on Amazon – Amazon is one of the most important platforms for any e-commerce seller to use simply because it's the largest. This makes it suited to almost every type of seller unless you're trying to compete directly with Amazon.
Amazon is the largest online marketplace in the United States, and as such, it is one of the best eBay competitors.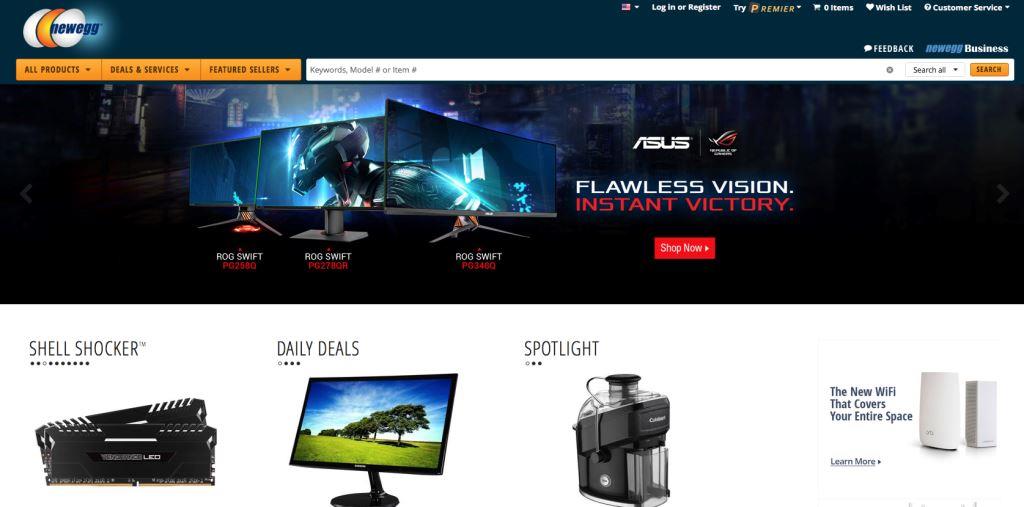 Newegg is best known as an electronics website that offers a wide variety of tech and gadgets. However, they do have other categories, ranging from kitchen supplies to professional DJ equipment. While primarily aimed at men, Newegg also has a large female demographic like tech savvy to moms. Unlike eBay, Newegg offers fulfillment, with an automated pack and pick system designed to keep costs low – plus an average ship time of just 24 hours after order.
Pros
Very fast fulfillment service.
B2B seller options.
Newegg Premier attracts customers who frequently purchase on Newegg and keeps them loyal to the platform.
Low commission fees of 8-15%.
Cons
Who Should Sell on Newegg - Newegg's largest buyer demographic mostly consists of tech savvy men and women between the age of 25 and 35, making it ideal for nearly any type of electronics. While you can succeed with other types of products, gadgets of any kind are Newegg's heavy hitters and will do the best.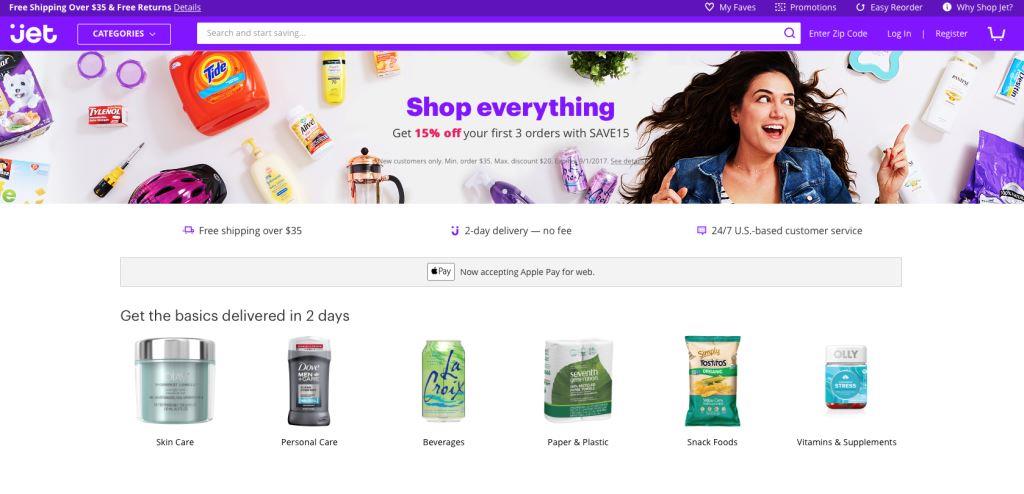 Jet.com is a quickly growing e-commerce platform purchased by Walmart in 2016. The platform operates on its own website, offering bulk sales and discounts to an average of 30 million monthly visitors. Jet.com is also unique in that it does not charge a monthly fee, allowing you to offer steeper discounts to buyers to boost sales.
Pros
No monthly fees.
Great for offloading products nearing the end of their lifecycle.
Ideal for selling bulk and package products.
The setup encourages automation to reduce prices.
Cons
No administrator panel.
15% commission fee.
Buyers expect discounts and will not likely buy full-priced items.
Orders must be accepted within 15 minutes.
Strict policies make it difficult for small sellers to get started.
Who Should Sell on Jet.com - Jet.com maintains a large audience of price savvy shoppers, especially parents who are looking to buy household products and home supplies in larger quantities. However, with over a dozen categories including electronics, furniture, and baby supplies, most sellers will be able to offer their products.
Jet.com is a strong platform that is growing quickly, but most valuable to sellers who already have high sales volume.
Auction Style eBay Alternatives
If you are specifically looking for an auction site to replace eBay, here are 2 options.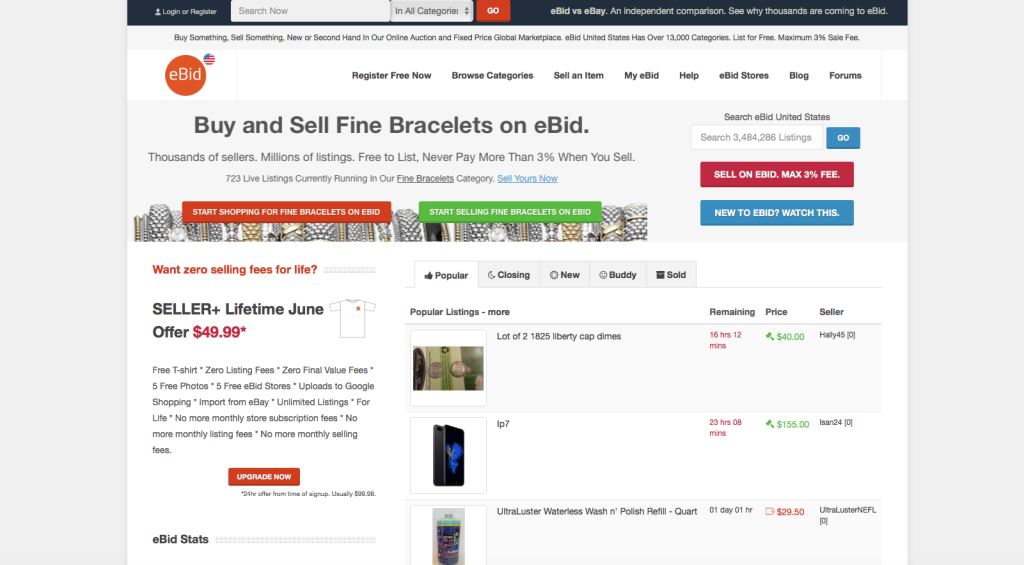 eBid was founded in 1998 and has been one of the best eBay alternatives since the early days of e-commerce. Today, eBid boasts some 60,000 visitors per day and 15 million per year. However, while smaller than eBay, the platform has more than 3.8 million live listings in 12,000 categories, with a value of more than $6 billion, so eBid is not a small site. eBid accepts Paypal, Skrill, various card payments, and has their own payment system. Listing is free with a final value payment of 3%, and e-commerce sellers can purchase a lifetime membership.
Pros
eBid is significantly cheaper than eBay and you will see a higher profit percentage.
eBid supports numerous categories and makes it easy to auction products off.
Cons
eBid has significantly lower traffic than eBay, making it most valuable to sellers who already know how to generate their own traffic.
Who Should Sell on eBid - eBid is an ideal choice for large sellers with established brands, websites, or social media pages. While eBid sees significantly lower traffic than competitors, the lower costs make it an ideal candidate for using PPC promotions to drive sales. The auction format also makes it ideal for selling rare and limited edition items or antiques, providing you can promote them elsewhere.
Overall, eBid is a strong eBay competitor, but with a significantly smaller platform.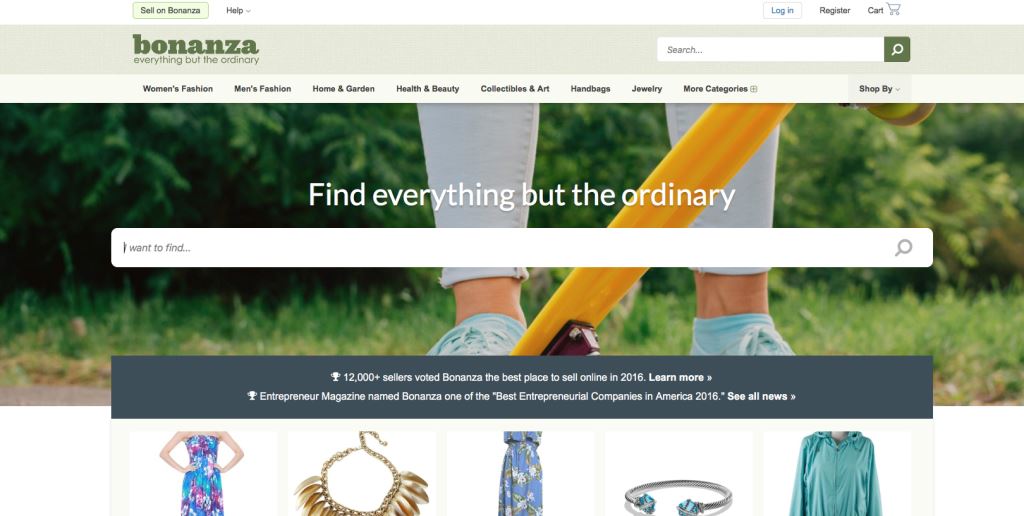 Bonanza is a niche marketplace perfect for sellers who offer one-of-a-kind and hard-to-find items and collectibles. While not precisely an auction site, this eBay alternative has a lot to offer for artists, custom craftspeople, and secondhand sellers, as well as traditional retailers. Bonanza stands out by offering a no-fee listing, and allows you to offer a higher percentage of the sale in exchange for marketing and advertising, as well as listing on other websites. The standard fee is 3.5%.
Pros
Low commission fees.
Simple to setup and use.
Ideal for custom products, rarities, and unique items.
Cons
Lower traffic than eBay.
Designed for low-volume sellers.
Who Should Sell on Bonanza – Bonanza has a large mix or products, product categories, and buyers. While the platform started out with unique and one of a kind items, it now offers a wide variety of products, including popular brands, made-in-China goods, and handmade items. Bonanza is suitable for almost everyone, and tends to balance lower traffic with less competition.
Moving onto a new channel is a big step for any e-commerce store. Whether you're currently only selling on eBay or are operating a multi-channel store, you need to take the time to handle market research, ensure that there is a demand for your products on the channel, and invest in learning the new platform.
In most cases, you will also have to take steps to ensure that your software, inventory management, and warehousing solutions support can support your new channel for a smooth integration with minimum investment. If you are moving to multi-channel, you must manage inventory across multiple channels to prevent overselling.
Extensiv Order Manager was designed to automate and manage operations for high-volume, multi-channel businesses. It can synchronize your inventory across all your channels in real time to help you prevent over selling and stock outs, collect cross-channel analytics, and more. Contact us for a free demo of our complete e-commerce ERP and find out how Extensiv Order Manager can save you money.