According to the Wall Street Journal, around 190 million customers in the US shopped online in 2016. Online shopping is much more convenient for many than going into a retail store, with all the same functions at the click of a mouse.
In any e-commerce website, there will be the well-known shopping cart icon. Most people are already familiar with e-commerce shopping carts, which allow people to store their orders while they continue shopping and adding more things to their cart. Once the customer has already finished all his or her shopping, he or she will bring his or her "shopping cart" to the checkout and pay for everything.
If you own an e-commerce website, then one of the most important things to think about would be how to build your shopping cart. Your shopping cart solution has to not only be there to store orders. It should also have a range of functions to make your customers' shopping experience be even better than expected. This will definitely help you stand out from the competition. Here are a few things to look for in a shopping cart solution.
8 Features to Look For When Choosing an E-Commerce Shopping Cart Solution
1. Security
First of all, it's important to look for a shopping cart solution that's secure. In order to protect your customers from identity theft and information theft, your shopping cart software needs certain certifications and compliances.
Shopify is a good example of this. Their shopping cart uses an SSL certificate that makes use of a 256-bit security encryption, which is the same type of encryptions banks use to protect information. It is also certified Level 1 PCI DDS compliant, which protects all credit card and financial data entered into the site.
It pays to look for a shopping cart solution with these kinds of security credentials to keep your customers safe.
2. Payments from a series of payment facilities
For your customers' convenience, your shopping cart should be able to accept payment from different gateways. Ultimately, a shopping cart has to have the three main payment methods: Visa, Mastercard, and Paypal. The more payment facilities the shopping cart accepts, the better. Other common payment methods would be from American Express, Skrill, Alertpay, or even bank transfer.The more payment facilities and payment methods that the shopping cart solution offers, the better it is for your e-commerce website.
The more payment facilities and payment methods that the shopping cart solution offers, the more likely it is you'll support your customers' preferred payment method.
3. User-friendliness
Aside from functionality, it is also good for the shopping cart to have a user-friendly navigation. User-friendly navigation is especially great for customers that are new to shopping online. The more complicated the navigation process of the checkout, the fewer people will want to continue buying. This also contributes to the entire user experience of the website, since it'll make it easier for customers to shop.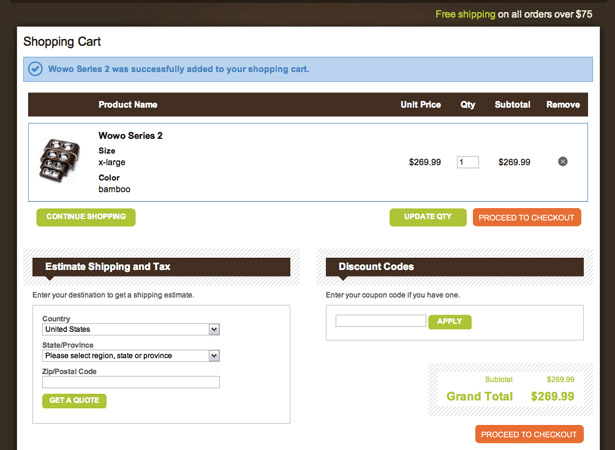 4. Simple, functional design
Your shopping cart should be nice to look at. A normal shopping cart icon is usually used but the nicer the shopping cart icon, the better it is for the customers. Buyers will notice both the shopping cart icon as well as the layout of your shopping cart pages. This means that people take into consideration the design of the checkout counter as well. Your buyers want something that is appealing to the eyes so it's important that a nice design is implemented.
5. It can automatically calculate miscellaneous fees
To make things easier on your operations and customers, your shopping cart solution should be able to automatically calculate miscellaneous fees and add it to the total. First, there would be the product price and less the discounts. Another thing that the calculator should compute would be the tax rates that would come along with the product. Not only will this show that your website is transparent, but it will give the buyers an idea of how much tax is implemented into their products. Lastly, your shopping cart solution would have to calculate the shipping rates that are applied to the product. If the shipping for your product is free, then the calculator may just place there "FREE" along with the total amount that is to be paid to the website.
First, your solution should calculate product price less discounts. It should be able to calculate tax depending on billing address, and then should be able to identify shipping rates.
Tip: If the shipping for your product is free, let your shoppers know by displaying the word "Free" in the area where a price would be.
Walmart has a good example of a shopping cart with a total calculation feature that makes things easier for customers.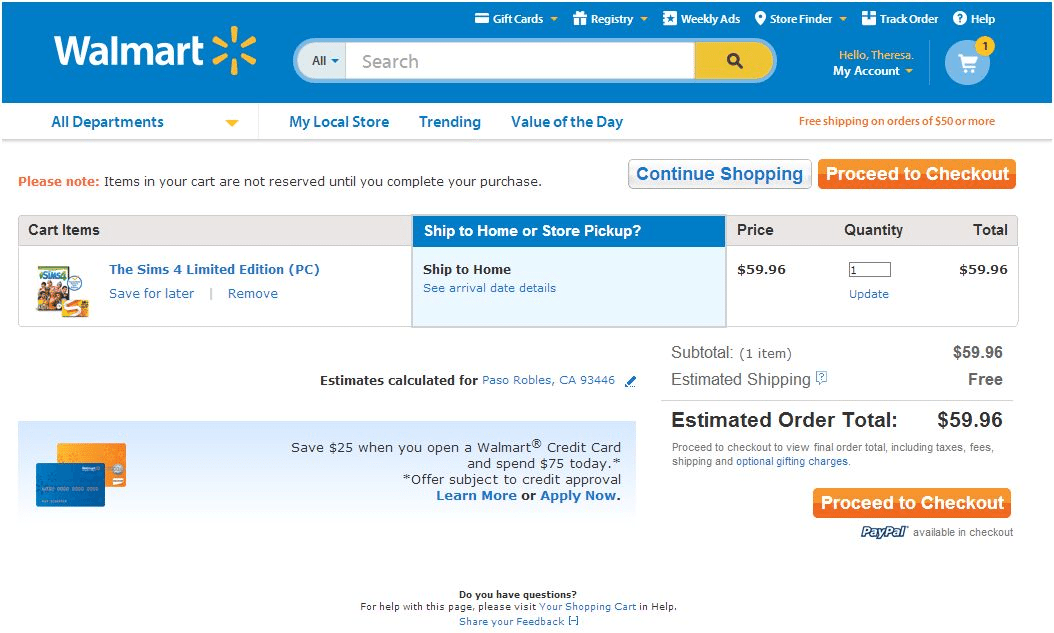 6. Local currency compatibility
Your shopping cart should be able to show prices in the local currency of your customers. This is important for customers because, depending on the payment facility that customers would use for purchasing, the exchange rate may change.For example, Paypal rates are significantly lower than the usual exchange rate of let's say, when using a Visa or a Mastercard. It will really help if the calculator would show the computation of the exchange rate so that the customer will know how much he will have to pay using his local currency.
For example, Paypal rates are usually significantly lower than the usual exchange rate when using a Visa or a Mastercard. The calculator should show the computation of exchange rates so that the customer knows how much he will have to pay using his local currency. Amazon is one of the few that shows more than one currency to choose from.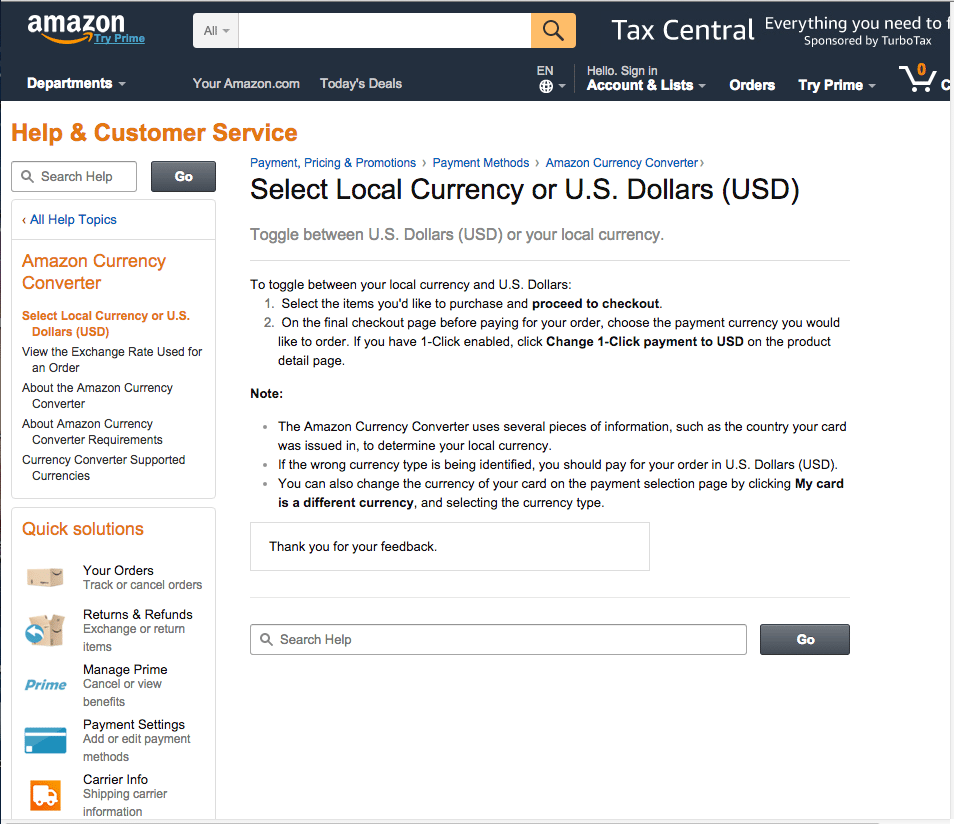 7. Various language options
Having a shopping cart that supports multiple languages will make it easy for international shoppers to purchase from you, and takes a step in the right direction if you're trying to globalize your business.
This feature is especially useful for shoppers who don't understand English at all. This type of function will cater to their needs so that they can still shop with ease. Think about your target customers when deciding on the languages you want to be able to translate into. Use analytics to see where the majority of your purchases are coming from, or where your target market is.
Alibaba is one example of a site that supports more that 15 languages on the website.

8. Mobile-friendly
In 2016, there was an estimated 62% of users purchasing online using their mobile phones, as according to Outerboxdesign. With a large figure for mobile shopping, it should be obvious that your website and e-commerce shopping cart solution needs to be responsive. Shopping on mobile devices, it can be seen that mobile friendliness is actually very important to customers. With this in mind, it's really important that your e-commerce website should actually be mobile friendly so that it can actually cater to that 62% that wants to purchase using their phones. The shopping cart solution should not look like it does.
Cater to the 62% of potential shopppers who buy on their mobile devices by making your website mobile-friendly. This doesn't mean that it should look exactly the same as it does on desktop, but it should work just as seamlessly and be easy to use. Making your website more mobile friendly can also help increase the conversion rates of the e-commerce store because people can shop anywhere using their mobile phones. With this, people can actually shop more as long as they have internet access.
Allowing people to shop from their phones also makes it so that they can buy from you anytime and anywhere, as long as they have their handheld smartphone. All they would need is an Internet connection.
These are some of the things that you should look for in a good e-commerce shopping cart solution. Take note that the shopping cart does not only consist of the shopping cart icon that you see at the upper right corner of the page. The shopping cart solution also encompasses the whole reserving of orders (ie. add to shopping cart option) as well as the checkout counter where you check out and pay.
Making the whole process efficient, easy, and pleasing to look at will appeal to your customers and make them want to come back to your store. Always remember that the shopping cart is one of the most important elements of your e-commerce presence, so put some thought into it.