Most people are familiar with the orange "Best Seller" banner on Amazon. It shows up above product listings in search, on the product itself below reviews, and tells potential buyers that your item is popular. Getting the banner can boost your click through and conversion rate because Amazon customers rely on peer opinion and reviews to make purchase decision.

There are plenty of sellers with high-quality products near the top of their categories who don't believe that banner is within reach, unless they spend a great deal on marketing or cut prices down to the bare minimum. However, getting the best seller banner doesn't have to be an unattainable goal.
The #1 Best Seller banner is given to the products with the highest sales velocity combined with the best reviews in their category. That's it.
Of course, some categories feature tens of thousands of products, many of which are listed by sellers with similar resources.
So, how do you get to that #1 spot?
Assuming you already have a quality product with good reviews, near the top of the ranking in the category, there are a few strategies you can use to become a best seller on Amazon.
Move your product into a subcategory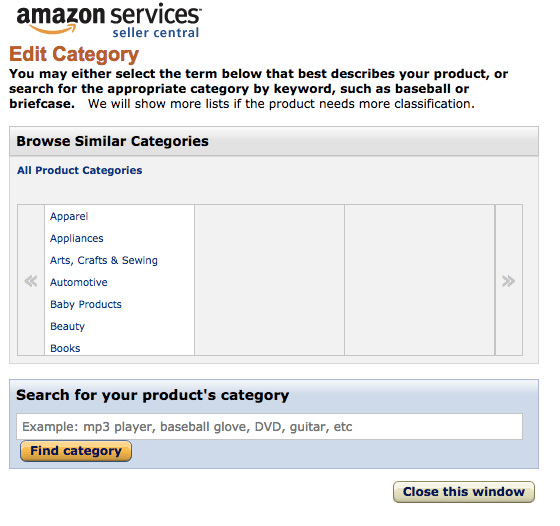 If your product is in a broader category, you might be competing with that aren't necessarily direct competitors. Review your category options to see if you can move the product into a more specific subcategory. With fewer competitors, you will have an easier time of being the top selling product in that category.
Importantly, you cannot edit the category yourself unless you are currently winning the buy box for that product. Instead, you should contact Seller Support by going to Contact Us > Products and Inventory > Product Page Issue from your Seller Account.
This won't always be an option, but it can help you a great deal, while making search more relevant to Amazon consumers. For example, if you were to move your product from a broad category with more than 10,000 products to a smaller one with just over 2,000, you could successfully boost your ranking and increasing Amazon sales.
Review competitor categories
Amazon users often need to list products themselves, and they don't always choose the best categories. This can work to your advantage. Review competitor products in your category or subcategory and determine if any of them are in the wrong category or in multiple categories. Pay attention to products ranking above yours and look for any that could be in a better category.
Once you identify products as miscategorized, write down the ASIN, what category it's currently in, and the category it should be in.
Then, from your Seller Account, go to Contact Us, choose Products and Inventory, go to Product Page Issue, Fix a Product Page, Enter ASIN, update category, and explain why.
Amazon responds to these requests promptly, and will likely move the product into the suggested category if they agree that it is in the wrong section. As a result, yours moves up in the ranking, and closer to the #1 Best Seller for that category.
Boost your product to the top of your category
The previous tactics can help you to get the best seller banner if you are already near the top of your category, but what if you're not?
Amazon uses a combination of sales velocity, review quality, relevance, listing quality (image size, descriptions, etc.), and even consumer interaction on the page to rank best sellers.
Review your listing
Every listing on Amazon should conform to Amazon standards, including images of at least 1000 x 1000 pixels, brand information, grammatically accurate descriptions, and any details you can add that might help the consumer to make a decision. If your products don't already conform, ensuring that they do can boost your ranking as well as your conversion rate.
Amazon tracks every part of the consumer journey, down to mouse movements on the page. They track search to product conversions through something known as a Q ID.
For example, if you were to type "Vacuum" into Amazon search, you would see the following URL.

Then, if you were to click on a product, it would change to include a QID.

This QID tracks what you click on from that search, what you buy, and what you don't buy. The higher your conversion rate, the higher Amazon ranks your product.
You can boost conversion by adding better pictures, adding video through Amazon vendor central, improving your product descriptions, A/B testing titles and descriptions, adding information to pictures, and finding and discussing pain points for the product. If you can communicate everything the customer wants to know, the first time they click, your conversion rate will go up.
You should also work to:
Improve the relevance of any keywords or advertising.
Improve the relevance of search results, so that your product only shows up for people who are looking for it.
Communicate how your product competes with competitors without mentioning competitors.
For example, if your competitor's products have complaints, call out how your product is better than competitors in your descriptions. Let's say you are selling a cordless vacuum cleaner and you know that your number one competitor has several complaints about short battery life. If you know that your product has a longer battery life, you could use points like "Long-lasting battery" to tell consumers that yours is better. Or, if it has the same battery, you could work around that point by bundling your version with an extra battery for a small markup.
You can boost sales conversion by offering quality images, accurate product descriptions, detailed information, and by ensuring that you have reviews and other peer assurance on your page.
Work on sales velocity
Sales velocity is the largest determining factor for achieving the best seller banner in an Amazon category. If your sales velocity outstrips that of other similarly reviewed products, you'll be the best seller.
Combine variations of products into child/parent products to optimize listings and increase reviews and sales for the listing.
Run sales to boost temporary velocity to get the Best Seller button so that you can maintain that sales velocity long-term.
How important is PPC? Let's use our first search for 'Vacuum' as an example.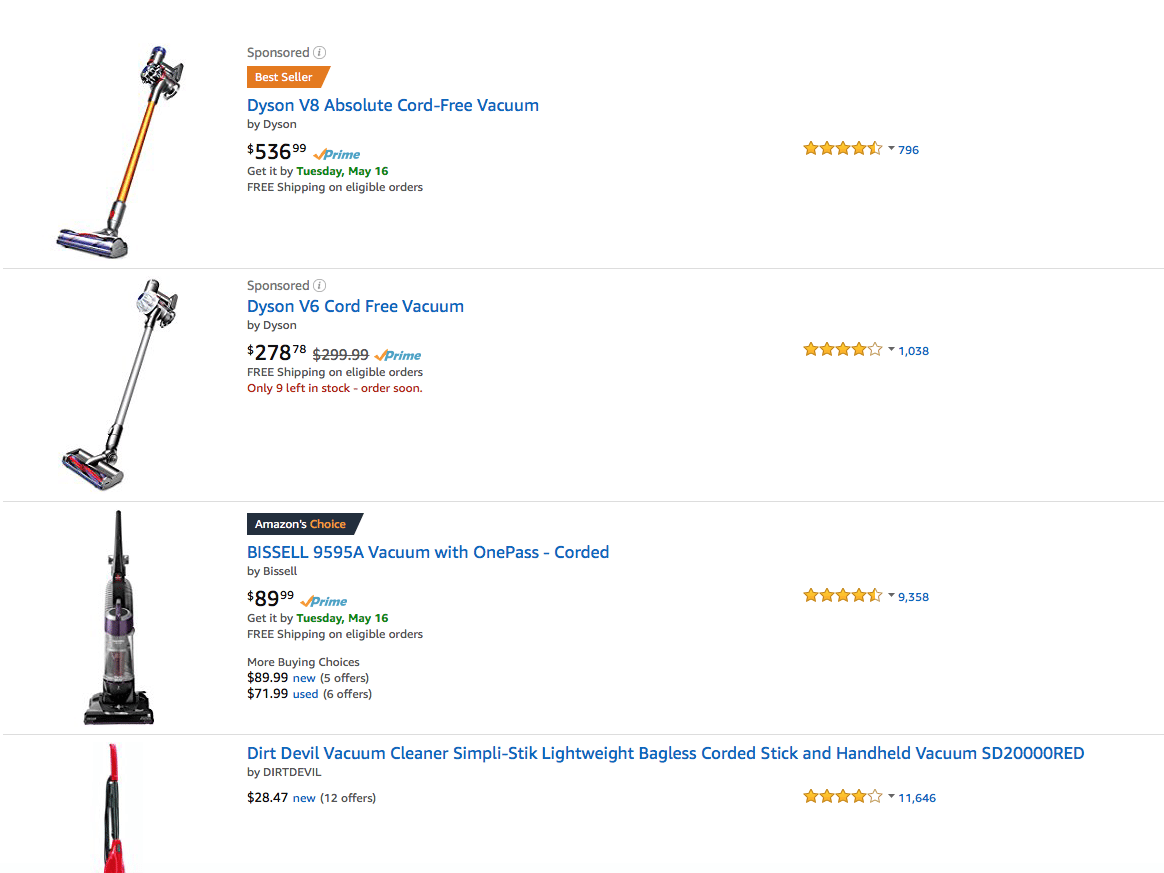 In the search, the top option is the current best seller for the listing, but the second option is a sponsored product. The seller pays to have their product listed with Amazon Sponsored Products, and it appears in the search listing regardless of organic ranking. This is crucial to achieving sales velocity, because on Amazon you need to have sales to get sales.
However, looking at the top-ranking products, you can see something else. Amazon is currently ranking a top selling product over an older model, despite the older model having several hundred more reviews. Amazon has also ranked a model with just 796 reviews over products with over 9,000 reviews. So, obviously increasing customer reviews alone isn't enough to rank higher. Why? Amazon tracks current sales velocity over long-term sales velocity, and the newer model is likely selling significantly faster, despite the sales on the older model.
Provide great customer interactions
While most of us know that consumer reviews play a large part in Amazon's A9 algorithm, fewer people know that comments and consumer-answered questions play a part as well.
A quick look at the top-ranking products in this section will show you that the Dyson V8 has a lot of consumer interaction.
If you go down to comments, you'll notice the same trend. Every review has a lot of interaction.

This product is not only making a lot of sales, it's also generating a lot of consumer interest. Consumers are adding more information, which will boost product conversion, and Amazon is making more money off it as a result.
How to earn and encourage positive feedback
Request reviews from consumers where possible, but don't be pushy. Check our reviews guide here.
Try to interact with reviews to encourage consumer interaction.
Remember, Amazon aims for engagement, not reviews.
Answer product questions quickly but leave room for other customers to pitch in.
Select less competitive categories
While this product search illustrates the importance of consumer interaction, it's also a good idea of how you can get the best seller banner, even if you're in a competitive category. If you look closely at the product, you'll see it's ranking in a less competitive category than the cheaper Bissell or Dirt Devil, because the seller moved it into a specific category with less competition.

That's important, considering there are over 20,000 vacuums listed on Amazon, but less than 255 options in the specific subcategory the V8 is ranking #1 in.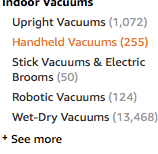 Get to the first page of results
If you want a best seller banner, getting your product on the first page of Amazon search is crucial. Once you're there, you can take steps to optimize your category to remove products that don't quite fit, move your product into a category with less competition, and otherwise ensure that your product has the highest sales velocity for your category. More importantly, if you already have a product near the top of your category, taking the steps to 'clean up' your category by requesting the removal of products that don't quite fit could move you up in ranking in just hours.
Good luck getting the best seller banner!
For more on optimizing your Amazon store, check out our guide on ways to improve in the Amazon marketplace.