Amazon bundles are a powerful tool you can use to boost sales, offer convenience, and increase revenue per sale. Customers often need more than one product at once, and if they find everything they need in one packaged (and hopefully discounted) bundle, they will likely buy it rather than shopping around to find each product individually.
Bundles give you a unique edge because if you create a new listing for a bundle and no one else has it, you own that listing. You automatically get the Buy Box for that bundle, and anyone who decides to buy it adds your products straight to their cart.
Finally, bundles allow you to sell the same products in a single, higher-value product listing. Because Amazon's fees allow you to make more money from a single $40 item than from three individual items, you can earn more per sale with a bundle.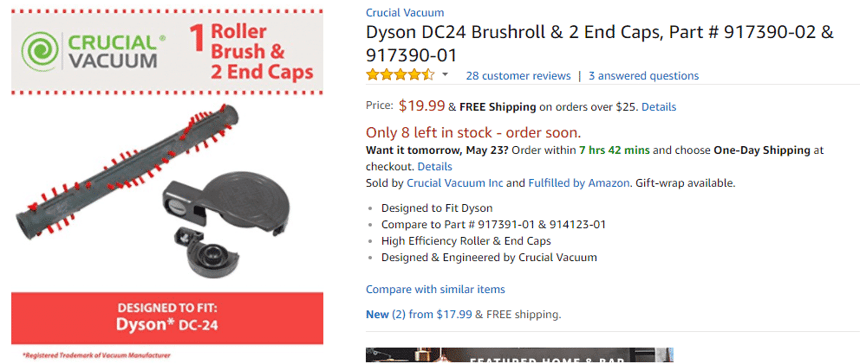 Selling bundles on Amazon is good business, and Extensiv allows you to optimize the process even further. For example, you can create bundles with FBM and fulfill it with FBA or FBA onsite. Read on to get the scoop.
Amazon Virtual Bundle Policies
While Amazon likes and even encourages bundles, they do have strict rules that you must follow. For example, you cannot bundle items from any of the Amazon-owned categories such as books, video games, or music. In addition, you cannot list prepackaged bundles with a single UPC as a bundle, only individual products that are sold together. For example, a 5 pack of t-shirts is not a bundle, but a package including a vacuum filter, motor filter, and new brush is a bundle.
Here are some recommendations for Amazon virtual bundles to take note of.
Every bundle must have an image with every core product included
Once you upload a bundle to Amazon you cannot edit it. You must delete it and re-upload it with a new UPC
The first bullet on the Amazon product must state that it is a bundle and the number of items in the product
The Title must include the word 'Bundle' and the number of items in the bundle.
The description must identify the specific products including model number, color, and size of each product in the bundle
You can check the full list of Amazon's bundle requirements here.
If you're using spreadsheets or an alternative, you'll lose time tracking pre-packaged bundles and components. Extensiv automatically calculates the maximum quantity possible for each bundle and kit across your warehouses, including FBA, using core products and pre-packaged inventory. Get a demo.
In most cases, Amazon's policies are designed to ensure that any products you bundle together are highly complementary, not competing with Amazon products, and beneficial to the consumer.
3 Ways to Build a Virtual Bundle in Amazon
Extensiv makes it easy to create and upload virtual bundles combining either new products or any of your existing SKUs. In fact, you can create bundles in Extensiv using three different methods:
Cloud / Build Through Channel
Manual through the UI
Spreadsheet
Step 1: Build from Channel
Building from the channel is an easy way to quickly create a bundle or kit using existing SKUs.
From Extensiv Order Manager, go to "Products Module"
Click "Build from Channel"
Choose Amazon under "Master Channel"
Import your channel products
Extensiv downloads or imports all the products from your channel with corresponding information
Open the Product Import Wizard
Select a product you wish to add to a bundle and click "Move to Bundle/Kits"
From Bundle/Kits choose the product
Click the side arrow next to the product name
Select additional core components to be included in the bundle, add the quantity
Repeat to add additional products
Click Save
Extensiv saves the bundle as a product, which you can upload and sell through FBA
Step 2: Manually Upload through the UI
Manually uploading a product through the UI allows you to add a new product SKU for your bundle or kit, so that you can better control your organization.
Click "New Product"
Choose the product type "New Bundle/Kit"
Add components using your existing product SKUs. If they are not currently uploaded, you will have to do so first. Add quantity per component.
Add basic information for the bundle
Add the Master SKU
Add Bundle Name, Brand, etc.
Click Save
You can continue to add products to a new Bundle/Kit until you upload it to Amazon. Once you upload to Amazon, you cannot continue to edit.
Step 3: Import from Excel File
Extensiv makes it easy to upload a new product bundle using Excel files. First, click on "Import/Export" and download the template to get the appropriate file.
Open the Template:
Go to "Bundles and Kits
Add details (Master SKU, Core Products, Name, Bundled Items, Brand, etc.)
Fill out Active (YES/NO) to determine whether the product will be listed immediately
Upload the Excel file under import
Click Continue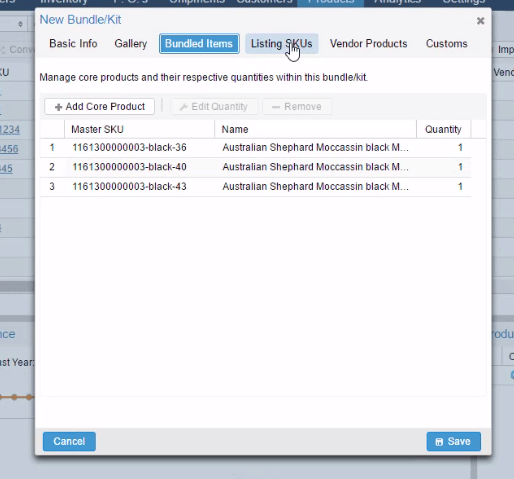 Once you create a bundle through Extensiv Order Manager, you can list it on Amazon, eBay, or any other channel, just like any other product. Extensiv records the Master SKU as well as core component SKUs.
That means you can track individual product sales as part of each order, rather than relying on warehousing to remember the components of that bundle or having to physically create the bundle and move stock out of regular inventory.
Listing a Bundle to Amazon FBA with Extensiv Order Manager
Once you've created a bundle in Extensiv Order Manager, you can automatically upload that product to Amazon just like any of your other products. Then, when choosing which products to send to Amazon FBA, you can simply choose the master SKU, and then export every product in the bundle to Amazon. When you sell the product, Amazon sees it as a sale of each individual core product through the master SKU. That's it.

Selling bundles can help you to increase revenue per sale, help customers to find everything they need at once, and will allow you to capture the buy box for many bundles.
Extensiv offers tools to create and manage bundles, so that you can easily track and manage sales of multiple bundled products without having to physically bundle them in your warehouse.
Don't have Extensiv Order Manager? Book a demo to find out how Extensiv can help you automate e-commerce processes, including purchase orders, create Amazon virtual bundles, and managing all your inventory.