The largest pain point for Amazon FBA sellers is that they are solely dependent on Amazon's marketplace. The solution is to diversify their ecommerce channels but sellers don't know where to start. As a feature within FBA, Amazon offers Amazon multi-channel fulfillment, which provides the option to utilize Amazon's shipping and fulfillment for any non-FBA orders.
What is Amazon MCF?
Amazon MCF or multi-channel fulfillment is a service that fulfills orders by using amazons fulfillment network of warehouses. Amazon handles the storage, packing and shipping of products, even ones sold on your own website. MCF orders have expedited shipping options, and MCF fees can vary depending on your needs, which can be worked into the pricing of your products. With Amazon Prime and Amazon logistics are well-known, Amazon's multi-channel fulfillment can enhance your customer experience, delivery speed, and inventory management, helping your business grow.
Challenges with Amazon Multichannel Fulfillment
The answer seems simple right: utilize Amazon multi-channel fulfillment to fulfill orders for other channels. You can go through the steps of setting up your new sales channels by signing up for the account and creating the new listings however several key issues arise:
Updating FBA inventory on new sales channels in real-time
You will need to consistently update the sales channels when inventory quantities change. When a product is ordered on one channel, what will tell the other channels to deduct the inventory? By adding more sales channels to the equation, this process isn't as sustainable manually and increases the risk of overselling and backorders.
Creating fulfillment orders within Amazon from other non-Amazon channels
Most will attempt to create fulfillment orders within Amazon manually, the process documented below. However the process is extremely tedious and leaves room for mistakes when transferring information from the order to the fulfillment order request. As your order volume increases on the other sales channels, the manual process will no longer be sustainable.
Updating orders with different tracking numbers and statuses
After you submit the order, the process is not over yet. Although you've submitted the order, and paid your fulfillment fees, fulfillable inventory quantity discrepancies can occur where the item may be found to be in an unsellable condition, or the original count was incorrect. The order could also be conventionally processed and shipped. However, it requires you to hover over the order to ensure you update the order's actual sales channel within the time restraints. Again, as your Amazon multi-channel fulfillment orders increase, this tedious process is not sustainable.
Without software that enables Amazon marketplace automation, most customers will attempt to manage their Amazon multi-channel fulfillment orders manually.
The Manual Amazon Multi-channel Fulfillment Process
Login to Amazon Seller Central > Inventory > Manage FBA Inventory
Select or Search for the SKU that you want to create a fulfillment order for.
Next to where it says, select "Apply to 0 Selected Item(s):" > Select Send/replenish inventory > Go


On the next page, input the essential details. (You can also choose to upload the order with a flat file) > Continue


On the next page, select your fulfillment methods, confirm the estimated fees and additional information > Place Order
On the next page, you should receive a Success confirmation.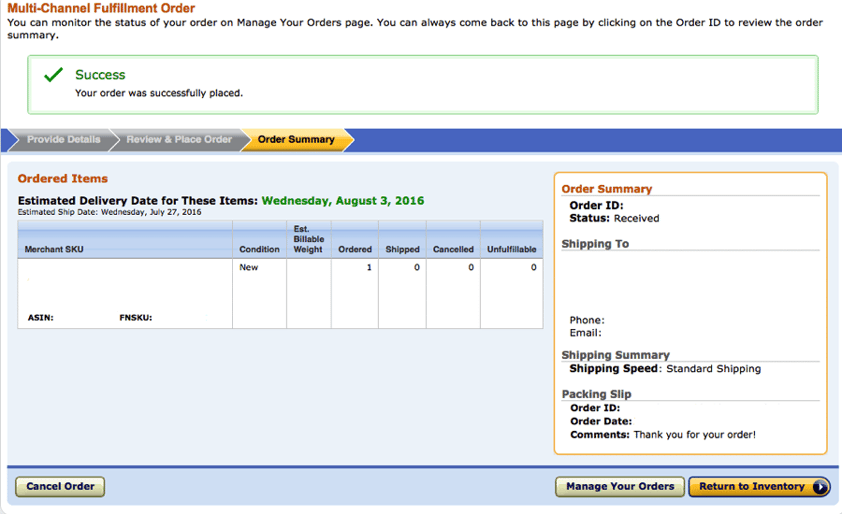 As you can see above, manually entering multi-channel fulfillment orders is a tedious process with FBA fees and possible surcharges. But as manually entering orders is only a piece of the puzzle, you have to remember the other questions posed above including but not limited to inventory updates, order statuses, and tracking. You need to work on growing your business, not in your business doing the day-to-day tedious activities to simply sustain the business.
Benefits Of Automating Amazon Multichannel Fulfillment with Extensiv Order Manager
Extensiv Order Manager can help you automate and streamline your multichannel fulfillment process. By housing all of your orders, inventory, and products into one platform, Extensiv simplifies your operations so you can focus on growing your business.
Bring order management onto one platform
You can manage all of your orders from one location and decide how to auto or manually multi-channel fulfillment the order. If you decide that the order is to be fulfilled in-house instead of a fulfillment center, or drop shipped, you can choose to forgo multi-channel fulfillment.
Show FBA inventory in real time & optimize inventory flow
As Extensiv Order Manager understands how your products are build, Extensiv can calculate how many available quantities you have whether it is inventory shared from one core product or it's own pre-packaged inventory. Here's an example of a sunglass company. Lets say they do not prepackage any Amazon virtual bundles or kits as they are all packaged on the fly. The inventory quantity for each core product, bundle and kit is as follows:
| | | |
| --- | --- | --- |
| Master SKU | Bundle/Kit | Available Inventory |
| SUNGLASS | NO | 100 |
| CLOTH | NO | 50 |
| SUNGLASSKIT | 1 x SUNGLASS + 1 x CLOTH | 50 |
| CLOTHX2 | 2 x CLOTH | 25 |
Automatically fulfills multi-channel orders
Any multi-channel fulfillment orders that sit in "Awaiting MC Fulfillment" with their required fulfillment methods selected will automatically be pushed to Amazon to create a fulfillment order for the FNSKU.
Use qualitative rules based on filters to automate order fulfillment
Ordersbots® within Extensiv Order Manager allow you to create if/then statements to automate repetitive tasks. As all multi-channel fulfillment orders require fulfillment methods to be selected, ordebots® can be utilized to pre-set shipping services and fulfillment policies. Extensiv Order Manager even allows you to specify which FNSKU you prefer to utilize for the order, on a manual per order basis or automatically through an orderbot.
| | |
| --- | --- |
| Shipping Service | Fulfillment Policy |
| Standard: 3-5 Business Days | Fill or Kill |
| Expedited: 2 Business Days | Fill All |
| Priority: 1 Business Day | Fill All Available |
Update listings on all channels with real-time inventory with their respective calculated inventory
After allocating and utilizing inventory quantities, Extensiv Order Manager recalculate your inventory quantities for each master SKU affected, including core products, and its bundles and kits, and then push new inventory quantities to the sales channels.
Manage order statuses from different channels on Amazon
In line with the fulfillment policy selected on the order, Amazon will ship the order, cancel the order, or leave the order pending. Extensiv Order Manager will pull order updates and update the order in Extensiv Order Manager. *If the order is canceled, Extensiv will not cancel the order on the respective channel but will move the order into an unresolved status in Extensiv for further action.
Update the order with its tracking number within Extensiv Order Manager and the sales channel
If the order is marked as shipped, Extensiv Order Manager will update the order status and tracking number on the respective sales channel.
Built by sellers for sellers, Extensiv Order Manager (formerly Skubana) was born from pain points from a top Amazon seller. Optimize your cross channel selling by automating the end-to-end processes for multi-channels fulfillment orders. Learn more about how Extensiv Order Manager can become a key partner in growing your multichannel ecommerce business in a demo today.