Are you looking to generate more revenue on Amazon?
That's a silly question. Even if your are a superstar merchant on Amazon, it's safe to say that no matter how successful your company is, your Amazon revenue can always use a boost.
If you want to see an increase, you can spend more money with Amazon Sponsored Ads and hope that you're going to get a great Return on Ad Spend (ROAS).
Amazon ads are great, but you need to make sure you're not overlooking the small things that you can leverage such as Amazon's coveted Frequently Bought Together. It's free impressions, traffic and may help you generate more sales.
We are often asked about these questions on Amazon Frequently Bought Together:
How does Amazon Frequently Bought Together work?
How does the Amazon Frequently Bought Together algorithm function?
What can we do to get our product listings purchased together with a similar product on Amazon?
Fortunately, you're in luck. Below we have outlined one tactic to make Amazon Frequently Bought Together a reality.


How to Leverage Amazon's Frequently Bought Together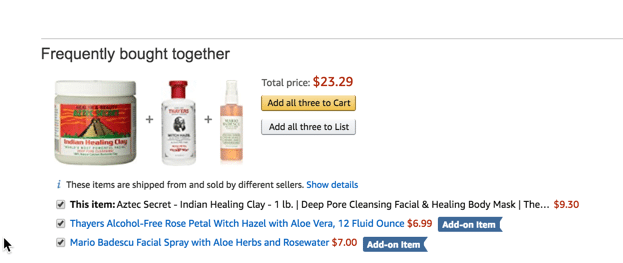 Roll up your sleeves as it takes TIME and HARD work to get Frequently Bought Together On Amazon.
Here's the EXACT steps of what you need to do:
1. Create a spreadsheet with these columns: ASIN, Amazon Listing, Amazon Storefront URL and Contact Name and Email.

2. Find ALL the Amazon product listings that you want your product to be paired together with.
3. A good place to start would be the Amazon search term report which displays other ASINS people are searching when they buy your SKUs.
4. Find and connect to the movers & shakers associated with that brand on Linkedin.
5. Use SellHack to find real contact details. Make sure the contacts are clean with KickBox.
6. Meanwhile, sign up for an Amazon Affiliate account.

7. Use Outreach.io to setup automation email sequences with follow-ups to build the relationship.
8. Your points of touch to your target contacts should trigger positive relationship building responses.
9. Based on the answers, take your "positive" responses and schedule a phone call to those who respond. Get them on the calendar now!
10. Here's the rub: you have a product that sells very well WITH their product. You would like to put an insert in ALL their Amazon FBA packages for this item driving BACK TO Amazon (MUST BE WITHIN AMAZON TOS) with your Amazon affiliate code.
11. Propose a 10% affiliate commission, which pays for their 15% Amazon commission fee (and then some).
12. Win-win. Free money (100% margins) for them. You get frequently bought together.
Phew. That's it! Let us know how it goes if you try it.