If you haven't already heard about how selling on Amazon using their Fulfilment by Amazon (FBA) service could be your biggest break in eCommerce, you're in for a treat.


When it comes to selling on Amazon, there are countless of opportunities to: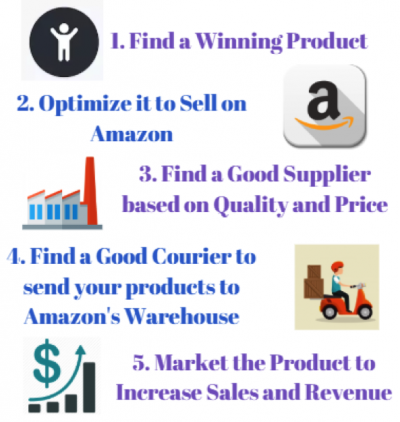 The steps to selling through Amazon FBA are simple.
However, just like with physical product sales, you will need to be able to calculate your profits and revenue when using Amazon FBA. In this article, we walk you through using the Amazon FBA Fee Calculator (also known as the Amazon FBA Revenue Calculator) to help calculate fees, profits, and revenue when selling on Amazon using Amazon FBA.
Many Amazon sellers are losing money due to the simple fact that they do not know their true profits and worst of all, they don't know how to calculate it.
Read on to find out how to get your business administrative tasks correct. Including how to calculate both Amazon Fees and Revenue, using the Amazon FBA Fee Calculator and Amazon FBA Revenue Calculator.
Why use Amazon FBA?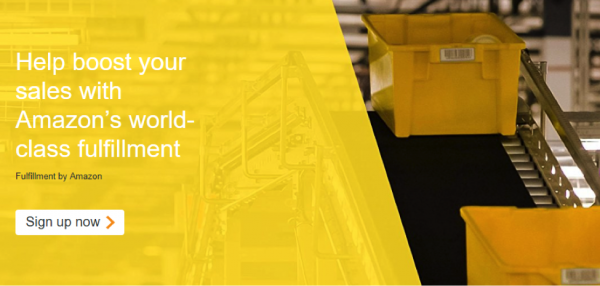 Storage
When selling physical goods, it's inevitable that you'll have to consider space for storage of your items. If you're thinking of going big and hopefully selling hundreds or thousands of units, you'll need to invest in warehouse storage.
Customer Service
FBA service basically means that all the customer service issues relating to your product is handled by Amazon. From the how to or where to return a purchased product, or the management of late deliveries, Amazon deals with it all.
Brand Authority
Seeing as Amazon already has all the brand authority and trust built. You're basically buying not just a warehousing service that deals with every customer-based issue for you, you're also buying the brand impact of your product being fulfilled by Amazon.
Oh, and Amazon also allows for Amazon Prime and Super Saver shipping services to your customers, which comes highly appealing when making a purchase online. This is also true of FBA onsite, a new twist on FBA that Amazon is offering. In events that your product qualifies for one day shipping, you even get that bonus without having to pay more for it.



Calculating Amazon FBA Fees
When operating any type of business, it's critical to understand your cost. This is no different when it comes to selling on Amazon using Amazon FBA.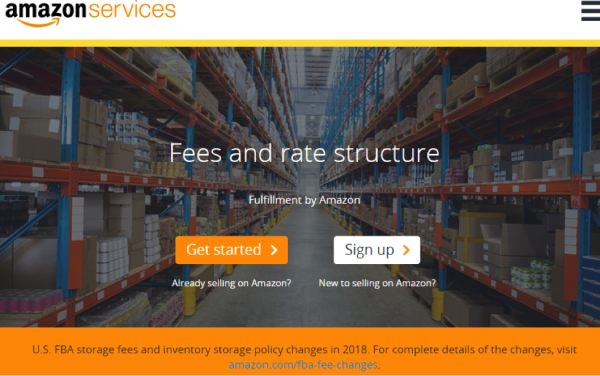 Overview of Amazon FBA Fees
Put simply, fees associated with FBA are assessed by the size and weight of your product as well as the location of which you sell them.
It's pretty evident that Amazon FBA fees are extremely competitive and are reasonably low when selling products on Amazon. In fact, with these low fulfillment rates, you'll be hard pressed to find a lower rate to ship the items out yourself.
There are two main type of fees when it comes to using Amazon FBA:
Fulfillment Fees - These are fees associated with the picking, packing, shipping, cost of inner and outer packaging, and returns processing.
Monthly Storage Fees - These are fees associated with the storage of your products in Amazon's warehouse and the inventory storage fees are calculated in accordance with space taken up by your products measured by cubic feet.

Just to give you a quick idea of monthly inventory fees, refer to the table below.



If your inventory has been stored by Amazon for 6 months to 12 months as of the inventory cleanup date, you will be charged $11.25 per cubic foot. If it's been longer than 12 months as of the inventory cleanup date, you will be charged at $22.50 per cubic foot.
What this means is that it's better to be wise about how much inventory you store in Amazon's warehouse. The penalty fees for long-term inventory storage can really add up.
Two Overall Size Categories
In efforts to assign fulfillment and storage fees, Amazon FBA breaks down products into two main size categories:
1. Standard size Products - These are items that weigh less than 20 lbs and measure less than 18 x 14 x 8 inches when fully packaged. Within this standard size category, there are a further four subcategories which affect fees.

In the standard size product tier, the fees apply to domestic and international orders and are as follows:

2. Oversize Products - These are items that weigh more than 20 lbs or are larger than 18 x 14 x 8 inches when fully packaged. Within this oversized category, there are a further four subcategories which also affect fees.

In the oversize product tier, the fees apply to domestic orders and are as follows:

Note that apparel items bear an additional fee of $0.40 per unit.
Seller Fees
The Seller fees are a separate fee that isn't part of the Amazon FBA fees but rather the cost to sell your product on Amazon's marketplace.
On average, seller fees go for around 15% of the final selling price of the product.
There are two main selling plans which are "Individual" and "Professional".

Professional sellers do not have a per-item fee whereas Individual sellers have a $0.99 fee for each item sold.
All sellers are required to pay a referral fee on each item sold and this fee varies according to category.
There are additional fees associated to factors such as "rental book service fee" which is $5 for each textbook rental sold. Or "closing fees" which is $1.80 per media item sold. And "high-volume listing fee", "refund administration fee", and so on.
Amazon FBA Fee Calculator
Given that there are many types of fees that affect your Amazon FBA cost, it is extremely challenging when trying to calculate the total Amazon FBA fees manually. And chances are, if you're doing decently on Amazon, you're more likely to expand your market to cater for different kinds of products. This means more fee calculations due to separate product specifications.
To help make your life easier and to accurately calculate the fees of using Amazon FBA, there's no better tool to use than the Amazon FBA Fee Calculator. (Also referred to as the Amazon FBA Revenue Calculator).
Types of Costs included in the Amazon FBA Fee Calculator
There are several different variables that are taken into account in the Amazon FBA Fee Calculator such as:
Order handling
Pick & Pack
Weight handling
30 day storage
Inbound shipping
Outbound shipping
How to Use the Amazon FBA Fee Calculator
The best way to find out how much a product you are interested in selling will cost in terms of fees is to go to the Amazon FBA Fee Calculator in your marketplace. Then search for a similar product reflecting what you want to sell.
As an example, we've chosen "Garcinia Cambogia". You will also have the option to enter the UPC code or the ASIN number should you know the exact type of product you wish to sell.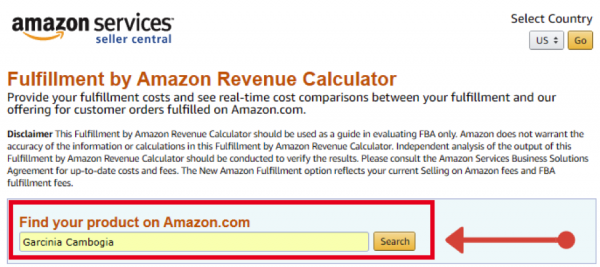 You then select the product you would like to use an example.

Select the product and the calculator section will open up. Focusing on the right hand column, enter the price of your item, the cost to have it shipped to Amazon, and the total cost of the product per unit.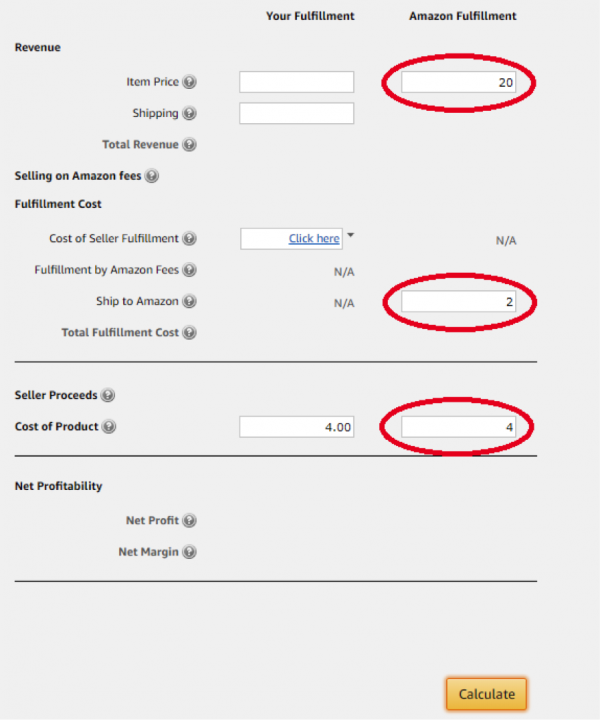 Click on "Calculate". The Amazon FBA Fee Calculator will give you a breakdown of your cost based on Amazon's fulfillment including the selling fees and the FBA fees.
It also shows you the Net Profit and Net Margin of each sale you make.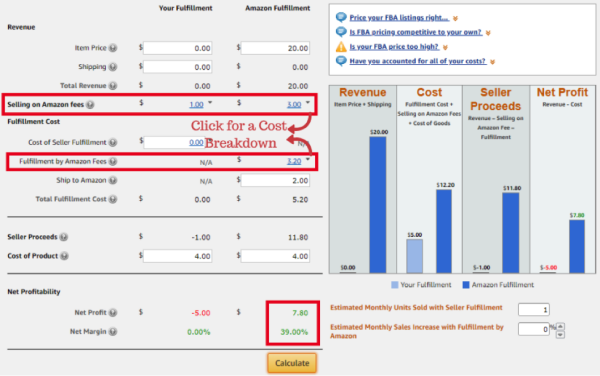 It is critical to know your profits. This is why the Amazon FBA Fee Calculator / Amazon FBA Revenue Calculator comes extremely useful when trying to figure out your exact cost, net profit, and net margin.
To effectively use the calculator, avoid using estimates and have solid data to input based on information gathered from your supplier. Then you will truly understand your costs per unit.
Streamlining Your Costs
The trick behind maximizing your profits by leveraging on Amazon FBA is to fine tune your business so as to not waste expenditure unnecessarily.
Manage Your Inventory Effectively
One of the worst ways of managing your Amazon selling platform is to run out of stock for an item. Every single second you undergo when your product is out of stock, is a second that you are wasting making a sale.
Not only are you losing out on a sale for the duration your product is out of stock, but your competitors are also selling more products and getting more reviews because you're not there to compete with them.
To make matters worse, your BSR (Amazon rank) is being negatively affected due to product absence. It could take anywhere from a couple of weeks to over a month to get back to the same position you were before you ran out of stock.
Unfortunately, this is the reality for many Amazon FBA sellers with even the most experienced sellers getting struck by the failure to manage inventory effectively.
Sure, one could argue that having an excess of inventory would add up even higher costs to your Amazon FBA fees. But the fact is, there is a possibility to just have a right level of inventory at all times without having too little or too much.
And it all comes down to effective inventory management planning:
Know When Peak Season Is - this is probably the most important factor in keeping a healthy inventory. Knowing when your product sells the most based on the time of year can help you avoid the "out of stock" situation most sellers are faced with. Amazon Seller Reports are a useful resource for figuring out peak season.
For example, if you sell Christmas lightings, it's pretty obvious that sales would happen early November all the way through December.
Other ways of finding out lesser obvious sale seasons include using Google Trends to identify spikes in trends of your products. Once you have gathered a year's worth of sales data, you can analyze the data to help judge the selling trends of your products.
Keep an Eye on Your Competition - be sure to observe how your competition is doing with regards to their inventory. If they're close to selling out or are out of stock, chances are, you'll be seeing a spike in sales of your products which may mean you'll need to stock up.
Create a Strong Supplier Relationship - build a strong relationship with your supplier as this will help them prioritize your orders and ensuring that they get shipped on time. In the events where you need some emergency stock replenishing, a favor could be worked out especially if you have a good relationship with your supplier.
Get the Price Right - if stock is starting to run out, a smart move to make is to increase your product's price to help your inventory last a little longer while you order more inventory to come in. This avoids falling out of stock completely and may even help you gain more profit from your remaining stock.
Use Inventory Management Software - when you first start out selling your products on Amazon, you may be able to do it successfully without a software. But at some point, you will need the help of tools to assist you with tracking data and automatically updating your orders. Extensiv can provide you with information such as your your business overhead expenses, Amazon settlement reports and to FIFO values.


Conclusion
Hopefully, you've got a good idea on how to understand your true Amazon profits by using the Amazon FBA Fee Calculator. It is also necessary that you manage your inventory to ensure you are able to streamline your processes and take advantage of Amazon FBA to its fullest potential.