How to Use Amazon Coupons
Amazon has offered some form of coupon service for nearly a decade through their Gift Card and Promotional Code application. They've also offered Amazon Prime and general users the ability to clip and use standard coupons for primarily branded products sold by Amazon.com since 2014. Amazon's Vendor Powered Coupons have also been available to Vendor Central users since 2014.
Now, Seller Central users in the U.S. and U.K. can add and launch their own campaigns targeting specific demographics with dollar or percentage-based single-use coupons. Unlike the Vendor Central option, the new Seller Central coupons show up on an orange banner on the page under reviews in search, making promotions more visible.
That's big news for anyone looking to boost their click through rate, because consumers don't have to click through to the page to see the coupon.
Unfortunately, you will pay $0.60 per coupon used in the United States, but this model has numerous advantages. For example, by charging when consumers make a purchase rather than when they click, you make sure you're only paying for actual sales. And, at 60 cents, it's a lot cheaper than standard PCP, and a great deal if you're looking to improve product visibility, reviews, or to boost sales velocity.
How To Start Using Coupons
Log into Seller Central.

Click "Advertising" from the top menu

Click "Coupons" from the drop-down menu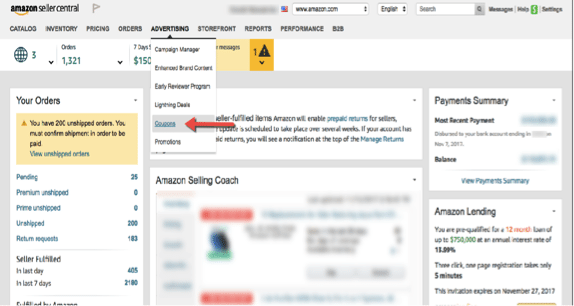 4. From the coupon men click "Create a new coupon"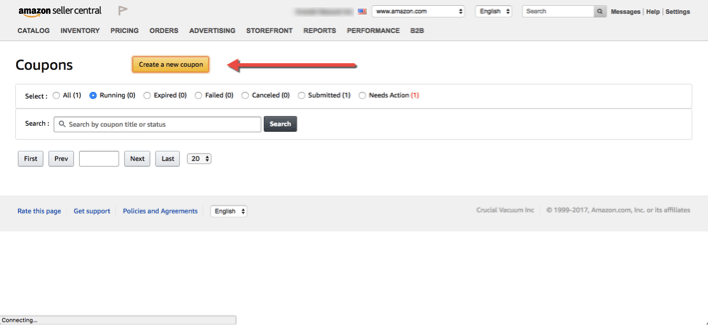 5. Choose a product. You can add up to 50 ASINs to your coupon

6. Choose a discount and limitations. You can choose percentage or a dollar amount discount so you can use $5 off, or 20% off. This brings back the old dollar amount discount, but in a new way.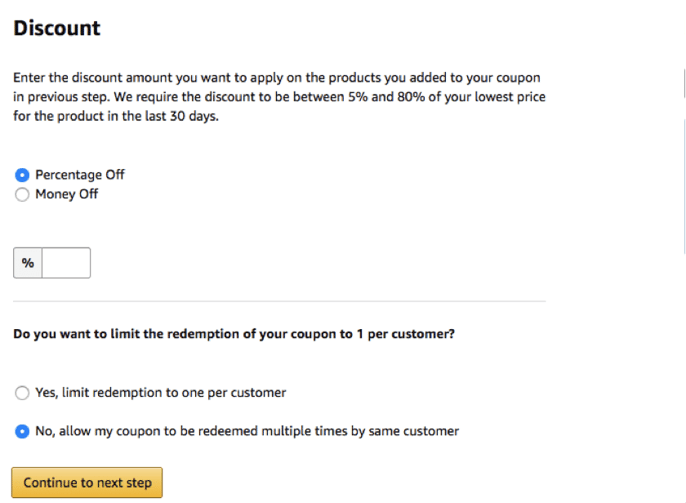 7. Set a budget for the total lifespan of the coupon. If you created a 15% discount on a $30 item, a single sale will deduct $4.50 + $0.60 from your budget. So, if you wanted 100 people to use the coupon, you could set the budget at $510.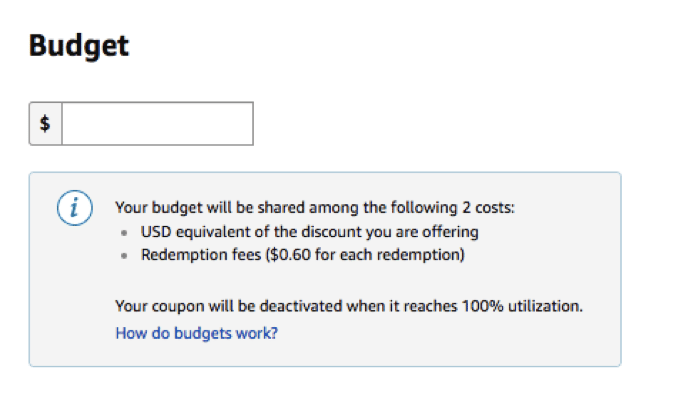 8. Target your product. While targeted ads have traditionally been Facebook's domain, Amazon's new coupons allow you to target very specific demographics, including previous customers for your product, people who have showed interest in your product, and high conversion buyers like Amazon Prime, Student, and Mom members. If you don't choose a target, anyone on Amazon will see the coupon.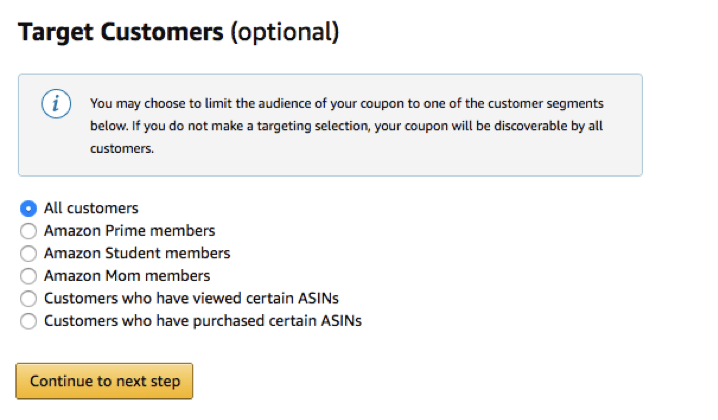 If you choose to set a target customer based on ASINs, have up to 50 ready to paste in.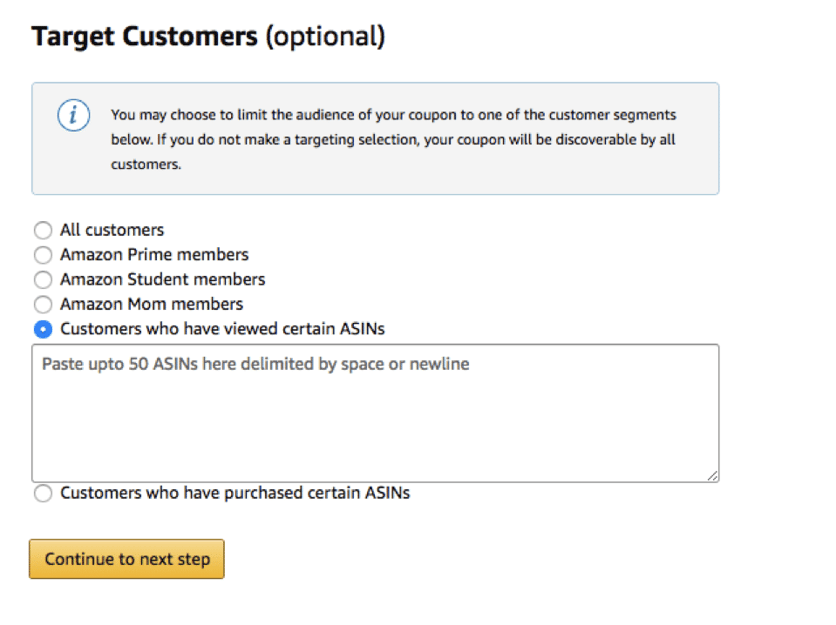 9. Schedule your ad. However, if your budget runs out before the timeline does, your coupon will cancel automatically.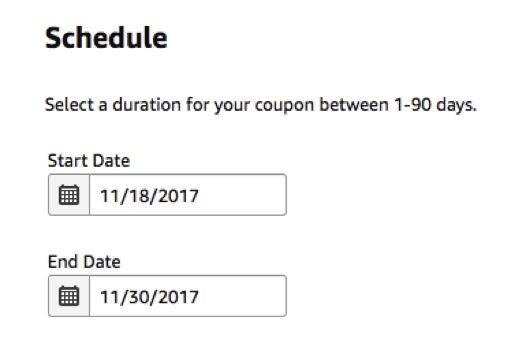 10. Name your coupon. Customers will see this on your product, so be specific and name what you are discounting (brands, specific products, product groups, etc.)

11. Submit your coupon. It will typically take 3 days to go live.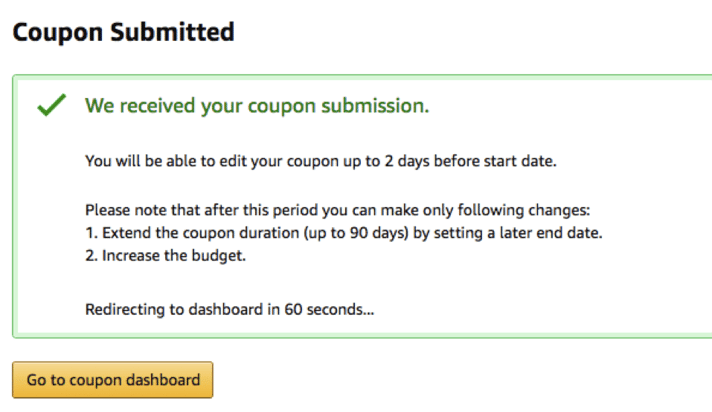 Why Use Coupons?
Amazon offers a lot of marketing tools for sellers, so why should you use coupons on top of discounts and sponsored products? Coupons actually have a lot to offer, namely in that they can help you make discounted products more visible, reward existing customers, and boost product sales in new ways.
Increase CTR and Conversion
With high in-search and on-page visibility, Seller Central coupons will definitely boost click-through rate. But, they also have the potential to boost conversion rate. Besides the obvious price reduction, which generally increases conversion, the coupon feature makes it easier to apply the discount. New Amazon Seller Central coupons work using the same "Clip" coupon feature as Amazon coupons, meaning that buyers don't have to add a code at checkout. All they have to do is click "Clip Coupon", it saves to their account, and if they check out during the valid period, the coupon automatically applies. This will increase click through rate and conversion, because there are fewer steps to follow to get the discount.
Custom Targeting
By setting up custom targeting, you can choose to offer discounts to anyone you like to boost sales to a specific niche. For example, you can offer coupons exclusively to previous customers, to consumers who have already looked at similar products, or to a specific niche such as moms. This makes it extremely easy to target your sales to consumers who are more likely to buy – so that you can use coupons to build return customers and customer loyalty or to simply boost click through rate and conversion to improve product visibility.
How is This Different from Coupon Ads?
Coupon Ads are a form of Product Display Ad available to Vendor Central users, accessible through Merchandising. Here, you can set up a coupon and then advertise that coupon through Amazon Sponsored Products, where you pay per click and per coupon use. These coupons are designed to increase ad engagement and click-through, as an alternative to discounts and promotions on ads.
To create a coupon from Vendor Central, go to Merchandising and Click on Coupons from the drop-down menu.
It's important to track your total costs if you want to maintain a profit with coupons. For example, if you're offering a $3 discount, you're paying $3.60 per sale, and more if someone first clicked on an ad to reach the product. If you've already calculated your ACOS you can use that when managing coupons. If you haven't, click here to learn how to manage your advertising cost of sale.
Why Should You Care About Amazon Coupons?
Amazon Coupons have a lot to offer for sellers. The biggest perk is that you receive an additional orange badge on your listings in search results, which will highlight the listing and increase click through. While it's not an Amazon Choice or Best Sellers Badge, it is attention grabbing and offers a discount, which will create a halo effect, increasing CTR, boosting engagement and conversions, and ultimately improving your product placement. Considering Amazon only receives 60 cents per coupon used, it's a cheap way to earn more money on Amazon. Considering that you can also cap your budget, it's easy to control your spending so you don't invest more than you're ready to.
It's also important to consider that it offers targeted sales. You can target people who have viewed your products, your competitor's ASIN's, or only Prime customers or Amazon Mom subscribers. This will boost conversion, because you can choose a demographic interested in your products. Plus, with the ability to offer two types of discounts, you can choose based on what they prefer. Personally, I've noticed that a dollar rate ($) off tends to convert better in most situations.
Amazon Coupons were previously only available to 1P merchants/vendors but now all third-party sellers have access. Get started by going to Seller Central > Advertising > Coupons. But, don't wait too long. Coupons take 3 days to launch and getting started before competitors will give you an extra edge.
Good luck with your campaign .