Reports, Guides, and More
A library of white papers, product overviews, helpful how-tos, reports, and other Extensiv written content.
Explore Resources
Browse through our many types of content offerings.
Webinars
Watch recorded Extensiv industry and product overviews and tutorials.
Watch
Blog
Hundreds of articles on essential topics such as warehouse, inventory, order management, and much more.
All Posts
Customer Stories
Hear what our customers have to say about our industry-shaping technologies.
Browse
Guides
Delve into our complete library of handy and helpful written guides.
Browse
Checklists
Invaluable resources that you'll want to keep handy to help keep your fulfillment operations running efficiently.
Browse
Reports
Get the latest research reports from Extensiv's deep bench of logistics thought leaders.
Browse
free report
Third-Party Logistics Warehouse Benchmark Report
Our experts have created one of the most exhaustive, step by step guides to —everything you need to know to get up and running with in 2023.
mARKET INSIGHTS
Weekly Updates on Order Volume Trends from Industry-Leading Marketplaces
Stay one step ahead of the trends with Extensiv's timely and insightful volume tracking data.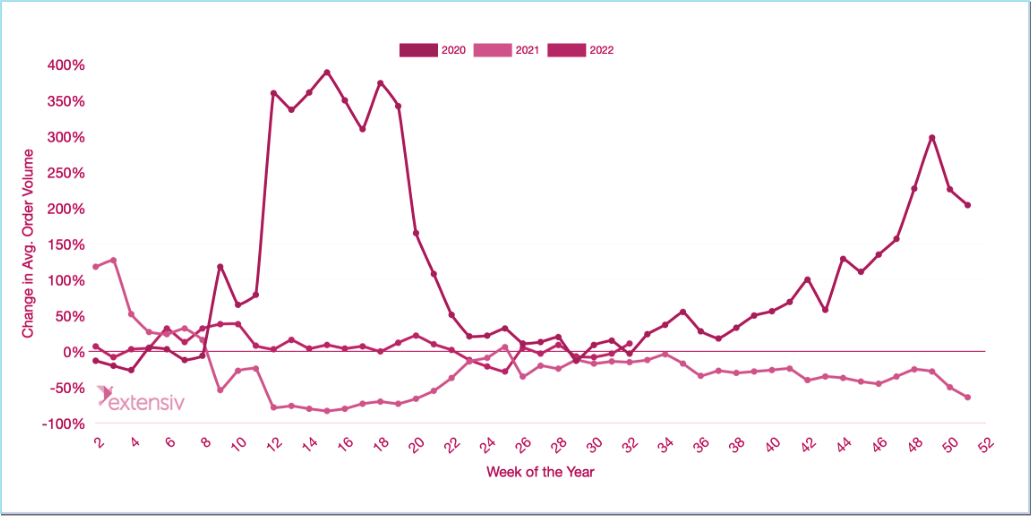 RECENT WEBINAR
Tips for Preparing Your 3PL Warehouse for Peak Season 2022
Is your warehouse ready for peak season? With all the challenges warehouses have faced this past year, it is more important than ever to prepare early for success. In this webinar, you'll learn about the actions you can take now to thrive this peak season