Gary Vaynerchuk is an investor, keynote speaker, best-selling author, wine expert and entrepreneur. But all of his endeavors pale in comparison to his love for the New York Jets. His biggest life goal is to one day buy the New York Jets, his favorite team since he was five years old. We want to know: Can he do it? Let's take a look at the numbers.

Gary Vee's Portfolio
Vaynerchuk turned a family-owned local wine store into a multi-billion dollar e-commerce enterprise. After taking over the shop from his father, Sasha, Vaynerchuk focused on a new market to sell wine: the Internet. Thus, WineLibrary.com was born in 1996. With the addition of two developers in 2000, it quickly evolved into a pioneer in e-commerce.
In order to grow his business outside the New Jersey area, Vaynerchuk sent e-newsletters to potential clients. His aggressive marketing and pricing methods made him stand out among his competitors. And the results showed; he grew the company's annual revenue from $3 million to $60 million in six years. After the founding of YouTube, Vaynerchuk decided to combine e-commerce and videos. His YouTube video series, WineLibraryTV, was born in 2006.
Vaynerchuk's net worth has been growing ever since. Rough estimates of Wine Library's annual revenue is as high as $60 million. He's also estimated to make between $3 and $5 million per year in speaking fees; he has signed a $1 million 10-book deal with HarperStudio; and his VaynerMedia group brought in about $40 million in 2014.
Under VaynerRSE, Vaynerchuk is at the helm of a $25 million seed fund. An avid angel investor, he has stakes in companies like Uber, BirchBox, Medium, Facebook, Tumblr and Twitter. His investment strategy? Look for jockeys and horses. He has to believe in both the product as well as the team behind it to write a check.
What does this all add up to? As of 2014, his net worth is estimated to be $10 million. As many know, NFL teams are worth a bit more than $10 million. But buying an NFL team is more complicated than simply writing a check.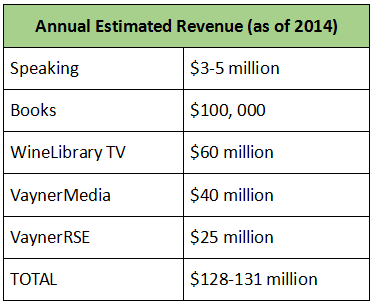 Buying an NFL Team
Once upon a time, budding NFL owners could purchase a team for $100 (like the Halas family did with the Chicago Bears back in 1920). Fast forward 80 years, and you could drop just under $200 million for an NFL team, like the Seattle Seahawks' owner Paul Allen did in 1997.
Today? Well, you need significantly more millions – in most cases, at least a billion – in order to become a majority owner. Just two years later, Bob McNair shelled out $600 million for the Houston Texans franchise. With the exception of the Dallas Cowboys (valued at $4 billion) and the Green Bay Packers (publicly owned), you'd need, on average, of about $1.2 billion just to start the conversation.
Having the money is one thing, but purchasing a team is a bit more complex. The Jets are reportedly worth $1.23 billion. Of course, Vaynerchuk wouldn't have to pay that all at once. When Jimmy Haslam purchased the Cleveland Browns in 2011, the team was valued at $977 million, and Haslam paid $700 million up front.
The interesting thing with this specific case is that Haslam's company, Pilot Flying J truck stop, was $4 billion in debt as of 2014. As it turns out, that $700 million he used as the down payment came not from Haslam's personal accounts but from Pilot Flying J. Therefore, Haslam's purchase of the Cleveland Browns is partially responsible for Pilot Flying J's debt.
If Vaynerchuk was interested in purchasing the Jets this way, he'd need to take a sizable amount of money from his companies – risking massive debts and potential layoffs – to put up the necessary cash. Given his stance on not taking loans and his preference of making money, not raising it, doubtful he would go this route.
Beyond the numbers game, there are other obstacles to owning an NFL team. The vetting process for potential owners is quite extensive, and that's not including the final hurdle to signing the check. In order for the purchase to go through, the current owners vote. If 24 of them say yes, Gary Vaynerchuk would be the proud owner of the New York Jets.
Can Gary Vee own the Jets?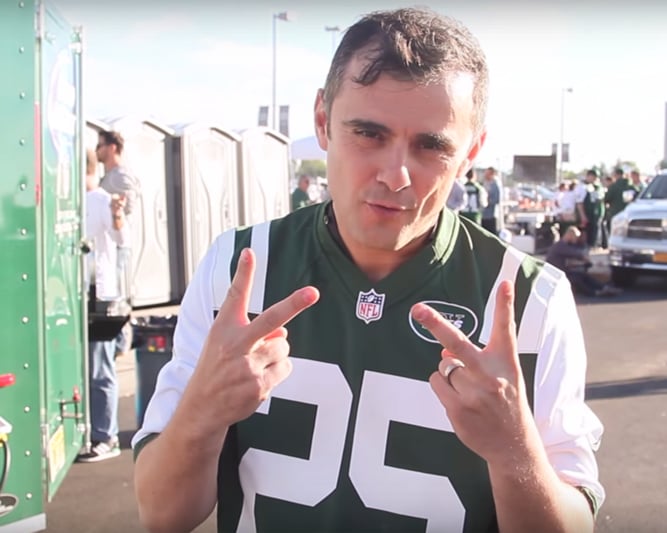 Short answer: not right now. With a personal net worth of $10 million, he's about $1 billion away. Could he own the Jets in the future? Sure. First, he'll need to continue growing his portfolio. Many of the owners didn't make money doing one thing; they have investments across the board and conglomerates with several entities, making them millions.
Vaynerchuk knows this. He stopped producing videos for Wine Library TV because he knew that show wasn't bringing in enough money to allow him to one day buy the Jets. He now spends most of his time running his social media agency and investing in big-potential startups at the ground-level.
The thing that makes Vaynerchuk different from current NFL owners is how he made his money. He's not from a football family like the Rooney's in Pittsburgh or the Halas' in Chicago. He didn't start a technology company like Steve Bisciotti did in Baltimore. And he didn't defy odds and turn a brick-and-mortar storefront into Home Depot like Arthur Blank did down in Atlanta.
He's a web-based entrepreneur. With the exception of his $1 million book deal, he continues to grow his portfolio with web- and technology-based enterprises. Vaynerchuk has proven to be incredibly savvy when it comes to e-commerce, building a big-time brand and investing wisely. Though he can't buy the Jets now, he's positioning himself to buy them soon.
P.S.: With Gary Vaynerchuk being one of the top thought leaders of e-commerce, we at Extensiv have to recommend one of our favorite books by him. Jab, Jab, Right Hook: How to Tell Your Story in a Noisy Social World is an incredibly insightful read for stepping up your social media game. From exploring new avenues, to strategies for each platform, we highly recommend this book to all sellers looking to bolster their marketing efforts.