August 23, 2018
This article may contain references to 3PL Central, now Extensiv Order Manager
Be inspired. Get involved. Give back. Enjoy the journey.
EL SEGUNDO, CA - August 23, 2018 — 3PL Central, the leading cloud-based Warehouse Management System (WMS) provider, will be closing their doors today to host their first annual Give Freely event. All employees, from offices located in California, Utah, and Virginia, will be volunteering at local food banks to sort, package, and distribute food to food-insecure families.
From July 1, 2018 – August 22, 2018, 3PL Central hosted food drives to help collect redistributable food items essential to combat hunger. The program was extended to include additional corporate donations when employees nominated peers for showcasing exceptional 3PL Central values.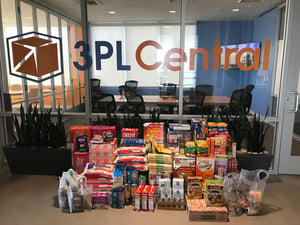 "Give Freely offers our employees the opportunity to embody the values we live every day," said John Watkins, CEO of 3PL Central. "Watching our team prepare and be ready to contribute to those in need offers us yet another opportunity to learn from one another and grow together."
Built on the foundation of 3PL Central's core values, Give Freely is an opportunity to empower team members to become true partners with communities and help the one in seven Americans who currently face hunger in the United States. Working together, the 3PL Central team will be logging nearly 300 hours in volunteer service.
"I am so excited to be a part of a company that cares so much about their community," said Eva Keyes, Manager of Technical Support at 3PL Central. "And how cool to be able to donate food by simply recognizing awesomeness at work. It's stuff like this that makes me proud of where I work."
3PL Central is grateful to be making a difference in the lives of families who rely on local food pantries and food banks for their next meals. We hope to inspire the entire supply chain and logistics communities to volunteer and give back to their local communities.
---
About 3PL Central
3PL Central provides the leading cloud-based warehouse management system (WMS) designed to meet the unique needs of the 3PL warehousing community. Serving as the central command center, our platform, 3PL Warehouse Manager, gives warehouses the ability to view, connect, and control their entire fulfillment network from a single cloud-based interface. As a dedicated partner to our customers, 3PL Central offers enterprise-level inventory management, support, connectivity, flexibility and compliance for warehouses operating in increasingly complex environments. Our WMS tools seamlessly integrate with a growing number of eCommerce options, EDI providers, ERP platforms, accounting packages, shipping partners, and other supply chain technologies to deliver a platform that grows and scales with 3PL businesses and their customers. To learn more, please visit 3plcentral.com.