April 15, 2021
This article may contain references to 3PL Central, now Extensiv Order Manager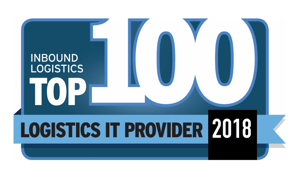 EL SEGUNDO, CA – April 17, 2018 — 3PL Central, the leading software provider and the first cloud-based Warehouse Management System (WMS), today announced that it has been named a Top 100 Logistics IT Provider by Inbound Logistics Magazine for an unprecedented sixth year in row. The company's award-winning, cloud-based 3PL Warehouse Manager WMS was specifically created to help 3PLs grow their business, maximize their productivity and deliver the superior customer experience today's consumers demand.
"We are delighted to have been named to this prestigious list again," said John Watkins, co-founder and Company CEO. "But we have no intention of resting on our laurels. In fact, since the beginning of 2018, we have introduced a series of dramatic improvements to our offerings. This includes our new SmartView release, which features a beautiful user interface, intelligent workflow capabilities, and a host of new features and functionalities deployed via a cutting-edge REST API."
"The level of technological innovation within the logistics industry is higher now than it has ever been in history," said Felecia Stratton, Editor of Inbound Logistics. "3PL Central has long been one of the visionaries in our field – and our award recognizes their on-going leadership as a Logistics IT Provider – even in today's hyper-crowded marketplace."
"3PL Central continues to evolve in 2018 with exciting new innovations to 3PL Warehouse Manager TM and our new REST API" added Sheridan Richey, CTO of 3PL Central. "We have an entire roadmap dedicated to new developments designed to help 3PLs run successful businesses and meet the intense demands of customer satisfaction."
Powerful, flexible, scalable, and specifically designed to help 3PLs and warehouses grow to the next level, 3PL Warehouse ManagerTM serves as the core of the Company's Warehouse Management Platform. Easy to use and simple to deploy, the software enables 3PL Central customers to optimize their operations, better communicate with their own clients, and dramatically increase their profitability.
For more information about how 3PL Central can help your business simplify today's complex logistics, request a demo or contact us at 310-341-3049.
About 3PL Central
3PL Central is a leader among cloud-based supply chain software providers, offering warehouse management solutions that are robust, reliable, secure, and easy to use. Our products seamlessly integrate with a large and growing number of e-Commerce enablement technologies, EDI providers, ERP platforms, accounting packages, shipping partners, and other supply chain technologies delivering a full warehouse management platform to effectively grow and scale your business. Offering enterprise-class WMS functionality, 3PL Central customers include everyone from small-to-medium sized 3PLs to private Fortune 500 distribution centers.
About Inbound Logistics
Since its inception in 1981, Inbound Logistics' educational mission is to illustrate the benefits of demand-driven logistics practices, give companies the knowledge to help them match the inbound flow of materials to their demand, and align their business process to support that shift. Inbound Logistics offers real-world examples and decision support to guide businesses to efficiently manage logistics, reduce and speed inventory, and offset rising transport costs, supporting business scalability across their value chain. More information about demand-driven logistics practices is available at www.inboundlogistics.com.