Ready to Upgrade your Warehouse Technology?
Our warehouse management software provides the automated capabilities that are essential to meeting customer demands, reducing labor costs, and improving operational performance.
Cloud-based WMS solutions function as a backbone for greater operational efficiency, integration, and productivity for accelerated growth.
Our warehouse management system automates billing for streamlined productivity, integrates with API, EDI, shopping carts, retailers, and shipper connections.
WMS eliminates manual errors, creates paperless operations, improves reporting, and increases order volume by 22%.
Pre-built WMS integrations work seamlessly with existing systems to ensure the delivery of excellent customer service with custom reporting, inventory-driven data, and complete visibility.
Trusted by forward-thinking logistics professionals and growing brands
#1 Warehouse Management System to Streamline and Enhance Performance
As 3PLs experience soaring growth, competition has become fierce. To stay on top, warehouses have to improve operational efficiency while reducing labor costs. Customer satisfaction remains the driving force. 3PLs are scrambling to become paperless, avoid errors, enhance productivity, and accelerate growth to improve profitability. The key to future success and bottom line growth is a cloud-based WMS system that meets all current and future needs and acts as a true tech backbone.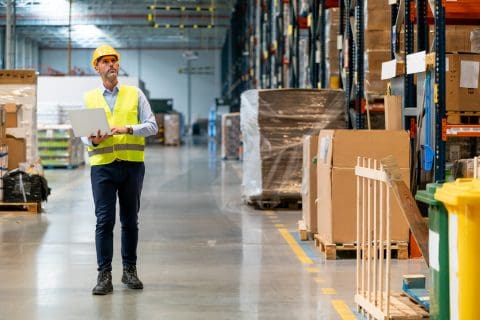 "Partnering with 3PL Central has enabled SEKO Logistics to firmly position ourselves within the retail and eCommerce fulfillment market, which is a core strategy for us. 3PL Central has become a feature benefit presented in our sales and onboarding process and in some cases, is the competitive differentiator that wins us the business. "
— John Christopher
Director of Logistics, SEKO Logistics
Frequently Asked Questions
What is a warehouse management system (WMS)?
3PL Warehouse Manager is a cloud-based software platform that manages all day-to-day operations within a warehouse and acts as the foundation for any other technology systems a warehouse might implement. It can help warehouse staff manage receipts, locations, picking, packing, shipping, inventory, and so much more. Our WMS also includes customer management, including the customer portal and automated notifications. It also features data analytics and reporting to help you view productivity in real-time.
What is omnichannel fulfillment?
Omnichannel fulfillment is a unified approach to managing inventory and order processing from a variety of channels, including a variety of order sources such as Amazon, eBay, and Shopify, for example, from the same inventory bucket. In this way, 3PLs can streamline fulfillment processes and distribution of orders from multiple selling channels without segmenting or restricting inventory per channel.
How can 3PL Warehouse Manager help me receive product into my warehouse?
In 3PL Warehouse Manager, you can create receipts manually, with a scanner using SmartScan, by uploading an import file, or electronically through an EDI or API connection. You can then search and filter by receipts in the Find Receipts page in the Receipts module and perform simple actions like editing, confirming, canceling, and reopening. In addition, you can view open, complete, closed, and canceled receipts, generate receipt documents, and adjust receipt charges. The Receipts module in 3PL Warehouse Manager reflects automatic and manual charges for each customer through the billing functionality. 3PL Warehouse Manager can capture all item-based handling, value-added services, and initial storage charges and fees for your receiving operations.
How can 3PL Warehouse Manager help me ship orders out of my warehouse?
3PL Warehouse Manager can help you manage orders by allowing you to process single or batch orders through the system from receiving, through picking and packing, to printing labels and shipping. With Enterprise and Professional subscriptions, built-in analytics allow you to see the real-time status of orders per customer. 3PL Warehouse Manager's add-on, Small Parcel Suite, allows you to shop carrier rates from within the platform from a variety of providers. You can even process high-volume orders, print packing slips, and handle returns through Small Parcel Suite. 3PL Warehouse Manager will also generate and link shipping charges to orders, including order processing fees, handling fees, and freight fees.
How can 3PL Warehouse Manager help me manage inventory?
Items are the backbone of 3PL Warehouse Manager's inventory management. Creating items or importing them into the WMS is the first step toward inventory management with 3PL Warehouse Manager. You can enter item details, from basic details like SKU number, to advanced details like serial numbers and expiration dates to help identify this item in the system and enable dozens of other inventory-tracking features, shipping documentation, directed putaway, and hazardous materials management. Inventory can be grouped by movable unit.
You can also use 3PL Warehouse Manager to allocate, count, and adjust inventory levels, as well as track the transfer of inventory within the system, so that you can be aware of the status of each piece of inventory at every stage of the fulfillment process. Finally, 3PL Warehouse Manager can track assembly transactions, pricing, and storage rates for individual and movable units of inventory.
Can 3PL Warehouse Manager help me implement barcode scanning in my facility?
SmartScan, 3PL Warehouse Manager's barcode scanning add-on, gives you greater flexibility in fulfillment by allowing you to implement barcodes and receive and pick on-the-go with your mobile device. You can even use SmartScan to perform faster and more accurate inventory audits. SmartScan is flexible enough to work with multiple order types, from high-volume ecommerce to load out for freight shipping. It also helps improve staff throughput with scanning best practices to increase the accuracy and efficiency of your receiving and picking. You can prioritize pick jobs, view picking locations, and what tasks you assign to users in real time with the combination of SmartScan and 3PL Warehouse Manager.
What integrations can I use with 3PL Warehouse Manager?
At Extensiv, we work hard to form partnerships and provide our customers with the best integration experience possible. Through CartRover, now Extensiv Integration Manager, our customers can access hundreds of integrations to ecommerce shopping carts including, but not limited to, Amazon, eBay, Etsy, Google Shopping, Groupon, PayPal, Shopify, Walmart, and Wayfair. 3PL Warehouse Manager's billing integrates directly with QuickBooks and QuickBooks Online to streamline accounting. Further, Small Parcel Suite offers direct integrations to FedEx, UPS, USPS, ShipStation, and dozens more carriers. Don't see the integration you're looking for? Our team of dedicated experts can build your custom API or EDI integration through our Developer Services program.
What kind of support can I expect with 3PL Warehouse Manager?
At Extensiv, we pride ourselves on providing a superior support experience for our customers. Not only do we provide our customers with 5 am-5 pm PT phone and chat support, but a dedicated Customer Success Manager assigned to your account is included with your subscription. As a customer, you'll also get access to the 3PL Warehouse Manager Support Portal where you can monitor usage, pay invoices, and view all your support cases in real time. In addition, 3PL Warehouse Manager customers enjoy access to the 3PL Warehouse Manager Community where you can connect with Extensiv employees and other 3PL Warehouse Manager users and get insight on best practices.
For ongoing training and product knowledge, 3PL Warehouse Manager University provides additional training resources for your team through both live webinars and recorded training videos on specific features within 3PL Warehouse Manager. Finally, the 3PL Warehouse Manager Help Center is full of articles with detailed instructions on how to implement best practices, configure all the features of the product, and more.