Is your 3PL ready to face Generation Z?
In 2019, a new, incredibly large, and utterly unprecedented group of global consumers will come of age. Known as "Generation Z," this massive wave of shoppers has already started crashing on 3PL warehouse customer's shores, along with their unprecedented expectations. Successful 3PLs understand that this is a wave 3PLs can ride to incredible profitability if they learn how to efficiently manage warehouse ecommerce and omnichannel operations.
Numbering roughly 2.5 billion, Gen Z will become the single-largest generational group on Earth in 2019, constituting one-third of the planet's population.1 They already have a purchasing power of $100 billion in the U.S. alone compared to the Millennial Purchasing Power estimated only at around $65 billion.2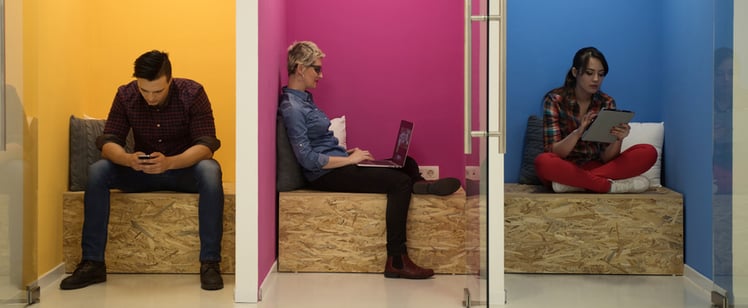 Also known as the iGeneration, Gen Z is arriving with no memory of a world before the Internet, the smart phone, or the totally empowered consumer. As such, they now have unparalleled expectations when it comes to convenience, control, cost, and choice.

By 2020, Gen Z will command nearly 40 percent of all consumer shopping.3 3PL warehouses who can successfully help their customers serve the needs of this new generation will be able to grow their businesses more quickly.

To do so, your 3PL must have the following five 3PL capabilities.
1. Omnichannel fulfillment capabilities
Gen Z shoppers will buy from their smartphones more than any generation in history.4 But they also like to shop in malls, pick up items in stores, and get same-day deliveries at home, work, or school.5 For this new shopper, there is no distinction in how and where they shop but there is an expectation of a seamless experience. With experts claiming that "Omnichannel is the Future of Commerce," 3PLs should be ready to react accordingly."6
2."Mobile first" optimized Ecommerce sites
3PL warehouses should work with their customers to ensure that their mobile sites are lightning-fast and simple to navigate. This means your customers' ecommerce engines must be tightly integrated with their global inventory. If a mobile site takes more than 3 seconds to load, 53% of Gen Z-ers will move on.7 Today's successful warehouses need to partner with Warehouse Management System (WMS) providers who offer a platform with shopping cart and API integrations, along with other variety of customized services that help them better serve their customers.

3. Total visibility and control over product availability, fulfillment and delivery
Today's 3PLs need to maintain total visibility into the buying process–from the moment the customer checks a product's availability to the moment it is shipped. For many 3PLs, this starts with offering inventory reports, automatic email notifications of key warehouse events, and a permission-based web portal for customers. The ability to track purchases from the racks in your warehouse to the trucks and all the way to delivery will offer a competitive advantage in riding the wave of profitability.
4. A superior customer experience at every touchpoint
Gen Z consumers expect to be treated like royalty. 3PLs should work with their customers to provide incredible levels of service, help, attentiveness, and assistance. This could include:
Chatbots
24/7 access to live, qualified reps
Crystal-clear FAQs
Stored purchase and address details that you never resell
Easy-to-find help if there are problems
Making sure your warehouse has the ability to service your customers wherever, and however, will keep them coming back for more as they grow and scale along with you.
5. Seamless Product Returns
Returned items have always been an issue for ecommerce retailers. But it's about to become even more challenging. While it is estimated that only 4% of Gen Z is expected to return more than 75% of their purchased items, this 3X higher than other buying generations.6

Returns should be an expected part of your fulfillment system, not just the odd one-off. An efficient system should not only handle returns easily but win life-long customers in the process. You can do this by providing:
Pre-printed, easy-to-follow labels & instructions on every package
Additional custom pick-up and exchange opportunities
A hassle-free WMS to automatically update inventory
Superior service and support
To learn how Extensiv can partner with your 3PL warehouse and help your business prepare to cash in on the approaching Gen Z wave, contact us to request a demo.

---
What does 2020 have in store for the 3PL Industry?
In our 2020 State of Third-Party Logistics Industry report, Extensiv will be exploring the five biggest logistics challenges that will impact 3PLs this year and 20 best practices to help them succeed in the ever-changing logistics industry. Sign up today to receive your copy.
---
Sources: