Brands who are able to replicate their Amazon efforts on Walmart see about 20% of their Amazon volume in sales on Walmart. Our expert Marketplace speakers will unveil the secrets of Walmart supply chain management, listing your products, boosting sales, staying competitive, and how to ensure your operations and fulfillment options are in order in the Walmart Marketplace for Q4.
Have your Goals and KPIs ready so you can implement these tactics to take your Walmart fulfillment strategy to the next level.
Watch the replay right here or read the transcript below: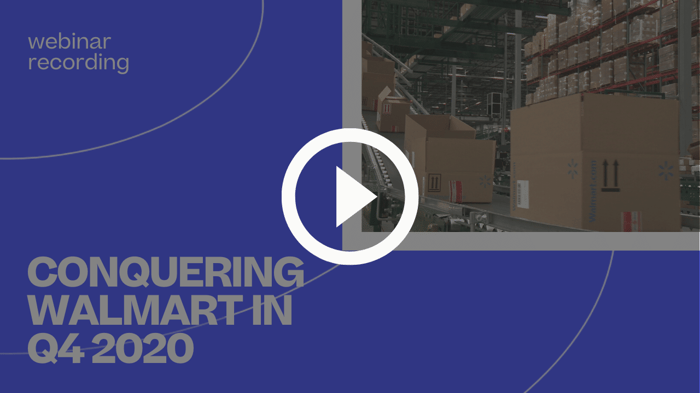 Transcript
Persephanie Arellano:
Go ahead and get right to it. This is actually a session dedicated specifically for Walmart. And here you're going to learn how Walmart can help expand your business, reach in Q4. So, without further ado, let's go ahead and dive right into it. On the next slide, you can see our timeline. So, we had the pleasure of having our first session be presented by our director of research, Andy and he was covering key trends and insights that might take your Q4 strategy to the next level. Second session, really just focused on Amazon operations as it pertains to sellers and vendors. And then we just had our third session covered by our two advertising specialists, where it really just showed a holistic approach to Amazon DSP and search and why they work better together. And then we're going to be closing up with Walmart. So, on the next slide, after that. Sorry, there's a little click delay everybody, bear with us. One more slide.
Elizabeth Marsten:
There we go.
Persephanie Arellano:
Thank you. And so there's just a few event logistics quickly for anybody that's just hopping on for the first time, we're using Go ToWebinar. Please, send us any questions you have in the chat box to the right, I'll be sure to add this to the few questions for our speakers at the end. Please download the resources we have for you, totally free. And there's five there. So, check these out at your earliest convenience. This webinar is being recorded and I'll be sending it out by the end of the week. So, feel free to share with your colleagues for references, and then if you're having any trouble accessing these features, just let me know. I'll troubleshoot the issue in the backend. And then here are two speakers. So, first let me introduce Elizabeth. She has 14 years of experience in digital marketing with roots in paid search, spending the last few years though focused more on the full line, on full online retail , including marketplaces with enterprise experience in retailers. So, she's an accomplished speaker and author on the subject of eCommerce and is currently building out the enterprise experience for marketplace clients at Tinuiti. Welcome Elizabeth, we're excited to have you.
Elizabeth Marsten:
Happy to be here.
Persephanie Arellano:
and then next we have Brenda, who is an account manager at Skubana. So, she works with top eCommerce merchants to leverage different sales channels and partners to grow their business. Brenda has vast experience with Walmart in conjunction with other marketplaces and key partners in the ecosystem. Welcome, Brenda.
Brenda Ayanegui:
Thank you, nice to be here.
Persephanie Arellano:
We're excited to have you both. So, on our next slide, here's our agenda. I'm going to launch a quick poll for our attendees, just to make sure everybody's awake and then we'll go ahead and kick it off to our two speakers. So, first we're going to be covering five tips to prepare your Walmart inventory for the Holidays, and then next, accelerating your sales with Walmart advertising, how to do sales, setting up for success and scale this Q4. And then of course, closing up with our live Q and A. So, let me get this poll question ready. All right, so at this poll question, you are actually able to select multiple answers. So, which marketplace channel or channels are you currently selling on? Here we have either Walmart, Amazon, eBay, others that aren't listed, or if you're selling on all the above. Go ahead and select that. I'll go ahead and leave this open for just a couple of more seconds. So, we get some more votes and thank you so much to our attendees that are participating. We really appreciate that. It's just always good to see this information. So, we know how to tailor the content for this presentation and for future content as well. All right, a huge thank you to everybody. So, which marketplace channel, channels are you currently selling on? It looks like we have a solid amount of saying actually Amazon, 71%. 39 takes and second place for others that aren't listed, which is actually really interesting to see. 29% on Walmart, 21% on eBay and then 18% on all the above. Pretty interesting results. I'll go ahead and kick it over to our two speakers now.
Elizabeth Marsten:
Hey Brenda, I think you have... I hope capabilities there, let's see. There we go.
Brenda Ayanegui:
Awesome. Yeah, so it's very nice to meet you. Persephanie said, "I'm an account manager, it's Skubana." We're multichannel inventory and order management software that helps marketplace sellers and direct to consumer brands manage the warehouse and fulfillment operations with our software, as well as our broad partner network.
Here, you can see some of the customers that we work with. We have Monday Swimwear, Moonglow, Young and Reckless, Lady Gaga's Haus Laboratories, as well as others. So, we have a few interesting clients going on. So, today I'm going to share five tips to prepare your Walmart inventory for the holidays. So, my first tip is plan in advance. If you're a marketplace seller, you know, the struggle is real between having too much inventory and carrying too little.
So, tip number one is stayed balanced. That means keeping enough inventory to meet supply and having a buffer for in between replenishments without over ordering or being stuck with last season's merchandise. So, you should never oversell or undersell again. And the way you would achieve this, were using our reorder point formula and keeping safety stock on hand to mitigate stock outs. So, as you know, holidays are full of surprises, but overselling shouldn't be one of them. Well, it's almost impossible to predict when a product will go viral. It's more likely to happen during Q4, when families are holiday shopping and they're looking that perfect gift that everyone needs to have.
When it comes to the holidays, one of the costliest scenarios for a retailer is when a shopper finds out that a product is no longer in stock after buying it. So, the question is, "How do you balance stock on hand with flexibility?" You would need to do that by avoiding overstocking and understocking. So, having excess storage eats away at profitability and keeps cash tied up in physical inventory, instead of using it for marketing, increased headcount or faster fulfillment. But without enough inventory, you risk overselling. So, not only does the business have to process a refund, but also you lose customers and you have to deal with negative reviews, marketplace fees, suspensions and ruining someone's holiday, because they were really looking forward to what they bought, right?
Which brings me to my tip number two, which is setting boundaries. Know what your business limits are and keep your business healthy. So, you can avoid over promising and under delivering to your customers. When I talk about this, I always like to start with the safety stock, especially during the holidays. Don't lose your customer because you ran out of their dream gift. Always keep extra stock on hand, just in case something goes wrong or that something goes right. And then suddenly demand outpaces supply. You can calculate safety stock by considering the number of average daily sales you have for a certain product and what the lead time is for that product to come back in stock, should you need to reorder. So, your safety stock needs to cover the normal reordering time to get more of a given item without customers having to wait for it to be back.
So, here's a little insight of what we offer in Skubana. And you have the ability to see what is running low, what's unavailable. And what's currently allocated to orders. So, setting reorder points is a critical part of managing inventory, but they help you give your business running smoothly by ensuring you always have stock in hand for any orders you may have. But they only work if they are accurate. And they are recalculated when your sales cycles change. And when your stock levels dropped below a certain reorder point. So, you should set inventory alerts for specific products. So, when they reach a certain limit, you're made aware, right? So, these alerts will help you stay on top of your product levels and know when you need to order more. You should also automatically issue purchase orders, based on sales velocity, lead times and seasonality.
So, my tip number three, and one of the most important I would say is, automate if you can. Automation keeps you ahead of the curve, always one step in front of your customers. Mismanaged inventory can cause delays in lead time, which won't sit well with today's online shoppers. Automation lowers fulfillment times, overhead costs and delivery risks. Now, depending on what system you use to manage your Walmart orders, there may be ways to use automation to lower overhead, increase delivery speeds and improve customer experience. So, just some of the things that we can automate within Extensiv is shipping rate shopping, bundle breakdown, and overall fulfillment orchestration. You can also automate purchasing, so you can make sure that you're purchasing the right products at the right time, based on your inventory counts on real time and your actual sales velocity.
My next tip is fulfill strategically. Just as you have to be super strategic with sales channel expansion, you also have to be strategic with fulfillment. So, as you know, the days of having just one warehouse are over, as your sales velocity increases and more warehouse space is required, consider expanding your warehouse footprint, across multiple regions. This is important. So, you know where you're selling and you can boost margins based on that. Also having warehouses in more than one region in the country, will also allow you to win over new customers by offering faster delivery times. As we know these days, fast delivery, it's no longer just a prime thing. Many 3PLs in the eCommerce ecosystem are now offering two day fulfillment options for Walmart sellers. So, that's important to look into as well.
Lastly, my tip number five is unify your operations. Now, this will maybe a little biased obviously because I work for Skubana, but having an operations platform, helps you unify your Walmart data, automate your business and grow your SKU level analytics. This way, if you can manage your whole business from one central hub, it makes that platform multi-SKU, multiple warehouse and multiple fulfillment. Sales forecasting is essential for proper inventory management. If you're working off of static spreadsheets, your data is already outdated. So, ideally you should always use real time automated data entry to boost accuracy and adaptability. So, you can see how Walmart performs against your other marketplaces or websites, like Shopify and BigCommerce as well. So, if you're interested in trying Skubana, let us know after this webinar and we can show you a demo. Right now, we are offering one month for free. If you're a Walmart seller that would like to try the software. And with that, I'm going to hand it over to you, Elizabeth for now.
Elizabeth Marsten:
Awesome. Thank you so much for that, Brenda. So, for those of you that are already selling on Walmart or perhaps are new to it and are looking for a way to accelerate your sales with Walmart advertising. Good news. I have some content for you. First and foremost. My name is Elizabeth Marsten. I'm the senior director, strategic marketplaces at Tinuiti, which is a very long way of saying, I work on all the new stuff. So, being Walmart. I've actually started working on the Walmart advertising side in 2018, summer of 2018. So, it's been two-ish years now from their first leap from triad to where they are today, 14 years in digital in general. Sometimes I write stuff, I'm supposed to write stuff more often, I'm remiss on it, but I do also include my Twitter and LinkedIn information here at the end, because there's one thing I miss more than anything else in these pandemic times, is there's so many webinars, but there's not enough in person. So, I haven't gotten to meet folks like I would have normally this year and hear about real situations, real issues, real problems. So, if you know, you normally would in person conference, walk up to me afterwards and ask a specific question, please do so online. Whether that's a DM or a private LinkedIn message, whatever , let's try and bring that part back. I missed that part, also the swag, but not lunch.
So, really quick, what's new with Walmart? They have done a lot this year. So, I just kind of have a top heavy list in terms of what's going on, in terms of their expansion into the 3P marketplace, that self service, just in general, launch the expansion with Shopify, Walmart fulfillment services, more and more and more is coming down the pipeline. But one thing I want to keep in mind with that is what to expect. So, setting expectations on one, it's not Amazon. And I have to say that a lot, unfortunately, but that is true. So, reminding you all that you must treat it differently and that a lot of these initiatives are still new. So, like really new, some are things from maybe only a year old, or maybe even only three months old. And again, that focus, Walmart has over 4,700 stores in the United States alone. That is a large brick and mortar footprint. So, keeping track of that is a top priority, but how they use that going forward as they move into omni-channel in the digital space. And yes, unfortunately it's still very much a US properties more than anything else. Sorry, Canada. I do get a lot of like, is this available in Canada? Unfortunately, most of the time the answer is no.
So, getting started, Walmart advertising, you gotta have an advertising account. You'll be very clear. There's a difference between a seller account and an advertising account. There are two different things you must have both in order to be an advertiser. There is a web self service piece, excuse me. And you can also apply for one here, there's a link, or you can just call me. Additionally budget recommendation. I would say you must walk in with at least $2,000 willing to try and test this. I would obviously advise more, but to get started, this is a good place. And then being an established seller. So, you don't want to sell for like a week on Walmart and then do advertising and then wonder why it's not working out. Make sure that you have your seller, your house in order, in terms of metrics, fulfillment, all that kind of fun stuff. And you know, just basically everything that Brenda just went over in terms of like, inventory fulfillment, knowing where things are, distribution, get that out. All right, so today focusing on advertising, I'm going to talk about a few different ad types, we're gonna focus specifically on the sponsored products option, which is what we'll spend the most of our time today. But I want to make sure that you're able to see what else is available. And if you have the ability right now, go into another browser, open up www.walmart.com and kind of search along with me and see if you can find these different ad types in the wild yourself.
So, first one, Search Brand Amplifier. Search Brand Amplifier is keyword based, generic head terms or queries and it's booked for your Walmart media groups. Unfortunately we can't do it via the self service, but it is pretty cool. So, put in some things super high level, dog food's always my go to because almost always can come up with one and it's the logo. And then you have to submit at least four base IDs or Walmart based IDs, not including variants in order to qualify for this advertising type. So, here in the screenshot, you'll see three of the four displaying on top, for super generic terms. So, you gonna try your dog food, waterproof mascara, matte lipstick, fruit snacks is a good one too, that I've tried recently.
Display, who doesn't love a good display network? Of course they have one. So, banner ads in particular. So, those big glossy pictures, but the capabilities on their targeting is not what everybody might know about. So, there's contextual targeting by category, custom audience segments that are available, that they have propensity targeting. So, machine learning capability to just target shoppers that are likely to buy a certain brand or product type, depending on of course the audience segments and then conquesting, right? So, if there's a particular competitor that you'd like to go after. A lot of these are enterprise options. So, like your homepage lockout, that's when you go to www.walmart.com and you see the big glossy banner, where four carousel images kind of roll through, those placements are our homepage lockouts, high impact display, of course all books through the Walmart media group. And then what I'd like to spend the bulk of our time on today. Walmart sponsors products.
So Ingrid, this is a picture of Ingrid search results, sponsored products or cost per click. They drive to Walmart product detail pages. You can control the budgets in the bids, you set them, but you do need to at the campaign, start put in a thousand dollars. That is the campaign lifetime. It's not necessarily what you will spend, but you have to put it in. That's just the minimum requirement, whether or not that takes you a week or a year to spend. That's what you need to input. And the daily spend is also set at a hundred dollars a day. Sponsored products can now show up in 1 spots through 12. So, on a search, if you perform a search right now, www.walmart.com, take a look at what pops up there and as you start to scroll down the page, those sponsored products, can only show up in spots 1 through 12, it used to be 3, 5, 6, and 12, until just recently, but now it has expanded. So, hooray first spot is open, but only two spots are filling on a particular page or for a query. In order to be eligible, these products must appear organically. So, you must already be you know, pretty locked away as a seller.
So again, referring back to Brenda's slides on Extensiv and having that good organic presence. Those top three pages or first 128 listings. You must be there and you also must be winning the buy box and in stock. And the in stock piece is actually really important, because depending on how your inventory is distributed across the United States. That two day ship badge, for example, if you have that, you're able to show in stock further geographically across the United States more often. So, if you're out of stock in the Southwest, you may show up as out of stock across the country. So, you don't want that and then sponsored products carousel. So, this is just another view of what those look like. If you're on a product detail page or a search result page, and you scroll all the way to the bottom, or sometimes in the middle of the page, you will see a carousel with multiple products in there. Again, only located on search results category and product pages. And then the buy box banner. So, if you were on a product detail page, so do me a favor. If you've got one of those search Ingrid results, open there, click on a product detail page, don't click on a sponsored result. Now that's not nice. And go ahead and take a look on the right and see if you can see one of these. This is the buy box banner. You have to have at least a dollar minimum bid in order to even qualify. It's only an auto campaigns, not directly targetable, but... And it doesn't show up as a separate ad type. So, it is a sponsored product by definition, but in order to qualify for it, you must have the higher bid. And I put together handy chart to kind of show off the different page types. The types of campaigns that will qualify for those placements and then where those ads can show. And I'm going to dig into this a little bit more.
So, first before we dig in the difference between automatic and manual campaigns and everything else. I want to talk about campaign structure and setting up for success and scale. So, when it comes to Walmart advertising, the number one thing that I've seen folks do is they try to replicate Amazon and they try to do things like, do single ACN or single SKU product groups or campaigns out of the gate. It doesn't work that way. In fact, it will be really hard in order to get enough traction, to even get it to launch. And that's something also, I have identified here later, but thinking categories first, then in SKUs, then in keyword. So, remember it's a digital shelf and in some cases, a physical shelf too, depending on if you're a brand and getting too granular too soon, can either lead in a drop or not showing at all. Recommend ten, twenty SKUs if you can, in a product group, just to give it enough info, just to give Walmart enough information, to know what that item is. And then always recommending, starting with a singular auto campaign for at least the first two weeks. So, let that spin that account up, start that, give it a competitive bids and let that data gather. And then depending on how many categories you have and close to one another, you know, maybe it's only one campaign. Maybe it's a couple, it just depends on how big a catalog is.
And then this is a excuse me, really key pieces of information. The base ID is the one that is, for the base ID. The variant that is chosen, in sense the hero. That is the variant that gets advertised, unless you have different product pages for each one of your variants. So, if your hero SKUer, your base ID loses the buy box or goes out of stock advertising stops. So, if you have a cookware set and you have a red color chosen as your is your main ID, as your main hero SKU and it goes out of stock. It doesn't move to the blue one or the brown one, you're done until that comes back in stock. So, check your catalog the most popular variants that you want, especially for colors and sizes. Sizes, this was really key, especially like for example, in jewelry, is set up correctly. And then how to dive into this. So, automatic versus manual campaigns. I'm not going to read this to you. So an automatic is what I was recommending you start with, you should put you put the bid in. Walmart's going to determine, there's no keywords, again must be winning the buy box, eligible for more placements. So, on average, you will see more impressions in an automatic campaign than you usually will on a manual. Manual, that's where you get to select your keywords, different match types, broad phrase and exact. Again, must be winning the buy box. And you are limited to the number of keywords you have in a campaign. This is also very key about Walmart advertising. It is a first price bid auction.
So, first price bid auction means what you bid is what you pay. It is not like Amazon or Google where it's the second price bid auction, or it's you you'll pay what your competitor bids plus one penny, this is what it is. So, you have to make sure that you are watching this. There are 20 and 30 cent minimums for the different campaigns. And actually we'll dig into this a little bit more. So, setting this up for success and scale, making sure again, that you have enough data before you make big decisions or make big changes. This is again, that's the second price auction and the bidding. It can be daily, especially at campaign launch. So, especially as you're trying to find that sweet spot and move up and down between. You don't want to be quite at the minimum because then you might not even be showing, but you don't want to be paying too much. And then again, that consideration for the buy box banner, depending on where you want to be. But if you're set up by categories, you should be able to be more consistent. And that category usually you don't have a super wide range of price points or margin targets that you're trying to hit. So, you should be able to scale that. And in the manual campaigns, you have the option of moving products from being advertised. So, if there is a simply just a product that isn't working, you can remove that from the assortment to be advertised on and then bid multipliers, which I'll get into in a moment. Attribution windows, it's 3 or 30 days today.
One other piece, item health report recently released. If you lose the buy box or go out of stock, you can't advertise, but the item health report is available today in the Walmart advertising UI. So, you can see how things are doing from a seller perspective. I'm going to walk through three different reports now and tell you what I do if I were you. So, this is a report for the page type summary revenue, impressions versus revenue for an auto campaign. And this comes into those bid multipliers. So, there have been multipliers available from a platform perspective and from a placement perspective. So in this case, I'm looking at, you know, 84% of my impressions are showing up on an item page, but only unfortunately I covered it , less than that is showing from a revenue perspective. In this case, I want to use a bid multiplier for that search Ingrid placement to increase impressions because I only have 9% on search, but I have 40% on sales. So, how do I get more? And from that placement using a bid multiplier will do that. Here's another example, impressions versus revenue, using a bid multiplier for a platform. So, just everybody knows a mobi app is the mobile app. And mobile is the .com as in your browser, as you would see it on a mobile device. So, if you've ever used, you know, a .com site, full .com site on your mobile device, you know, and sometimes it can be kind of wonky in a lot of times, the app is the better experience and that's what's going on here. So, in this case, I would want to increase the multiplier on desktop, just maybe slightly, because I do have a better conversion rate on desktop than say the mobile or the mobile app features. When I say it depends on category, that's because of how the page lays out. So, you know, if you're in electronics and you have a lot of product details, features and reviews and other pieces that you want the user to take into consideration for conversion, you're probably gonna have a better desktop rate. Whereas if it's something that's super simple, like a pop patrol toy that I might've bought recently, you know what it is, you know what you want, you go in and you take a look. You're like, "Okay." And then that's it.
And then last but not least is the allocation by product. So, understanding how much you're spending on a certain product, in terms of budget for advertising and how many impressions relative that. So, in this case, 86% of my impressions are going to this one product. It is making quite a bit of revenue, but what if that's taking up all the budget out of that campaign? And I don't have an idea of whether or not there's other products in there that could be doing the same. So, in this case, this is how you find out whether or not those low percentage products should be moved out into their own campaigns or own ad group and let the dominant product continue to make you money. So, just kind of wrapping these up. So, there's one other piece, a report in there, there's the item keyword or performance report. So, if you go into your Walmart advertising account, you go report, you go on demand, you will find the item keyword report, very similar to the harvesting capabilities. So, find new keywords from automatic campaigns. These reports do expire. They can take up to 30 minutes to generate. So, it is one of those like, turn it on and then come back. Again, 3 or 30. And then I highly recommend reading the advertising help guide or the knowledge base that accompanies this report to decipher in what all of the different attributed fields are in order to get the most from it.
And then using seller center. So, it kind of hearkening back again to what Brenda was talking about in terms of, you know, operational excellence. Use your seller center to match up with your advertising. So, check out your seller scorecard, check out your item details. If you can download a full feed spec, is there something that's missing? Fast tags, you know, the two day shift tag, you can get it. And then this is a really cool one. It's a little high level, but it's kind of fun, is if you go into the growth opportunities in seller center, under assortment growth, you can see what the top products are selling for in those super departments, departments. So again, high level, but it's pretty cool to see how many other sellers there are and what the number one products are selling wise in those departments. And then some troubleshooting. So, I put this together because these are things that have come up just recently or even a year ago, as far as how things are going in Walmart advertising. So, if you've got lower on impressions. First place, I check out a stock and reminder again, if that base SKU is out, very instant serve low or no impressions. You might have your bids too low, not enough keywords in a manual campaign. So, not enough being, like maybe you only have five in there, you triple that, not enough products in a singular product group.
So, if again, if you only have one or two SKUs in there and you know, it's just not getting picked up. High impressions but no clicks, that could be irrelevant search terms or keywords. So, check your keyword list and then check your product categorization. So again, using that seller center to make sure that your products or your categories in the right places. High clicks, no conversions. So, this one is usually content-related. So, check that product detail page for reviews. Do you have enough images? Does your product require education? You know, how it works? Do you need to include those instructions on what it is what the used cases are and using those feature bullets for optimization. And then I always say, "Search on site to get an idea "of competitors and check in seller growth, "under growth opportunities in the pricing section "to understand competitiveness." Because a lot of times there's an action item right there that says, "Hey, if you lower the price by 50 cents, "you'll open up this many more potential sales." And last but not least, my resources slide. So again, Walmart Advertising Knowledge Base, highly recommend it. It's not that long, read it. The Ultimate Marketplace Guide is on the Tinuiti website, Walmart advertising, and seller help. You can file a ticket, sometimes more than others. And then I did a update chat with xSellco and Skubana, like two weeks ago. It wasn't even that long ago. So, please feel free to grab that. And then, like I said, "Tweet me, LinkedIn me." If I miss you know, talking to a room of folks with, you know, eyeballs that I can see and kind of get a sense of whether or not they fall asleep at this point are highly engaged or somewhere in the middle. A couple of key takeaways. Brenda, you want to hit us with his, with yours?
Persephanie Arellano:
Brenda I think you're muted, sorry.

Brenda Ayanegui:
All right, can you hear me now?
Elizabeth Marsten:
Yes.
Brenda Ayanegui:
takeaways on my end are, don't let a lack of inventory get in the way of your sales goals. And know how to calculate how much inventory you need to reach those goals. And the second one is automate wherever possible, from fulfillment to replenishment. This way, you will spend less time trying to manage your business and more time focusing on growth and innovation.
Elizabeth Marsten:
And then from the advertising side, you know, I talked about at the very beginning, if you know, everyone was still with me, set realistic expectations for advertising and results, and then your why. Why are you doing advertising? And not everyone is going to be a good fit right now. So, make sure that you're aligned with that internally in terms of what you expect, what reality might be and why you're doing it. And then of course, review and action of your advertising and your seller center. Review and action of your seller center and your advertising together is key. So, it can't just be one or the other. And Persephanie, I think we are to Q and A.
Persephanie Arellano:
Yes, we are. So, thank you so much, Brenda and Elizabeth. That was definitely a great way to close it up with Walmart. So, I'm really excited for this Q and A. Let me just go ahead and launch this quick poll for everybody. If you'd like to schedule a Walmart marketplace strategy evaluation, go ahead and let us know what your focus would be. Otherwise let's dive right into it. So, the first question that I have, it invites both Elizabeth and Brenda to chime in. What can a seller on Amazon use on Walmart, both in selling and in advertising?
Elizabeth Marsten:
Brenda do you wanna- Yeah, why don't you kick it off?
Brenda Ayanegui:
Yeah. So in order for a seller to know where to advertise and use all of these tools that Elizabeth mentioned. I do recommend them the Extensiv site, we have a lot of reports and analytics they can use to see what there bestselling products are, what needs more attention as well as you know, where they're selling and where they need to put their focus on. So, that's what they could use on our end for that.
Elizabeth Marsten:
And yeah, definitely echo that. One thing we've noticed is, you know, popular products on Amazon are typically do tend to be popular on Walmart. One thing I always look for is exclusives. So, if they're exclusive products to Walmart that you can advertise, that's always a good thing. And then there are keywords that you can borrow from account to account. Usually it's about the top five, 10-ish percent. No more than that really. Images, if you've got a lot of images built out, some of that content, but do keep in mind that Walmart content is very different than Amazon overall.
Persephanie Arellano:
Awesome, thank you both. The next question I have is, "What kind of performance "can I expect on Walmart advertising?"
Elizabeth Marsten:
So, depending on your category, I've seen it do really well and I've seen some sellers struggle. So, those with established brand names or presence in store will tend to do better than say third party marketplace sellers. And again, that's also dependent on the category. So, competitiveness on average, you know, what I say to start with is two to one, before you get a established, cause it does take a little while to get it ramped up and then you can move that incrementally up to like three, highest I think I've seen is eight, consistently. I've seen it shoot up to 10, but consistency a week over week. That's about the high.
Persephanie Arellano:
Awesome, thank you, Elizabeth. The last question that looks like we have here is, "If I don't have, or can't do two day shipping, "will my listing be suppressed?"
Brenda Ayanegui:
Elizabeth, do you have some insight on that? I am not quite sure.
Elizabeth Marsten:
I mean, so what I've seen from the handouts, you know, the information that we receive is, and not just from partners, is that that the two day shipping badge increases, it's like, I think it's like 30% the conversion rate or eligibility. The listings don't get suppressed so much, it's a little bit harder. It's just one less thing that helps you get discovered.
Persephanie Arellano:
Awesome, thank you. And we're having a couple of questions continuing to come in. This one states, "Do you have a recommendation on what to do "if your biggest competitor is Brick and Mortar on Walmart?"
Elizabeth Marsten:
It's hard. It is hard, but from an advertising side. You're obviously not going to beat him with dollars, but the capabilities come in on the content. So, making sure that those feature bullets are all there, again, that education for a product, if it's there, like why is yours better or competitive with? You can always compete on price. People in Walmart love lower prices. Reviews is a big one, social proof. Brenda, what else am I missing?
Brenda Ayanegui:
I think right now they really have to play into the situation we're living in right now, right? So, I would say play with the comfort of things and how comfortable and how easy it is to get something shipped to your home in two days. So, really play with Walmart two day shipping and make customers know how easy that is. So, that's also a really great benefit that we have right now. Not a lot of people are very comfortable with Brick and Mortar yet after the pandemic, we're still in a pandemic really. So, that's really a great advantage that sellers have on the eCommerce end.
Persephanie Arellano:
Thank you both. So, the last question that I think we have here is, "My products are highly seasonal, "how's Extensiv POs helped me plan for that? "And then what's the best way to plan "and spend for those SKUs?"
Brenda Ayanegui:
Yeah, for sure. So, we look at your data both for month to month and also year to year. So, in Extensiv you have the ability to see what your average sales look like for that specific product and determine if you want to fulfill your warehouses based on the data from the last 30 days or from this time last year. So, you're definitely able to see what your sales look like at different times of the year and automate your fulfillment based on that.
Elizabeth Marsten:
Then from an advertising perspective, the good news is with Walmart. So, your SKUs will carry history in a sense, but your keywords and campaigns don't so much. So like for example, if you're used to working with Google and you understand like quality score, it's not quite the same system. So, seasonality aside, that means that you can, you know, you can show up when you're ready and then you can taper it off or turn it off when you're, when you're not.
Persephanie Arellano:
Thank you both. And then this will probably be the last question, because we're coming to the end of our time here, but do you have any advice on maintaining the buy box other than just availability and price plus lower shipping costs.
Elizabeth Marsten:
They only have so many inputs into the buy box, unfortunately. And so those are kind of it, I would say assortment expansion or selection, right? So, how many buy boxes are you eligible for? Because if you're only fighting over, six or seven, then that fight gets kind of old, but if you've got 60 or 70, that's a little bit different, Brenda, what do you think?
Brenda Ayanegui:
Yeah, I think you've covered it all basically.
Persephanie Arellano:
Awesome, well, thank you both Brenda and Elizabeth, we have ran out of time and that wraps it up. So, a big thank you to all of our speakers, for building such an educated and delightful presentation but also a huge thank you to all of our attendees for staying through all those sections. We know your time is super valuable, but we are excited and thankful that you decided to spend it with us here at Tinuiti and all of our partners. So, keep an eye out in your inbox. At the end of this week, I will be recording each session. Don't forget we have two more days filled of Q4 prep, tomorrow we're going to be focusing on paid media, followed by the next day, email marketing. So, thank you everybody. This is Persephanie signing off from San Diego, California, have a great rest of your day.