When businesses look retrospectively at the last year in their business, organizations are reviewing outcomes from a year of unpredictability based on what they were able to plan for and what they weren't. 
While larger retail, fulfillment, and distribution centers have an eye on building 3PL automation that allows for functions such as artificial intelligence (AI), robotics, heatmaps, and intelligent routing, for third-party logistics (3PL) warehouses looking to take the initial steps in optimizing workflows, many may not know where to start. 
Three areas 3PL warehouses should automate this year include a real-time customer portal, mobile barcode scanning, and billing 3PL automation.
3PL Customers Expectations Are Higher Than Ever (And They Should Be) 
As 3PL customers grow into having more omnichannel or multi-channel fulfillment needs, communication with warehouse customers becomes challenging as you scale. Customers expect to have a pulse on transaction volume, at-risk shipments, inventory allocation, etc. As warehouses grow, they should expect their warehouse management system (WMS) to automate processes and take on some of this work for them. 
Though WMS platforms were primarily built for the warehouse, the growing expectation is that they are also built for the 3PL warehouse's customers, allowing them to have real-time visibility into service level agreement (SLA) compliance, inventory statuses, and inbound handling, and billing. The best way to meet customer needs is with a real-time, customer-centric, and permission-based portal. In addition, with visibility expectations on the rise, warehouses expect automated alerts when their inventory is received or shipped. Giving warehouse customers both portal visibility, as well as automatic notifications, will not only reduce the time your customer service team spends on daily communication, but it will put more information at your customers' fingertips. 
Most of Your Labor Cost is Going into Manual Order Fulfillment
Did you know the average warehouse worker not using the right WMS technology will spend 60%-75% of their time picking and packing? Instead of having a goal towards just a leaner workforce, it's important to think of how you can reallocate your labor force and use this to build other parts of your business offerings.
Warehouses should look critically at implementing the best-automated pick technology and the types of processes this technology can support. For omnichannel workflows, one warehouse might have multiple pick processes for a single customer based on the type of commodity and whether working with B2B or B2C customers. Though a single pick operation may still work for a pallet-in/out workflow, implementing mobile barcode scanners to assign jobs, direct warehouse users to locations, and complete batch picks, including validation of inventory, will save time and money without compromising inventory accuracy.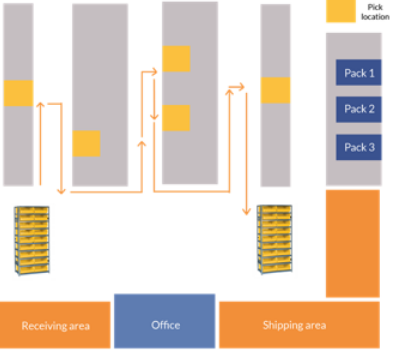 Chargebacks and Human Error are Expensive 
Position your warehouse to stop losing money and make more money. If only it was that easy. 3PL warehouses often spend days after their billing period calculating how much they should be charging their customers. In addition, mis-shipments have trickle-down challenges for inventory integrity, chargebacks, and reshipments… often at the cost of the warehouse. 
While scanning allows a simple and guided process for your warehouse team to pick the right items, pack, weigh, and ship, implementing a solution that captures charges for services automatically will reduce bottlenecks. The reality is that there is an associated cost to your business to handle your customers' inventory, and the space they use in the warehouse, and thus your rate card should reflect an impact on your bottom line. Using a customer segmented billing wizard will allow you to set up and manage rate cards for each of your customers with the function to automatically capture services, as well as storage costs, simplifying your month-end financial processes. 
Looking Ahead 
Warehouse automation is a big-ticket item for 2021 and beyond. While warehouse operations of all shapes and sizes will approach 3PL automation in a different way, there are some instant wins and best practices 3PL warehouses can experience immediately with the implementation of a WMS. For more information about Extensiv 3PL Warehouse Manager, consult with a WMS expert.