This article is contributed by Leanna Kelley. Leanna is a content specialist at CPC Strategy, a paid digital advertising agency with a retail focus located in San Diego, CA. She loves writing about all things ecommerce--from the latest Amazon TOS changes to Google Shopping best practices. Follow her on Twitter @slylikeasmeagol.
Since Amazon's incentivized review ban, sellers who lost reviews have been scrambling to figure out new ways to maintain visibility and viability of the platform.
Even if you didn't rely on incentivized reviews for your product's success, you should know that it's becoming increasingly more difficult to increase your product visibility on the Amazon SERP.
And that's where Amazon Sponsored Product Ads come in. If you're a savvy seller, you're already using them--but are you using them to their fullest potential?

At CPC Strategy, we believe in most cases, a lot of sellers are missing out on valuable ROI from Amazon Sponsored Product Ads. Here's what a good strategy can do for you:
Help your products stand out in a sea of competition
Give you more space to own on the Amazon SERP
Impact your organic ranking
That's why the experts at CPC Strategy are letting you in on some of the advanced strategies we use with our own clients.
5 Keys to Success With Sponsored Product Ads
First off, Sponsored Product Ads are available for Vendors or 3P sellers, both Amazon-fulfilled and Merchant-fulfilled shippers.
The most important thing to remember is that Sponsored Product Ads visibility is determined by relevancy, bid level, and sales history.
1. Don't Play Favorites With Products
Our experts believe that "product selection bias"--or playing favorites with products you think will be big performers--is probably the biggest issue we see with sellers.
In order to see success with Sponsored Product Ads, we firmly believe you should start out being "product agnostic." Even if you're selling on other channels and your own e-commerce site, you should remember that Amazon is its own platform with its own unique customer base--and the products you know and love as top performers on Google Shopping may fall flat on Amazon for whatever reason. You could really waste spend if you're not careful.
Try to advertise every product at the beginning, and after about a month, see which ones are profitable and which ones aren't. At that point, you can make a decision about whether those under performing product budgets should be cut or salvaged by optimizing the content and bid.
There are a couple scenarios you might run into on both Auto and Manual (Auto=Amazon selects keywords, Manual=You select keywords) campaigns:
Auto Campaigns:

Clicks but not conversions? It's likely due to poor content or reviews on your listing page

Manual Campaigns:

Clicks but not conversions? It's likely due to inaccurate keywords
In the first instance, it's important to take a hard look at your product quality, potentially thin content, and negative reviews. All of those have an effect on buyability.
In the second scenario, it's possible you're simply not targeting the right keywords--so people who find your ads are actually finding out it's different than what they expected. In this case, it's time to take a hard look at your trigger keywords and utilize negative keywords if necessary to eliminate wasted clicks.
2. Optimize Your Content on the Product Detail Page
Content optimization is just too important to ignore--and it most certainly directly affects your automated campaigns.
However, at the beginning of a product launch, you may not have an idea of the content that will perform best--particularly the keywords, which will be picked up by Amazon's search algorithms and can directly affect your conversions. Here's what you should focus on first:
Backend Keywords/customer facing content
We can't emphasize this part enough--do not resort to spammy keyword stuffing on the customer facing content. If your content is not readable, informative, and clear, your customers probably won't bite.
Here's an example of pretty extensive product content:

The keywords you use here matter, because a lot of customers will be looking for words like "durable" or "waterproof." However, your content should still make sense.
On the invisible backend, it's a different story. You should max out the count on your keywords so you can pick up searches from relevant competitor terms and shoppers in all parts of the funnel. Amazon recently increased the keyword count about 5x, so take full advantage!
3. Incorporate Long Tail Keywords in Every Campaign
While we're on the subject of keywords, let's address the long-tail elephant in the room.
A couple key things to remember:
Include both single and multiple term phrase keywords

Pay attention to the natural order of search phrase
So what are multiple term phrase keywords in the right order? That's right--long tail keywords.
You may have started with an Automatic Campaign, but it's important to use the data you get from that automatic campaign to build out your own manual campaigns.
So let your Autos run, collect customer search term data, and see the trends--then watch broad keywords such as "queen sheets", "testosterone" turn into more specific keywords like "1200 thread count sheets black", or "testosterone supplements for older males".
You'll get a million searches for "queen sheets" but 50,000 searches for "1200 thread count sheets black". However, the latter group of queries indicates the buyer has already done their research--it's about quality over quantity.
Think about it--that long tail searcher has clearly shown preference on two different sheet qualities--thread count, and color. They're this close to making a purchase, and you could easily see your conversion rates on those long tail keyword searches go from .5% to 10%.
4. Don't Worry About Keyword Cannibalization (But Structure Ad Campaigns the Smart Way)
There's a long running myth that "keyword cannibalization"--as in your two products compete against each other for the same search term and are thus less effective--is a myth when it comes to your own account.
It's good to have different ASINs even within the same category in different campaigns or ad groups. With customer search term reports you can see all of the customer interaction data.
However, ever since Amazon removed our ability to see ASIN-level data, you can only see the ad group--which reduces your ability to judge how one particular product is performing: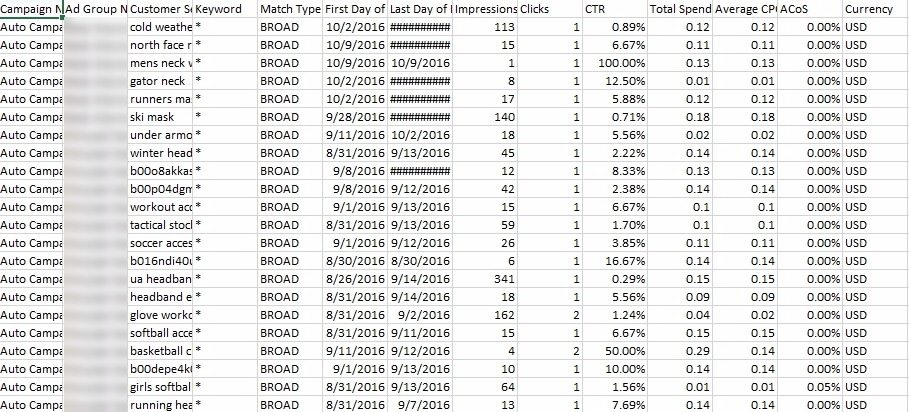 You could create ad groups with just one product to identify how it's performing--but that's incredibly difficult to manage if you have thousands or millions of SKUs.
The best thing to do is organize campaigns at the category level, then break out by product type.
That way, you'll have better control over your campaign bids and better visibility at how your specific product types are performing.
5. Run Automatic AND Manual Campaigns
Don't make the mistake of running only automatic or manual campaigns. They can be run in conjunction with each other.
Sure, you may be having success with your automatic campaigns, but don't stop there--use the data you get to create manual campaigns and target keywords that you're automatic campaigns may be missing.
Two other important things you can do with manual campaigns?
First, target competitors keywords, and start pulling in their traffic with your (obviously superior) prices and content.
Secondly, use your manual campaigns to segment out negative keywords so you reduce fruitless clicks.
At the end of the day, we recommend you keep auto campaigns running because they're like a safety net. But trends shift, and people search for different things at different times.
Your goal should be to get leaner and spend less by using both in conjunction with each other.
The Bottom Line
As we head into Q4, these strategies should help you get a leg up on the competition. Start doing Sponsored Product Ads testing immediately to ensure your ads are optimized when it really counts--during prime shopping season.
Have questions about these Sponsored Strategy tactics? Have any you want to share? Write them in the comments below.