True Inventory Visibility Becomes a Possibility With Connectivity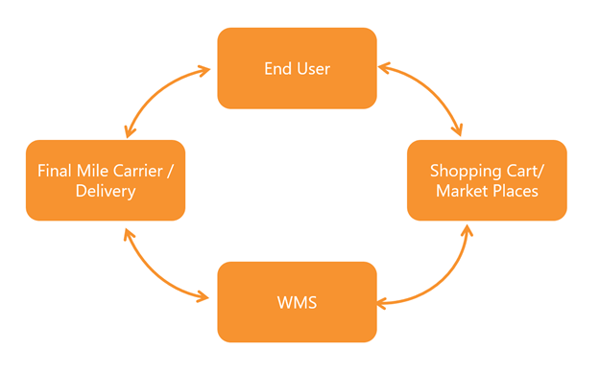 In today's ecommerce landscape customers expect to know what products are available, when they will arrive, and every step it takes to get there. Today's consumers demand that level of visibility. This can only be achieved through connectivity.
From a technology standpoint, most marketplaces leverage existing application programming interfaces (APIs). APIs allow systems to access and relay information to each other electronically almost instantaneously. There are other ways to achieve this like with EDI drop shipping. EDI, or electronic data interchange, is the structured transmission of data between organizations. This method of fulfillment is often used by retailers that will leverage third parties to ship directly to consumers. This requires an exchange of documents that provide functional acknowledgement as the order progresses through the fulfillment process. The commonality between APIs and EDI interchanges is both processes exist to expedite the fulfillment process and serve the end customer. Outlined below you will find three areas where these connections exist and why they are crucial.
Ecommerce Shopping Cart Connectivity
As the main interface an end user interacts with, any order status information that we want the user to know about needs to begin and end with the shopping cart. This means that available products, product details, delivery statuses, tracking information, and other updates need to be available here. This is typically achieved via API connections with customer relationship management tools (CRM), enterprise resource planning tools (ERP), warehouse management systems (WMS), order management systems (OMS), and other systems. Shopping carts not only show this information to the end user, but also sends order information to other platforms. Each cart has its own pros and cons, and often as a 3PL, you don't get to choose which one your customer will use. Therefore, connecting your ecommerce fulfillment platform to an order aggregator or WMS can be a wise choice if you have a wide variety of connections demanded by your customers. These platforms will typically maintain plug and play integrations with major shopping carts and can facilitate custom connections if needed. This allows you to maintain the connection to one platform and get the benefit of many different connections.
WMS (Warehouse Management System)
A WMS, like Extensiv 3PL Warehouse Manager, acts as your typical connection hub. Since it maintains inventory of all the tangible goods, you will see the most connections to your WMS. Whether an API connection to the shopping cart updating order information, an EDI connection notifying retailers of product arrivals/departures, or a connection to a carrier service to print shipping labels, all these critical connections integrate through the WMS.
Often times you will need connections with billing platforms, data analysis platforms, OMSs, CRMs, and many more to facilitate business requirements. All of these will vary between individual needs of a given warehouse. A WMS also helps to maintain the Service Level Agreements (SLAs) made between you and your customers. A WMS can connect to scanners or auto stamping software to help expedite operational services or connect to multiple carriers to preform rate shopping and find the best value at the desired service level.
Through these connections a WMS acts as the hub that pulls all the information together and passes information between systems, so all parties are on the same page. This allows for excellent service for the end customer, supplier, and shipping carrier.
Final-Mile Carrier Integrations
End consumers expect full visibility to track their ecommerce orders. The carrier will update all interested parties on the status of the delivery. This will include the tracking number for the package, the rate for the actual delivery to be billed, and status updates from time of pickup to delivery. Carriers however typically rely on additional software to update the end user with tracking level information. In this way, a connection between the carriers and a WMS or ERP can update the shopping cart to provide the necessary information. The carrier system will also do address validation at time of label creation to ensure that the address is serviceable. If the address is not valid, the carrier system will need to notify the customer to update that information. This requires the use of the connection network to hand this error in the process, all while maintaining speed and optimal workflows.
How Ecommerce Connectivity Allows 3PLs to Scale
These warehouse systems rely on each other to meet high quality service levels required of 3PLs in today's ecommerce environment. Leveraging various connection methods like APIs or EDI can create an ecommerce ecosystem that is scalable and robust enough to meet customer demand. Flowing information between systems provides end users with the best possible experience that keeps them coming back and driving business. Connecting different platforms helps not only end users but also 3PL customers, warehouses, and carriers gain visibility and operational efficiencies.
To learn more about ecommerce connectivity, watch our webinar or speak with an expert.