It has been estimated that this year alone $4 trillion worth of merchandise will be left behind online by customers. Its safe to say that inevitably a shopping cart will be abandoned within your e-commerce store. This is an unfortunate, and frightening statistic for e-commerce sellers, but realize that this is a frequent practice by customers.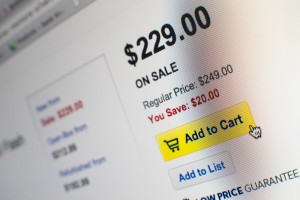 Did you know the average abandoned cart rate is 68.53%?
E-Commerce tacticians now take alternative routes and install platform changes just to minimize prospective profit loss.
We cannot guarantee or safe-proof our businesses from cart abandonment, but we can make the necessary changes to minimize abandonment rate, and ensure our customers return to make the purchase they initially sought.
Why Are Customers Leaving?
The most common reasons customers abandon their carts are as follows:
Unexpected costs once you begin the checkout (shipping, taxes etc.)
Better pricing from competitors/other sellers
Overall expensive pricing
Difficult website navigation
Checkout process is too long
Concerns about payment security
The top three reasons are pricing related, while the remainder are based on store maintenance and practices.
Here's how you cut down on this problem:
Build Trust In Your Products
The number one way to closing a sale is to convince your customer that your product is exactly what they need and at their affordable price. These are the basic yet absolute essential tips for your listing:
Post more than one photo, at different angles, with accurate colors.
Have a bulleted feature description above the fold with a full description below. Include exact information such as dimensions, weight, and compatibility if it's a part.
Provide security logos on your site to give comfort to your consumers and all supported credit card information.
Advertise your return policy in an easily read and seen spot.
Add related or frequently bundled products to show popularity and necessity of other products as well.
Be upfront with your prices. Clearly state the shipping cost right on the product page and make the additional details such as transit time easily accessible. Do not have any hidden charges come up during the checkout process and if able, include any ecommerce sales tax information to the product page as well.
Humanize the experience of shopping online. Make support easily accessible with live chat or a phone number
Here's a look at a listing found direct on Nordstrom's site. Notice how everything is clearly labeled and available for the customer upfront.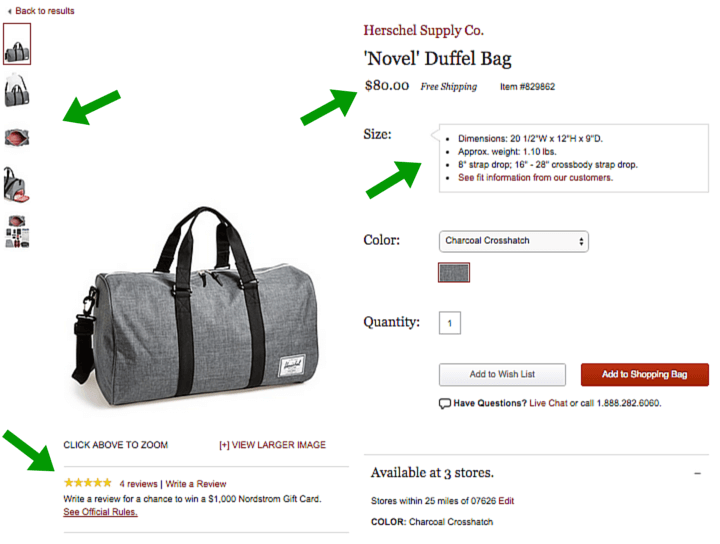 Meanwhile, below is an example of a poor listing. Note the following:
There's only a single image
A lack of transparent pricing
And the specifications require a scroll down to reveal the important information

Not only is the listing poor, but this is what it looks like if you want to check the shipping cost: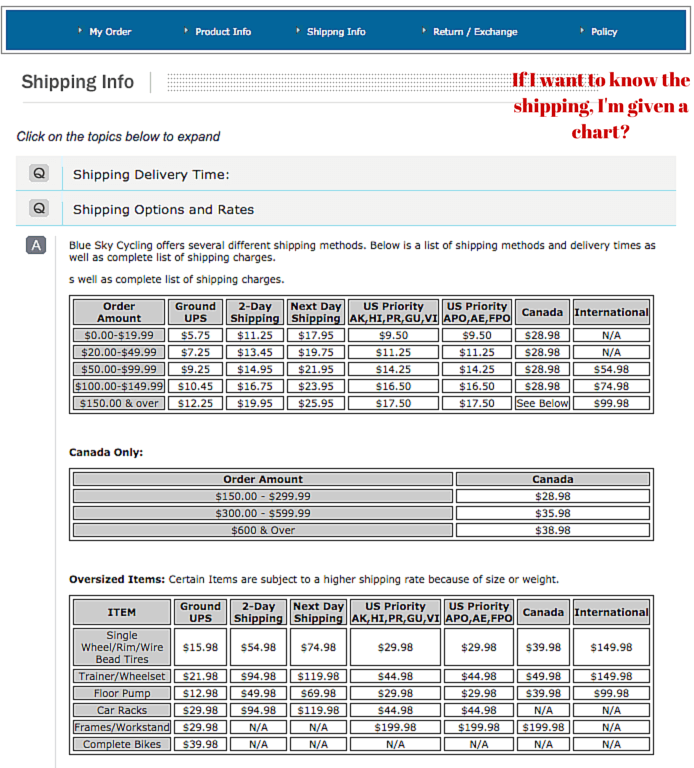 Not only is this unappealing, but this may force the customer to purchase their product at another website that automatically calculates their shipping, or provides free shipping.
Easier Checkout Means Faster Sale
More than likely, you have shopped on Amazon. You may notice how easy it is to purchase something, or accidentally binge shop on their site. It's quite scary how simple it is, but because of the quick and easy steps to checkout on their site, you don't tend to abandon the cart as easily.
The checkout process is where a consumer's cart abandonment most often occurs. To minimize it when you build your own shopping cart, we recommend the following tips:
We cannot stress enough the importance of transparent pricing. When your customer starts their checkout process, they've accepted the total price shown within their cart or product page. If at checkout they see an additional charge, the customer is more inclined to abandon. Be sure to show the price total, including taxes and shipping as soon as possible so that the consumer won't have any surprises.
Show all secure site logos and applicable credit cards as soon as possible.
Keep the checkout page to either a single page or as little as possible. The more pages the customer has to fill out, the more time you're giving them to abandon their cart.
Allow the option to keep shipping address the same as billing. This will reduce the consumer's process by another long arduous step.
Allow guest checkout. Don't force the customer to register to your site.
Limit the coupon requests at the final checkout screen. It may influence consumers to leave the site in search of an applicable discount.
Keep it simple. A lengthy process is a deterrent.
Here's a look at the checkout process for ToysRUs site: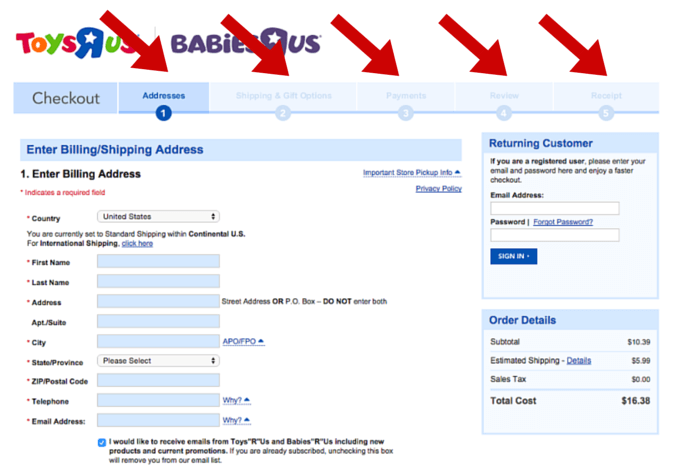 5 steps on different pages? We feel like we're writing a term paper just to buy online here. REMEMBER: A simple and easy checkout process generates completed orders.
To praise Amazon again, their checkout screen is clean, sleek and simple. The big golden order button is displayed twice and you're limited down to only three easy steps:
All on a single page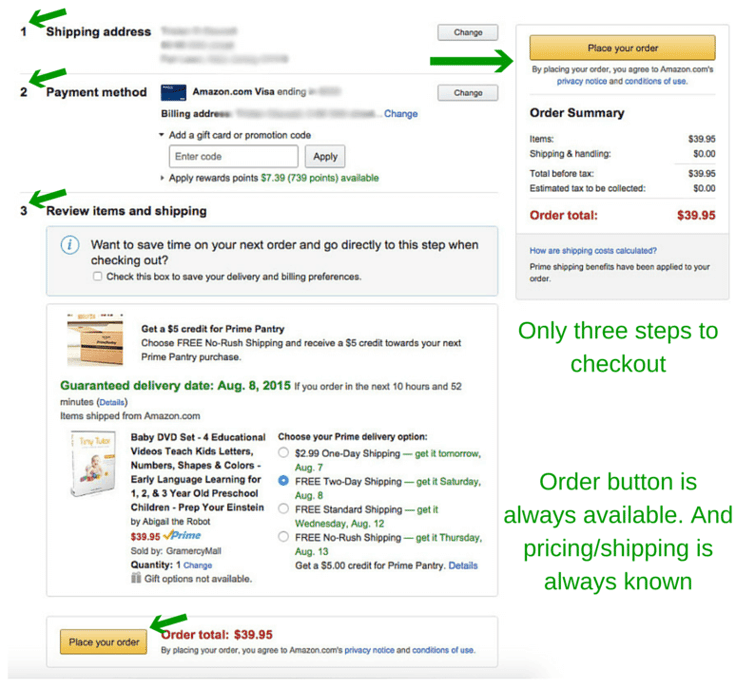 Entice the Customer Back to Their Cart
Smaller businesses require micro-strategies to ensure the customers' return.
The most popular strategy that we recommend are email reminders. A number of e-commerce merchants, including Amazon, send out an email about products being held within the cart. The reminder not only informs them of the content, but may remind the consumer that they want the product and ultimately make the purchase. It might also provide you with valuable customer feedback regarding their checkout experience.
Some of these e-mails also include a discount coupon as a powerful incentive.
Here's an example from the company Bonobos that is short, funny, and simple. I wonder how much this little email cuts down on lost sales?
The Wrap Up
There's hope, 75% of Cart Abandonment Customers Will Return.
So be sure to do all you can to win them back the second time around. Don't leave money on the table when there are plenty of steps to take to fix this common issue in the world of online selling.
Consider all we've talked about in this post and remember that shopping cart abandonment is a natural occurrence in online shopping. There's no way to completely eliminate the high percentile, but minimizing it is absolutely important for generating higher revenue for your business.
Need further help running your e-commerce? Check us out over at Extensiv Order Manager, we'd be happy to show you an all-in-one solution to run your business more effectively.