In 1994, a web literate person with a computer may have heard of Amazon.com, a new online retail store which promised to bring the bookstore to the web.
Flash forward 20 odd years, and that 'bookstore' dominates the e-commerce market, selling everything from household necessities and groceries to luxury items through a network of own-brands and third-party sellers. You'd almost have to be living under a rock not to have heard of it, and even then, you would probably still qualify for free 2-day delivery with Amazon Prime.
While many know that Amazon is a go-to for just about anything, few understand just how much of a retail giant Amazon really is.
Amazon vs Search Engines: Amazon Dominates the E-Commerce Market
Amazon eclipses all their competitors in size, to the point where they earned more than $100 billion in sales in 2015 and $135 billion in 2016. Their nearest competitor, Walmart, earned just $13.5 billion in online sales in 2016. eBay, which is the second best-known online retailer, earned $8.98 billion in 2016.
In perspective, by May 11th of 2016, Amazon's sales exceeded its top competitors online, selling more than all ten combined.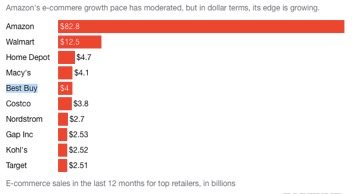 *Chart by Fortune Magazine
At the same time, while offline shopping sales fell 6.5% in the first quarters of 2016, online sales grew, and Amazon owns 55% of that growth.
These sales trends make sense when you consider that more than 55% of all product searches begin and end on Amazon.com, outstripping Google, eBay, and every other search engine. As of 2017, Amazon controls more than half of the U.S. e-commerce market, and their market share is growing.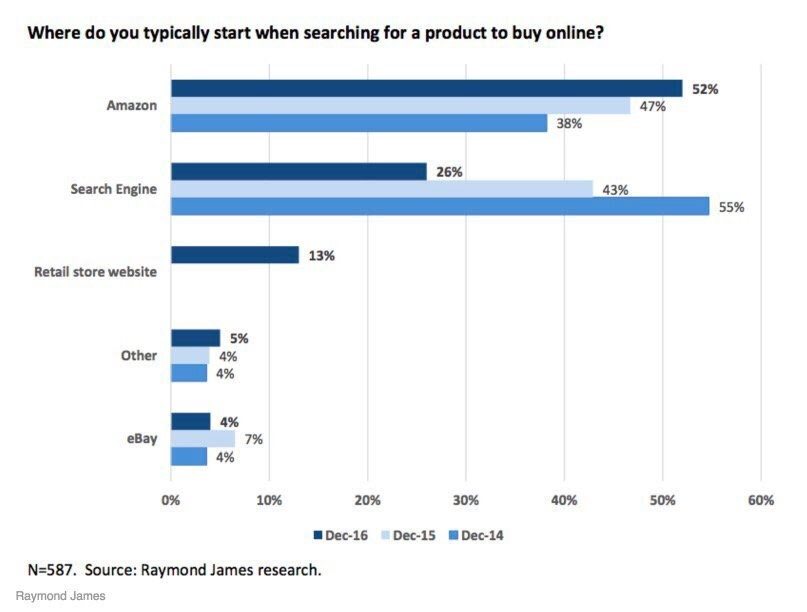 The company sold an estimated 7.2 billion items in 2016, and that number is expected to go up to 12.6 billion by 2020. Amazon's growth is unstoppable. Try this: in another window, type relentless.com into your search bar.
With new initiatives surrounding logistics and shipping, that growth could increase, allowing Amazon to further expand into shipping, delivery, and more physical stores to tune of Amazon Go, launched in 2016.
However, while this kind of rapid growth clearly benefits Amazon, it creates another and more pressing concern for private label brands.
Private Label Brands Need Amazon
In 2015, Marketing Analytics firm Jumpshot showed that about 46% of online sales searches began on Amazon.com and about 54% began on Google. Just over a year later, those search statistics have been neatly reversed, leaving Google with a slowly shrinking hold on online sales. But, as Google's share of e-commerce goes down, so do search results for small online brands.
Where previously, small shops could rely on SEO and Google AdWords ads to show up in search and make sales, those opportunities are shrinking as shoppers increasingly go directly to e-commerce platforms, where they have to go through fewer steps to find the products they want. As Amazon controls more of the e-commerce market, smaller brands have more and more difficulty in being found.
In short, small brands need Amazon if they want to be seen by 55% of their total market. Even though Amazon is notoriously strict with quality control, the platform presents opportunities to smaller brands.
Amazon reduces branding, allowing even unknown brands to sell on the reputation of the channel, doesn't require exclusive rights, and offers practical solutions for sellers. For example, Amazon's increasing logistics support such as Fulfilled by Amazon make large-scale fulfillment and distribution possible for even tiny companies.
Since you don't have to give up other channels to maintain a presence on Amazon, you can also use Amazon to boost sales, while securing your brand presence and loyal customer base elsewhere.
Large retailers selling mass-market products may not find much value in Amazon due to the competition, but small brands with unique products can gain exposure on Amazon. These new customers are also likely to trust the platform and transfer that trust to a relatively new retailer or brand. Nearly 50% of items shipped from Amazon in 2016 were from third-party vendors.
Best Practices for Selling Brands on Amazon
Amazon has a lot to offer for most types of brands, but selling on Amazon isn't the same as selling through your own store. The platform succeeds by offering consistent quality and customer service, and by responding quickly and harshly to third- party sellers who don't meet these standards. This means that you need to adopt Amazon's customer-first sales policy to adapt to the platform. Your primary goals should be to ship quickly, satisfy the customer, and offer stellar follow-up support. If you can manage this, and manage it consistently, and your product is good, Amazon will work for you.
Customer Relationship Management
Control your sales process, integrate strict quality control, and focus on providing fast and efficient customer service to your Amazon customers.
Use PPC
Amazon largely operates on a pay to play basis. The site uses reviews, seller velocity, and quality as part of their search ranking factors, which means you must make sales to get sales. Amazon Sponsored Products and Amazon Advertising allow you to neatly sidestep this by using PPC to generate sales. While this might seem counterproductive, it's no different than the strategy Google has operated on for decades. Integrate a strong ad campaign, manage it to ensure high conversion and low cost per click, and drive sales to boost your organic ranking in Amazon search.
Register a Private Label Brand
If you are selling private label products (you manufacture and retail your own brand), Amazon offers tools to help you protect your brand. Registering as a private label brand allows you to protect your listings because it prevents others from editing your listings, will allow you to reverse listing changes that others make, and will allow you to add new products more quickly. In addition, private label brands have the option to use their own identifying characteristics rather than UPC or EAN. You can submit your private label brand registry application here.
Use Amazon FBA
Fulfilled by Amazon or FBA is a service that allows you to ship products to Amazon and then allow them to handle your fulfillment and inventory. This is a premium service and might not be right for you, but it offers two very big advantages for new Amazon sellers and small brands. The first is that with Amazon handling your inventory, you will maintain the highest quality fulfillment score, which will help your account in the early stages of setup. The second is that if you have a smaller business without the necessary contacts or tools to set up a large distribution center, or don't have the sales volume to establish a relationship with a third-party logistics company, you can still professionally manage fulfillment through Amazon FBA.
The Amazon Exclusives Program
The Amazon Exclusives Program is an option that most retailers probably don't want to take (as it prevents multichannel sales) but it is worth considering for new products and brands. Here, Amazon offers you unique brand creation and merchandising tools and support in exchange for exclusive sales rights. This means that Amazon will help you to grow your brand, so long as you keep your product on Amazon.
Preventing Resellers from Listing on Amazon
One of the largest risks of listing a small brand on Amazon.com is 'brand hijackers' who attempt to 'hijack' your success by creating copy products or mimicking your brand. However, by monitoring your listings, registering your private label brand with Amazon, and by filing a complaint of infringement to Amazon, you can easily deter copycat products.
Manage your Multichannel Inventory
Chances are that if you are integrating Amazon, you won't be leaving your other channels behind. It's important that you take precautions to integrate strong inventory management, simply because selling out on Amazon or being unable to deliver will greatly hurt your ranking and therefore your sales.
Amazon has a lot of pros and cons, but with an increasing share of the search market, and sales that outstrip their top ten competitors, the pros largely outweigh the cons. Setting up on Amazon means following their rules, using their branding, and creating a customer-centric sales experience. If you're expanding from your own website, you will also have to manage your inventory, nationwide or global fulfillment, and brand protection. Despite that, Amazon can be a powerful brand resource that will generate sales, even for new brands.