Amazon offers several tools and features to help sellers increase conversion. Amazon makes money when you do, so it's in their best interest to help you make sales. For that reason, Amazon is in the process of launching a new tool to help sellers gather insights into why customers buy products, why they don't, how they use them, and what their concerns are.
For now, the "Insights" tool is only available via a secret link (as of the time of this post), which you can access when signed into your seller account.
Get insights from Amazon verified shoppers
Start Using Insights Here (You'll need to be logged in to your account)
Once signed in, you can access the new feature by filling out a questionnaire of targeting information, questions you would like to ask, answers, and personal information.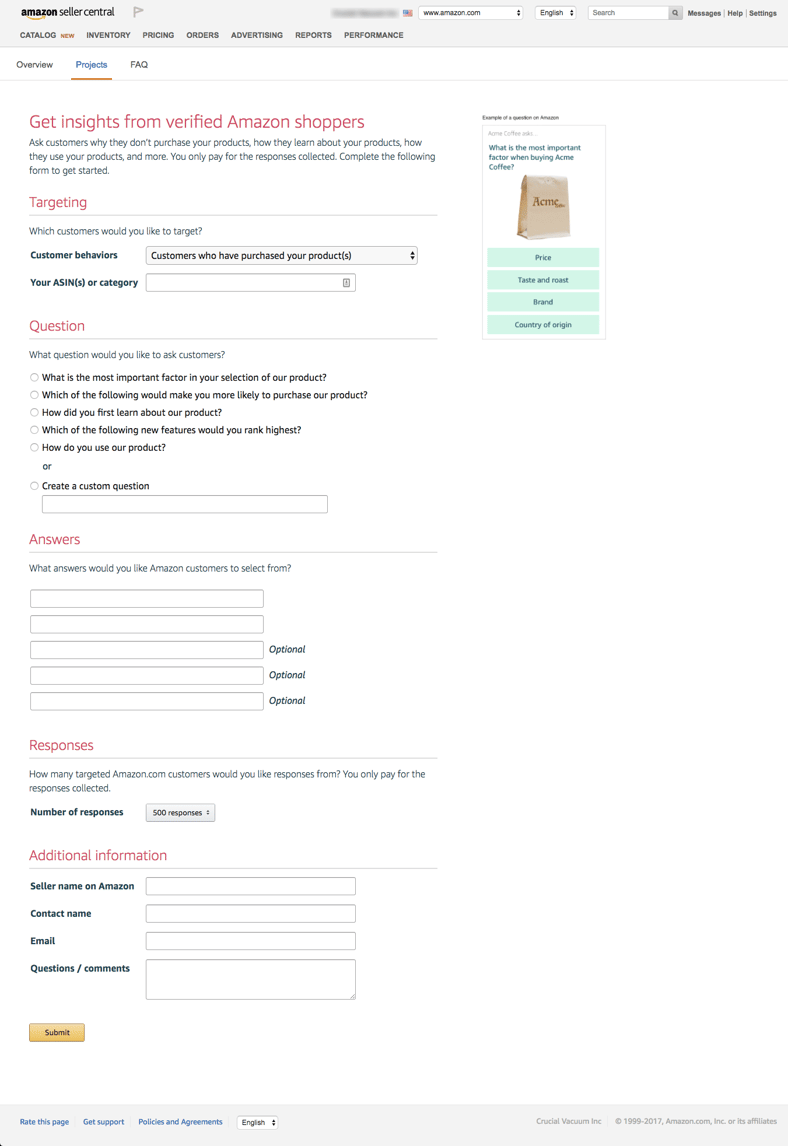 Targeting
You can target your questions directly to customers who have purchased specific products, or to people who are looking at categories. This can help you to follow the purchase decision process for new and existing customers, depending on your goal for the information.
Questions
Insights allows you to ask verified shoppers multiple questions. You can use existing questions or add your own to learn more about purchase decisions, marketing, new features, product use, or whatever else you want. Amazon displays these questions in multiple choice format so you need to fill in 2-5 answers for shoppers to choose from.
Responses
You only pay for the responses you get, and you can set a target number of answers per question.
What can you do with Amazon shopper insights?
Amazon Insights is a new tool offering a valuable service that Amazon already capitalizes on. By asking questions and getting feedback from customers, especially verified purchasers, you can better understand the purchase process and use A/B testing to improve your conversion based on their feedback.
Customer questionnaires are a tool that you can use to:
Gauge customer satisfaction
Determine how well your marketing works
Review abandoned shopping carts
Determine what customers are looking for
Decide what to highlight on product pages
Tweak and improve product pages and images
A/B test product availability
Test interest in new products
Identify pain points
Review marketing efficiency
Determine where customers are coming from
This can, in turn, help you to optimize your offerings, your product pages, and even your images.
Get useful insights by asking the right questions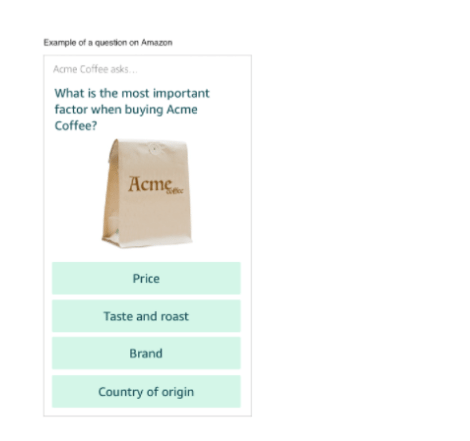 Here are a few sample questions to consider asking. Remember to modify them to your industry standards and to meet your niche needs.
1) Why did you buy from our store?
Free shipping
Lowest price
Only available product
Happy with a previous purchase
Product/Store Reviews
2) Why did you buy this product?
Price
Customer Reviews
Quality
Recommendation
Other
3) Would you have been more comfortable making this decision if:
There were better or different photos
There were more information in the product description
We included a product demonstration video
There were more reviews
More bloggers reviewed the product
4) How did you find this product?
Google/Search Engine
Social Media
An Ad
Amazon search
Blog post
5) What were you most concerned about before making a purchase?
Quality
Price
Specific pain point
Shipping time/speed
Whether the product would meet my needs
6) What made you decide to purchase?
Product Reviews
Information on the page
Lack of alternative options
Blogger/reviewer off Amazon
Recommendation
7) Did the purchase meet your expectations?
8) Would you have purchased any additional items if they were available?
Accessories
Compatible product
Other
9) Did you look for anything in our store and could not find it?
10) If you purchased this product again, what could we do to make your experience better?
Faster shipping
Better customer service
Better packaging
Different Item availability
Nothing
Bonus questions
You can easily tailor any of these questions towards your niche and industry, and to your specific products. For example, in a store selling Kirby vacuum bags, some of these might look like this:
What were you most concerned about before making a purchase?
Genuine Kirby parts
Price
Fit
Shipping speed
Size
Getting answers from this question would tell you what to add or include in your product description, product video, or image. For example, if customers tell you that fit is consistently a concern, this seller could highlight the compatible vacuums on the product photos to boost sales.
Would you have purchased anything else for your vacuum if it were available?
Extra vacuum bags
Replacement brush
Belts
Replacement filters
If the seller receives 500 results saying customers want to buy replacement filters with their bags, it would be very easy and profitable for them to put together a kit including both products.
Similarly, this seller could ask a specific question to find out what the product was used for.
What vacuum did you buy the Kirby vacuum bags for?
G3
G4
G5
Ultimate G Series
Ultimate G Series Diamond Edition
If the seller were to find that most of their customers were buying for one specific vacuum, they could tailor their advertising, highlight that vacuum in the images or title, and add it to advertising to attempt to boost sales. They could also check to ensure that they were advertising enough for other compatible models to see if they could boost sales for other models.
Finally, you can tailor these kinds of questions to review customer service and specific issues inside of your company.
Would you prefer that we change anything for your next order of Kirby vacuum bags?
Offer Free 2-Day shipping for Prime users
Use better packaging
Make it easier to add belts or filters to the order
Faster customer service
Nothing
This kind of feedback can allow you to update your business processes to provide better service, so that future customers are happier with their order.
Start gathering insights today
Getting feedback from customers can be extremely valuable, especially for e-commerce retailers who are traditionally disassociated with their customers. Amazon cuts out much of the work of crafting, targeting, and delivering questions, simply because they target customers based on their data. Shoppers are verified as meeting your target requirements, so all you need to do is decide what to ask and pay for the service.
Once you have answers and feedback, apply it to improving your processes, A/B testing product pages and images, and even making changes to how you sell your products. This can provide a great deal of value by improving conversion rates (on Amazon, conversion rates are even more important than ranking), tackling pain points, or adding more relevant information to product descriptions. You can boost customer satisfaction by improving areas customers were not happy in, and the insights resource can provide clear data to drive your marketing efforts.