Selling on Amazon seems easy...up until you upload your products and list them for sale. Then it gets hard thanks to the unique Amazon SEO algorithm.
In almost any category, you'll be competing with an average of thousands of competitors, each vying for a place on the first page of Amazon search.
If you're selling something, Amazon search is where you need to be. In the USA, Amazon is the starting point for more product searches than the rest of the web combined. BloomSearch shows that 55% of all product searches start on Amazon, compared to just 28% on search engines like Google and Bing, and 21% for specific retailers like Walmart and Saks Fifth Avenue.
If you want to sell your products on Amazon, you have to master Amazon SEO to boost your search ranking and ensure that your product shows up when people are ready to buy.
Conversion is the Most Important Ranking Factor
Before we get started, let's take a moment to consider how Amazon Search works. You're probably used to Google and maybe Bing or Yahoo search algorithms, where the search engine is mostly concerned about finding unique content that answers the searcher's question.
Unlike those search engines, Amazon's primary concern is making a sale. This means that they consider conversion and relevance when they choose whether or not to list your product in a search. They want to make money and they don't do that until you make a sale.
Take a moment to do a quick Amazon search for any product you like. In this case, we'll look up a "USB stick".
If you do so, take a look at the end of the URL you land on. You'll see a number, known as QID. This number is Amazon tracking your keyword search.

Then, if you click on a product, you'll immediately see your QID change.

Amazon logs what you search, what you click on when you made that search, when you made the search, and more importantly, whether or not you make a purchase with that search. All of this data is saved and used as part of their A9 search algorithm.
When someone makes a purchase after clicking on a product in a search, Amazon remembers that the product is relevant, that people want to buy it when they search for that item, and will therefore show it higher in search results the next time someone uses those keywords.
If you don't make a purchase, Amazon records that too, and it negatively impacts the search ranking.
Every part of your listing should be geared towards convincing customers to make a purchase, not just to make a click. Unlike with Google, clicks are worthless if there is no conversion, because they can actually hurt your Amazon product ranking if the consumer doesn't buy anything.
How do you optimize your listings for that conversion? Keep reading for actionable tips for boosting your Amazon SEO.
Research Your Product Listings
Research is one of the most valuable tools for any type of Search Engine Optimization. It can help you to understand your consumers, give you a better idea of what you're up against (competition), and help you to use the right terms and phrases to ensure that people find you.
Let's take a look at some of the ways you can use research to improve your Amazon listings right now.
Amazon Search
If you type "USB Stick" into the Amazon search field, you'll quickly see that Amazon offers suggestions.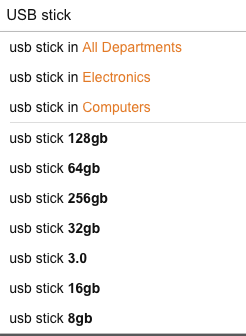 These 'suggestions' are Amazon's top searches starting with "USB stick," in descending order. Just from this one search, you can see that people most commonly search for specific USB stick sizes, which means it would be highly relevant to mention this in your listing titles.
Competitor Research
If you know why your competitors are succeeding, you can use their tactics to improve your own listings. This might seem like espionage (and to an extent, it is), but you can guarantee that they'll be doing the same thing to you.
Using our same "USB Stick" search, we can easily pick out the most popular or the best selling models just by looking at reviews. More reviews usually means more sales, not only because reviews boost your Amazon rank but also because only a small percentage of buyers will leave reviews, so the more you have, the more you've sold.
For example, in this search, some of these clearly stand out as having made more sales than others: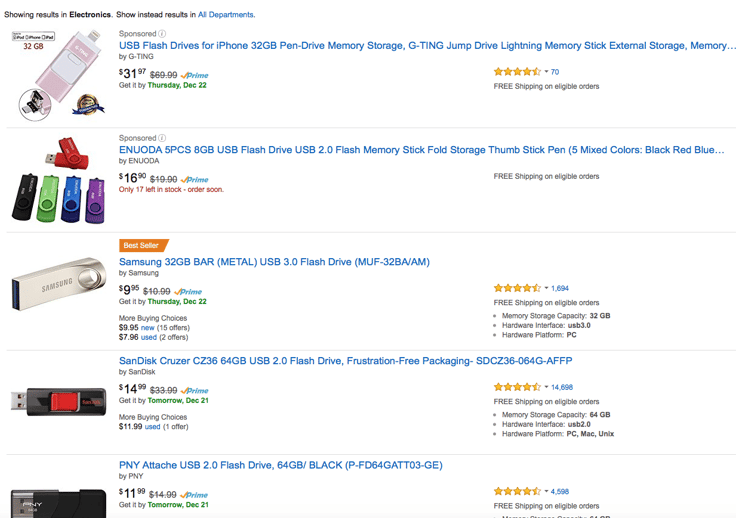 In this case, you can see that the 'Samsung 32GB BAR (Metal) USB 3.0 Flash Drive (MUF-32BA/AM)'', the 'SanDisk Cruzer CZ36 64GB USB 2.0 Flash Drive, Frustration Free Packaging', and the 'PNY Attache USB 2.0 Flash Drive, 64GB /Black (P-FD64GATT03-GE)' are the biggest sellers for this search. What do they all have in common? They use the GB amount, include the product number, and use the keyword "flash drive" rather than USB stick. You can easily see that they've all used the same basic standards for their search, and it's working. SanDisk also uses a unique selling point, with "Frustration Free Packaging", but we'll get to that later.
You can review each of these pages to see what they used, what features they mention, how they say it, and what they do. While not every part of each page will be a great example, most of the page will give you a good example of best practices, because they are dominating Amazon search and sales for your keyword.
Phrase Repetition
Phrase repetition is a good thing to pay attention to because it tells you what people are talking about on a page, and therefore what they are looking for or paying attention to. Tools like Keyword Analyzer can tell you how many times words and phrases show up on a page, so you can see what you should be talking about.
A quick look at reviews can also tell you what people like and why they made a purchase. More importantly, you can see what they didn't like. Why is that important? It allows you to identify your own unique selling propositions so that you can tell consumers why they want to buy your product instead of your competitors.
In our current search, the SanDisk is the best selling item. And, if we scroll down to reviews, you can see that they have a total rating of 4.6 stars.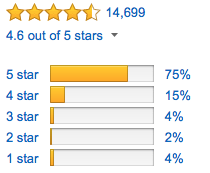 If you click on the '1 star' you'll see everything that made the 4% unhappy with this item.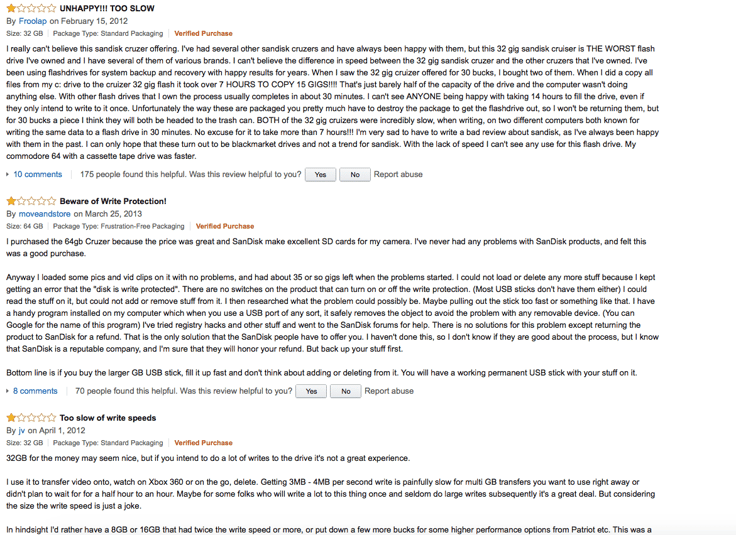 You'll quickly notice that the biggest complaint is the slow write speeds. So, if you were selling a USB flash drive yourself, you could make yours seem more attractive by listing the read/write speed, and mentioning that it is fast (after verifying it) in the title or in the bullet point descriptions.
You can also look at bullet point descriptions themselves. You get a maximum of 5 points per product, and it's usually a good idea to use all of them. You can max out their character counts, but keep in mind that most people skim through Amazon listings, so only sophisticated buyers will read long bullet points.
Samsung wrote this, which is okay but not great.

It's short, easy to read, and tells the user why they should buy the product. It doesn't, however, tackle what you already know is a primary concern, USB speed. If you want to use longer text, make sure you provide short summaries at the front in capital letters so skimmers will be able to process and read quickly.
Find out what your competitors are doing.
Check which keywords they are using on their page.
Check Reviews to see what people care about and why.
Format your bullet points to make them easy to read and digest, but make sure you address pain points to tell the reader that you have a great product.
Consider offering a money back guarantee. Amazon will allow buyers to return no matter what, so offering it gives consumers a sense of security without costing you anything.
Tools
Here are some tools that will help you make better use of your research: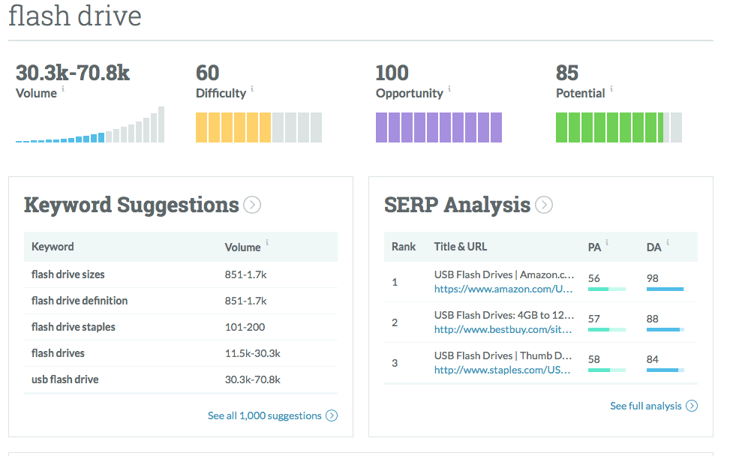 Moz allows you to quickly research keywords, see keywords suggestions, and see which pages are showing up in Google Search for that keyword. Any one item on this page is valuable because it allows you to refine your post and make better decisions. Moz allows you to do 2 free searches per day, or you can pay for it if you want to use it more.
If you're looking at reviews, it's important that you know which reviews are real. Review Meta allows you to look at which reviews are incentivized and what percentage, so you can get a better idea of the product's natural ranking and reviews.
Sonar is a free keyword tool that helps you to find Amazon specific keywords and searches. You can use it to make your keywords more relevant to Amazon by ensuring that customer's are actually using your search terms to look for products.
Your title is the first step in your customer conversion process and the first place you can grab their attention. You want to give consumers the information they need to click-through. When they do, it should be because they know that your product solves their problems. To do this, you have to know pain points, the quality of your product, and what people are looking for.
For example, when we looked at USB reviews, we found that people have issues with slow read/write speeds. You could mention that your USB flash drive is fast (if it is) to let them know that yours is better than the competition.
Pain points are common problems, issues, or concerns about your product. If you know them, you can list reasons why your product solves those issues to drive conversion.
Keywords matter, and we've already discussed how you can get them. Amazon allows you to use an average of about 50 characters per title, although some categories can go as high as 200. You can check your specific category guidelines when creating your titles. Put your keyword research into practice writing your titles.
Do not use repeat words, multiple variations, synonyms, or misspellings.
The order of search terms is sometimes important (USB Stick vs Stick USB).
Do not use quotation marks or punctuation unless necessary (waste of character space).
Use descriptive terms that offer value to the reader (32GB USB Flash Drive 3.0 175 MB/s Fast Read/Write Speed w Waterproof Casing instead of "USB Flash Drive").
Consider including the Manufacturer's Product Number.
Remember, your biggest goal is to drive a sale, so write a title that makes a customer want to buy your product before they click on it. That means no keyword stuffing, no competitor brand names, and nothing that could deceive the customer about what they are clicking on.
How to Leverage Pictures for Conversion
Pictures are an increasingly important part of selling on Amazon. Images don't affect your search directly, but they do affect conversion, which affects your Amazon product ranking.
Many Amazon sellers use stock photos, even for private label products. This is never a good idea, because the photo doesn't deliver any value. Instead, you can leverage conversion by integrating your unique selling points into the photos.
Compare a picture of a stranger holding a generic USB flash drive with a photo that explains why you want to buy the product. This Anker USB wall charger is a great example of a photo that makes someone want to purchase: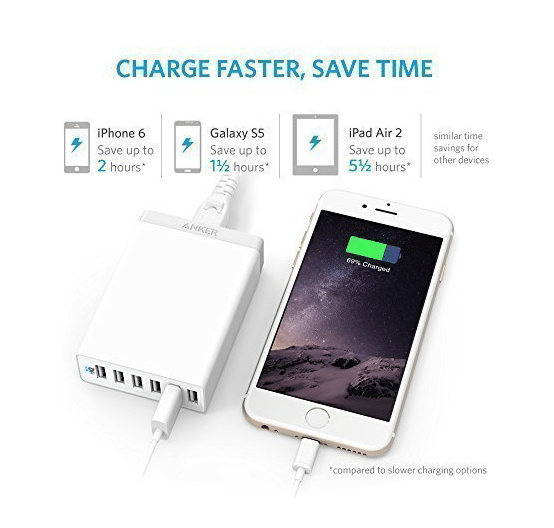 The photo tells you what the product is, how it looks with a device, and actual data on why you would want it. Not every product will make a unique selling proposition this easy, but you should know what your products have to offer.
Show what your product can do, why it's great, and why someone would want to buy it.
Address pain points in pictures
Show your product in use, not just in a sterile setting.
Bonus Tip: Use Video
Video is widely regarded as one of the best marketing tools out there. Unfortunately, it's not available for Amazon sellers unless you have Vendor Central. When you sign up for Vendor Central, you can add up to 3 videos to a maximum of 3 products. Video will probably be a major component of Amazon in the future, and for now, you can increase your conversion as much as 600% by uploading video content for your top selling products.
The SanDisk Cruzer USB flash drive on Amazon is the best selling item in its category, and comes with a video.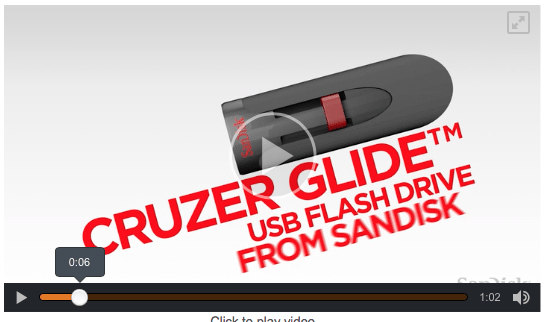 There are plenty of things to consider that we haven't listed here, but these actionable points will help you to immediately make changes and improve your Amazon search ranking. Remember that your primary goal is to drive conversion and sales, not just clicks, because Amazon wants to make money, not function as a search engine. The more you sell, the better you'll rank, and the more money you will make. Hopefully these Amazon SEO tips can help you get more out of your Amazon Seller Account.
Want to learn more?
Check out this infographic, or embed it into your own website.
For more on this topic, see our webinar on proven SEO formulas to drive more traffic.
</p><br /><br /><br /><br /><br /><br /><br /><br /><br /><br /><br /> <p><a href='https://www.skubana.com/e-commerce-best-practices/amazon-seo-techniques/'><img src='https://www.skubana.com/wp-content/uploads/2017/01/Actionable-Amazon-Techniques-Infographic.jpg' alt='Actionable Amazon SEO Techniques To Boost Your Product Ranking' width='540px' border='0' /></a></p><br /><br /><br /><br /><br /><br /><br /><br /><br /><br /><br /> <p>

Share this Image On Your Site