A Look Back on Successes and Challenges for Warehouses in 2020
With less than two weeks left in 2020, I find myself reflecting on the highs and lows of the year, as well as looking toward 2021 with hope and cautious optimism. We will forever know 2020 as the year of the pandemic, constant change, and as a pivot point for many industries.
For the supply chain, this year placed unprecedented demands on an already strained industry. From February and March with critical supply shortages, when access to raw materials limited many companies' ability to produce finished products. To April and May, where Stay at Home orders fundamentally changed consumer buying behavior. And now to October, November, and December, where carrier and delivery services have experienced unparalleled surges resulting in earlier cut offs and package delays.
Even with all of these changes and disruptions, most third-party logistics (3PL) warehouses prospered and harnessed the opportunities created by increasing ecommerce business and omnichannel fulfillment demands. However, what does 2021 have in store for 3PL warehouses and how can you plan?
Growth Opportunities for 3PL Warehouses in 2021
As a part of our Third-Party Logistics Warehouse Benchmark Report conducted in September and October, Extensiv found that 79% of 3PLs grew their small business in 2020 and that many have aggressive plans for growth in 2021.
With predictions that a COVID-19 vaccine may not have broad availability until mid-2021, ecommerce purchases are expected to continue double-digit growth into the new year. As such, when asked about top growth opportunities for 2021, 3PLs continue to show optimism for opportunities to acquire new customers (77%) and drive ecommerce-related growth (65%). Although a strong third (54%) among all 3PLs, mid-growth 3PLs (those who experienced between 1% and 25% of growth) emphasized automating warehouse processes as a higher priority than other groups.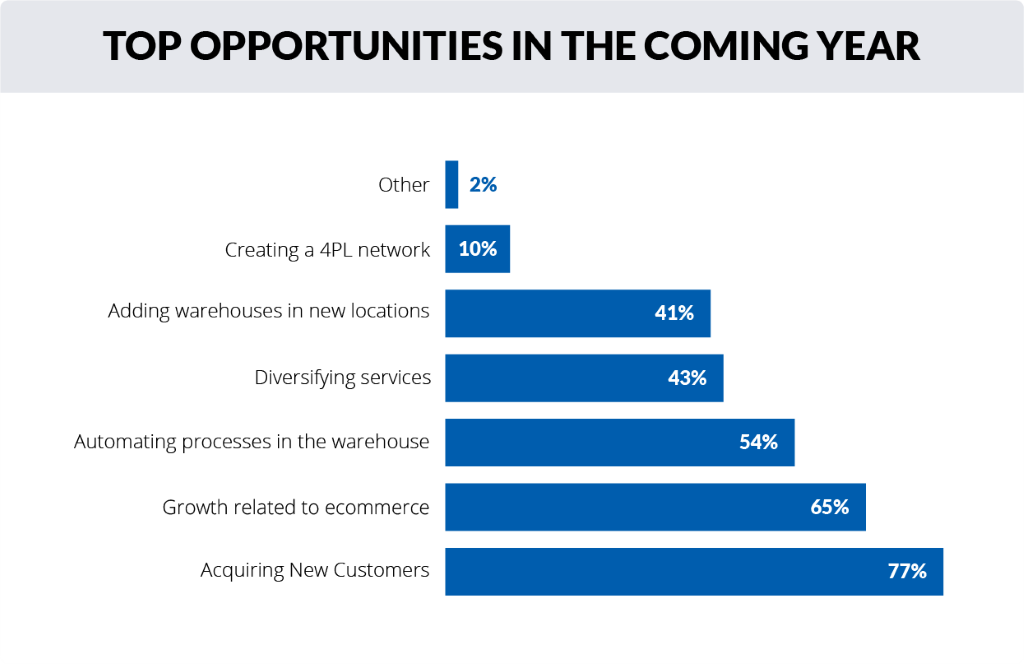 Although not in the top three opportunities, diversifying services (43%) and adding warehouses in new locations (41%) ranked as key opportunities as well. While not considered a top opportunity, 87% of 3PL warehouses want to diversify their revenue streams. In fact, those fastest growing 3PLs were 271% more likely to offer omnichannel fulfillment, which aligns with the changing consumer buying behaviors of wanting to buy how they want, when they want, and where they want.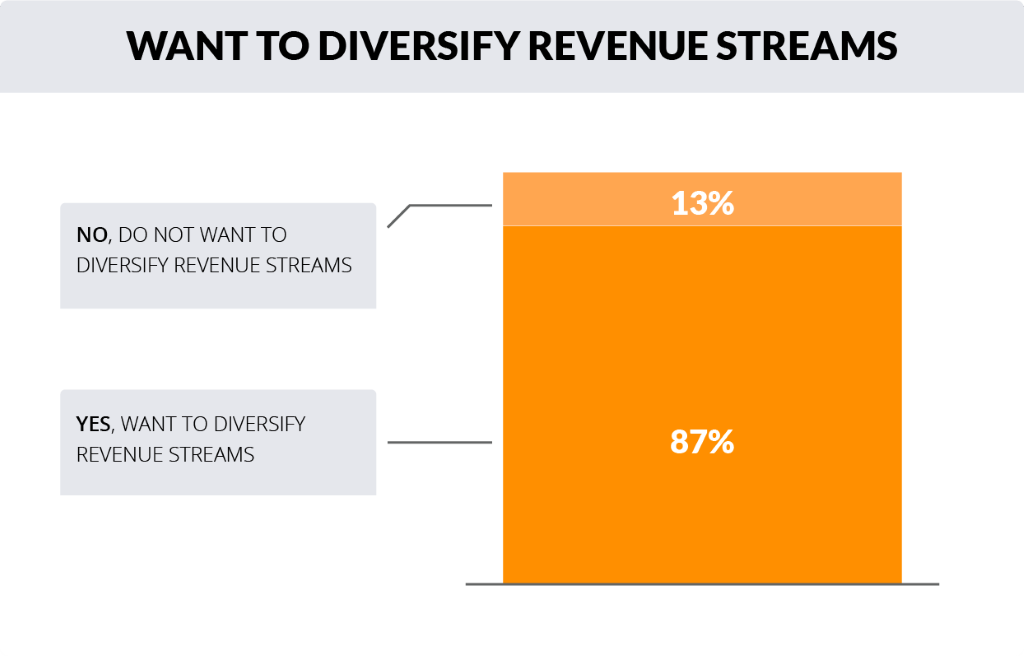 Now that you know the biggest opportunities available in 2021, will your business be able to harness them?
What Do You Need to Know for 2021 Warehouse Planning?
In your 2021 planning process, ask yourself and your team the following questions:
What do you view as your biggest potential areas of growth? (e.g., new services, new industries, new customers, etc.)
Do you need to diversify your revenue streams, and if so, how?
How many new customers can you on-board and support? And, how do you plan to attract and sell those new customers?
How satisfied are your customers? What would drive even greater satisfaction?
Do you have contingency plans in place to address surges or market changes?
These questions will start the right dialog within your warehouse to better prepare for growth opportunities in 2021.
Preparing Your Warehouse for Prosperity in the New Year
To learn more about planning for growth in the new year, check out these articles on scaling warehouse capacity, selecting the right technology partner, and three strategies to grow your 3PL warehouse.
From our Extensiv family to yours, we wish you a very happy holiday season and a prosperous New Year!